Gear Up for College
College Prep Program Offers Academic, Support Services
May 25, 2010
By Debra Cano Ramos
Three times a week, freshman Melissa Peralta helps eighth-grade students at Sycamore Junior High School with their English lessons.
Peralta tutors students in reading and writing at the Anaheim school as part of Cal State Fullerton's Gaining Early Awareness and Readiness for Undergraduate Programs — or GEAR UP — in which educational services are provided to help young students prepare for, and pursue, higher education.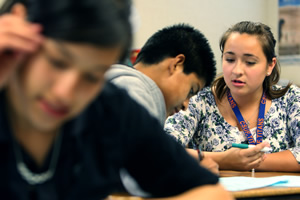 CSUF student Melissa Peralta is a tutor in the university's GEAR UP program and helps Sycamore Junior High School eighth-graders Dulce Tavera, foreground, and Christian Silva with English and writing. Photo by Karen Tapia
"I've always enjoyed helping others, and when I heard about GEAR UP, I was excited to learn that I could be a part of such program that highly encourages and motivates students about going to college," said Peralta, a psychology major. "I liked the fact that this is a long-term program where we follow the students to high school and encourage them along the way to obtain a college education."
Last year, the university was awarded a $7.9 million U.S. Department of Education grant for GEAR UP. It is the largest grant in the university's history. The six-year program, begun in fall 2008, focuses on guiding students at Sycamore and South junior high schools on a pathway to attain a college education.
The program is a collaboration of Cal State Fullerton, Anaheim Union High School District and local business and community partners.
GEAR UP is currently serving a total of 1,646 students at both junior high schools, said Mark Kamimura-Jiménez, Cal State Fullerton's director for Educational Partnerships. Students receive a range of academic and support services beginning in seventh grade and continuing through their high school graduation from either Katella or Anaheim high schools.
"The goal is to prepare students early for college so they meet college entrance requirements and get admitted to a college or university of their choice," Kamimura-Jiménez said.
Educational services to ensure academic success throughout their secondary education include in-class and after-school math and English tutoring, a summer enrichment program, tours to colleges and universities, and teacher and counselor development, Kamimura-Jiménez explained.
Junior high students and their parents also learn about requirements for high school graduation and college admission, as well as financial aid options and scholarship opportunities.
Tutoring for Success
Cal State Fullerton students serve as math and English tutors and are trained to work with classroom teachers to implement support strategies that maximize instructional time and attention for students on an individual basis, Kamimura-Jiménez said.
Besides tutoring, tutors answers questions students might have about college and the process of getting into college.
David L. Pagni, professor of mathematics and GEAR UP's math coordinator, said math tutors are assigned to all eighth grade math classes at the two junior high schools. The math focus reflects the university's renewed emphasis on increasing student interest in the STEM fields — science, technology, engineering and mathematics.
"Tutors obviously help the students understand how to do problems in algebra, but also help them understand the 'why' of certain algebraic rules," Pagni said. "Tutors also share a culture of hard work to achieve the goal of going to college — that is, being diligent to do homework daily, to take good notes, to study by going over homework, notes and quizzes.
"Since the tutors have 'made it through' the process of doing well in high school and going on to college, they also encourage the young students to do the same and lead the way for the young students to succeed."
Mindy Lorton, an eighth-grade English teacher at Sycamore Junior High, said having the GEAR UP tutors as role models and mentors in her classroom have helped her students earn better grades — and heightened their awareness about college.
"They're getting a lot of individualized attention and feel comfortable asking for help," Lorton said. "More importantly, they're making a personal connection with someone who is in college, which helps generate their interest about going to college."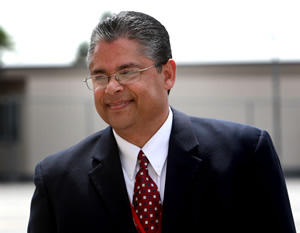 Manuel Colón, Sycamore Junior High School principal, calls GEAR UP 'great for his campus.' Photo by Karen Tapia
Pathway to College
The two junior high schools were selected for GEAR UP because students face a number of challenges, including poor English proficiency, low academic achievement, lack of opportunity for higher education and high levels of poverty, noted Silas H. Abrego, associate vice president for student affairs.
The schools' student body is 93 percent Latino with half of the students English learners and a majority from low-income families, said Manuel Colón, Sycamore Junior High School principal. Most of the students would be the first one in their family to attend college, he added.
Colón lauded the program for providing students and their parents with services and academic support to get them preparing and thinking about college early.
"The program has helped to create a college-going culture at our school and has taken what we are doing to prepare our students for college to another level," Colón said. "For our students, now it's not a question of 'whether I will go to college,' but 'I am going to college.' "
Sycamore teachers, parents and staff have embraced the GEAR UP program, Colón added. "GEAR UP has been great for our campus."
Peralta, the first in her family to attend college, agreed that the program is a way to give young, disadvantaged students a head start to higher education.
"These types of programs are very important to students at this age because we are exposing them to the numerous possibilities that they have. We are opening the doors that otherwise would have remained shut simply because they had not had proper resources or were never encouraged," said the Fullerton resident who plans to earn her bachelor's degree in 2013.
"All these students have the ability to go beyond high school and gain higher education. GEAR UP serves as the steppingstones to reach that goal. This way, students that did not think college was an option for them can now view college as a very realistic possibility."