Students Count on Him
Professor David Pagni Attracts Funding and Collaborators to World of Math
August 11, 2009
By Russ L. Hudson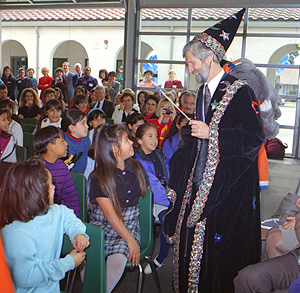 David Pagni speaks to an assembly of Santa Ana Unified School District students, stressing the importance of mathematics to their lives. Photo by Patrick O'Donnell
Each July, David Pagni runs his annual program to make math more fun and comprehensible to area high school girls. The monthlong program — Mathematics Intensive Summer Session — typically draws 60 to 100 sophomores and juniors from dozens of Orange County and nearby high schools. Last month, 108 high schools girls gave up the lazy days of summer to study algebra and calculus.
Pagni aims to show young women that math is accessible and encourage more of them to consider math-rich careers in science, technology, engineering and mathematics. He has helped more than 1,000 girls since 1990, nearly 98 percent of whom have gone on to college.
And MISS is only one of the five programs Pagni has created to improve mathematics in area high schools, four of them aimed at helping teachers refine how they teach math.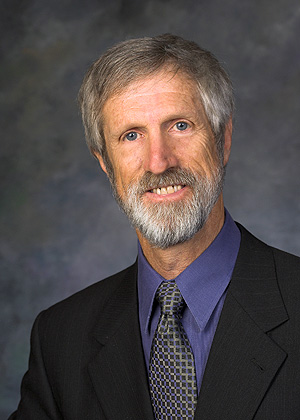 David Pagni
Just one of those programs, Teachers Assisting Students to Excel in Learning Mathematics, has influenced about 130 teachers and 17,000 high school and intermediate school students in the Fullerton Joint Union High, Buena Park Elementary, Orange Unified and Garden Grove Unified school districts.
Another program, Mathematics Diagnostic Testing Program, assessed high school students' strengths and needs by analyzing more than 120,000 tests annually. It helped 1,700 teachers adjust their teaching of mathematical concepts to calibrate with university entrance exams.
Support and Collaboration
Since joining Cal State Fullerton in 1969, Pagni has garnered $22 million in grants, most of it since the mid-1990s, including a 1995 $6 million National Science Foundation grant. He also received funding from the U.S. Department of Education, state of California and area school districts.
His efforts have prompted collaboration with the U.S. Department of Education, Cal State Fullerton, Anaheim Union School District and the Tiger Woods Learning Center, along with area businesses and organizations. One of those collaborative efforts, Gaining Early Awareness and Readiness for Undergraduate Programs, helps disadvantaged students from intermediate through high schools prepare for college-level mathematics.
2009 Project MISS
Pagni arranged for four engineers from Fluor Corporation's Community Involvement Team to speak to this year's MISS students July 16. The engineers divided the girls into teams and gave them 10 minutes to plan and build a tower using marshmallows and toothpicks to give them a taste of working collaboratively, something that will happen often in the professional world. Pagni arranges educational presentations every summer for his MISS students. Photos by Kelly Lacefield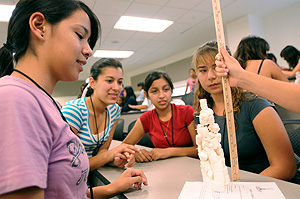 Awaiting the judge's verdict on the height of their tower are, from left, Alexia Ozaeta, Marcela Torres, Rebecca Calvillo and Maria Venegas.
Collaborators power Pagni's Orange County Mathematics Project, too, which focuses on continual improvement of instructors' presentation of algebra to students. Algebra is a springboard to more advanced mathematics and science.
"I try to teach students to be reflective learners," Pagni said. "Part of this is sharing the joy of why we have ways of doing mathematics, how formulas developed. If someone is given the formula for the surface area of a cylinder, it is easily forgotten. But if that person develops the formula on his or her own, it is both remembered and appreciated."
Pagni's approach worked wonders for Kelly Roybal at Fairmont Private School in Tustin, who completed both her bachelor's degree in child and adolescent development and studies for the multiple subject teaching credential from Cal State Fullerton in May. Roybal said Pagni was the best math teacher she came across in her years at Cal State Fullerton.
"I have never enjoyed math and always struggled but, when I entered Dr. Pagni's class, from day one it was a completely different environment. Everything about him just made me feel comfortable and not afraid to take a risk. His teaching was all hands on. I am a visual learner, so I took to this style of teaching very well."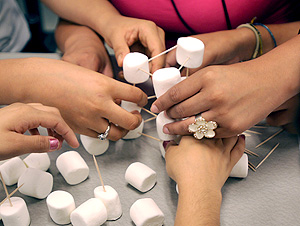 Many hands might make it work: A team puts together its marshmallow tower.
Roybal said because Pagni clearly cared about how she performed, she tried even harder.
An earlier student, Orba Smith (B.A. liberal studies '06), now a resource teacher at Parks Junior High in Fullerton, said, "Dr. Pagni helped me make math come alive for my students. In his class, he showed me that math could be fun and exciting. I would like to believe that I have brought some of his enthusiasm into my own class."
Accolades
"As both a professional educator and mathematician, Dr. Pagni takes delight in seeing students learning mathematics in a positive environment," said Dianne DeMille, Orange County Department of Education's mathematics coordinator, in presenting the department's highest honor, the Outstanding Contributions to Education Award, to Pagni on March 11. "Dr. Pagni is always willing to council new and veteran teachers about the mathematics they teach and how to best deliver it for optimum student understanding."
"This award is well deserved," said Paul DeLand, Cal State Fullerton chair and professor of mathematics. "He is a national, as well as a local, force in mathematics education. His resume includes extensive grant work, a strong publication record, many teacher training workshops, special programs for high school students and wide-ranging activity in local schools. We are proud to have David as our colleague."
Kathleen Curley, left, from Fluor, watches the team of Giselle Garcia and Diana Bustamante, right, assemble their tower.
"It is always rewarding to know that one's contributions are appreciated," Pagni said in response. "I believe that this type of outreach is part of the function of Cal State Fullerton — to collaborate with K-14 institutions."
The professor was honored at the White House in 2005, receiving the Presidential Award for Excellence in Science, Mathematics and Engineering Mentoring.
"Cal State Fullerton has provided the support over the years that has enabled me to develop mentoring programs that have impacted so many lives," said Pagni, who joined the campus in 1969.
"Articulating and strengthening the partnership between CSUF and local school districts has been my focus. My colleagues and administrators have provided the professional support and resources that enabled these programs to succeed," Pagni added.
Pagni has been honored as an outstanding professor twice, once by Cal State Fullerton in 1994 and again the next year by the California State University. In 2003, the university system again honored him, bestowing the highest honor it can give to a faculty member, the Wang Family Excellence Award.
The announcement accompanying the Wang Award noted that "one of the most respected math educators in the world, David Pagni, has researched, studied and gathered funding to improve the learning and understanding of mathematics by thousands of students and teachers, with a special focus on low-performing middle schools and high schools in Orange County. His impact has been massive."
The professor has won dozens of awards; authored 19 books, 23 reports and 206 journal articles on teaching mathematics; and given nearly 500 presentations.
After all that, his love of mathematics remains undiminished. He is still wont to pull out a pencil and a piece of paper in the middle of a meeting to start working on a math problem that occurred to him because of something someone said. Nothing could be more fun than that, and he wants every student to feel it.
The first in his family to attend college, Pagni is a product of the CSU, earning his bachelor's in mathematics from Cal State Chico. He earned his doctorate in mathematics from the University of Wisconsin, Madison.
Media Contacts:
David Pagni, Mathematics, 657-278-2671 or dpagni@fullerton.edu
Russ L. Hudson, Public Affairs, 657-278-4007 or rhudson@fullerton.edu