International Forum
Opportunities for Global Learning Shared Nov. 1
Campus and community members are invited to attend a 10 a.m.-4 pm. Nov. 1 International Education Forum, a free, public showcase of the international activities and opportunities available to students, faculty and staff.
The campus currently has 1,200 international students from about 80 countries enrolled in undergraduate and graduate degree programs, said Lay Tuan Tan, director of the Office of International Education and Exchange. About 370 CSUF students travel abroad to study or conduct research, fieldwork or internships each year.
In addition, the university hosts about 50 visiting faculty and research scholars each year and through international exchange agreements with partner institutions, students and faculty participate in exchange programs or research collaborations. Administrators, educators and other professionals from abroad also attend specialized training programs sponsored by the university's colleges and University Extended Education.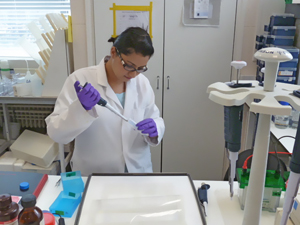 Caption: As a Minority Health and Health Disparities International Research Training Scholar, biological science major Jasleen Sidhu received the opportunity to conduct research at Oxford University in England last summer.
"The International Education Forum is a pilot event to kick off a campuswide internationalization campaign to promote global learning among faculty, staff, students and the community," said Tan. "In creating this event, our goal is to inform educated citizens about the world at large. Creating opportunities for all international groups (students and visiting scholars, as well as administrators) to integrate into campus activities is critical to the goal of developing well-rounded students and globally-minded young professionals.
"We hope that participants will benefit from discussions and sharing experiences with one another so that they will develop an interest in and enthusiasm for learning about other countries and cultures."
The day's activities begin with check-in registration from 9-9:45 a.m., followed by:
 10-11:15 a.m. — faculty and student collaboration presentation featuring Brady P. Rhodes, professor of geological sciences, and Kari A. Knutson-Miller, chair and professor of child and adolescent studies
 11:30 a.m.-12:45 p.m. — lunch/video presentation by Jeffrey H. Brody, professor of communications, and entertainment by faculty, staff and student groups
 1-2:15 p.m. — Fulbright faculty presentations with Raphael J. Sonenshein, professor of political science and chair of the Division of Politics, Administration and Justice; Nancy E. Snow, professor of communications; and Tricia Gabany-Guerrero, assistant professor of anthropology.
 2:30-3:45 p.m. — Study abroad roundtable involving international, exchange and study abroad students.
The forum, held in the Titan Student Union's Portola Pavilion, is cosponsored by the Office of the Vice President of International Programs, the Office of International Education and Exchange and Phi Beta Delta honor society for international scholars.
To register to attend, or for more information, email intlprograms@fullerton.edu.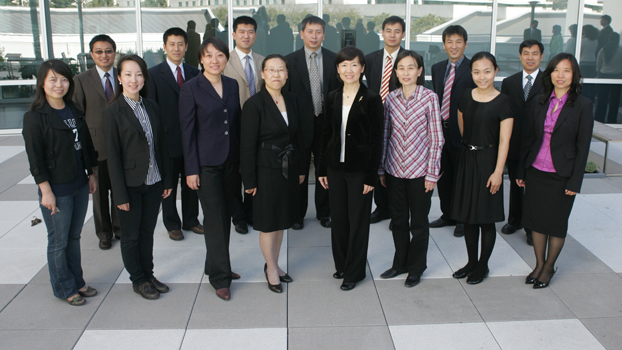 Caption: In addition to students and faculty members studying abroad and international students traveling to campus to study, administrators, educators and other professionals travel to CSUF to attend specialized training programs sponsored by the university's colleges and University Extended Education. Pictured are a group of educators from China's Tianjin University of Finance and Economics who came to campus last year to learn American teaching and presentation methods, as well as improve their proficiency speaking and presenting in English. Photo by Karen Tapia Download Photo
Oct. 25, 2011