University Stem Initiative
International Research Training
Students Study Health Disparities in Labs Across the Globe
This summer, 10 college students, including five from Cal State Fullerton, are donning research coats, gloves and goggles and conducting research in university labs far from home. The experience is broadening not only their scientific skills, but also their cultural knowledge.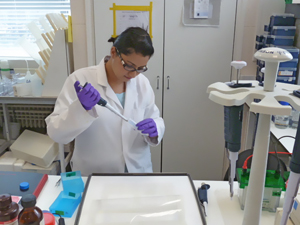 Caption: As a MHIRT Scholar, Jasleen Sidhu is getting the opportunity to conduct summer research at Oxford University in England.Download Photo
As participants in the Minority Health and Health Disparities International Research Training Program, underrepresented students are working with scientists, universities and government agencies addressing health disparities. This summer, they are spending 10 weeks working in the labs of distinguished research scientists at participating universities in Argentina, England and Thailand.
Jasleen Sidhu, a student conducting research at Oxford University in England, called the program a once-in-a lifetime experience.
"The best part about this program, and conducting research in Oxford, is that I'm able to focus on research without having to worry about classes and other commitments," she said. "I have learned so much from brilliant researchers in 10 weeks alone — which I wouldn't have been able to learn in a whole year. It has been an amazingly memorable experience that has definitely expanded my view of the world."
In Thailand, Russell Lovely Argenal has enjoyed learning new skills in a lab at Chiang Mai University. He's taken field trips to such places as a leprosy clinic and hospitals, immersed himself in the Thai culture and made lifelong friends. Argenal, who loves to dance, also found the time to frequent the local mall to hip-hop.
"The MHIRT program is absolutely a privilege and a blessing to be a part of," Argenal said. "This program forced us to go out of our comfort zone and really do things that we never thought we would do.
"I recently had a meeting with my mentor who was checking up on the progress of my research," said Argenal. "He told me that he had seen such a big improvement in my skills and has seen me grow. My mentor is not only a professor, but he's also the director of the regional hospital here in Chiang Mai. To hear that from him reassured me that I definitely have more potential to grow as a researcher."
Christina Adams, who has been conducting research at the University of Buenos Aires, agreed that the program is a learning experience like no other. "The part that I have enjoyed most has been the opportunity to see science through a different culture and try to problem-solve with people that speak a different language. I've learned a lot."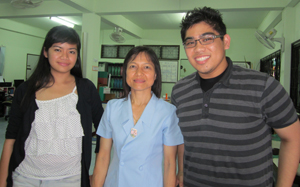 Caption: Cal State Fullerton health science major Russell Lovely Argenal with staff members at a hospital in Ta-kwang, Thailand.Download Photo
NIH Funded
The program is funded with a $241,560 grant from National Institute on Minority Health and Health Disparities, part of the National Institutes of Health. NIH has supported the program since 2006.
In 1995, Minority International Research Training, known as MIRT, a predecessor program, started on campus under the direction of Bruce Weber, emeritus professor of chemistry and biochemistry. Since 2004, Marcelo Tolmasky, professor of biological science and the university's 2010 Outstanding Professor, has directed the program.
Over the last 16 years, more than 170 students have had the opportunity to conduct research abroad, Tolmasky said.
MHIRT's goals in offering the international research training opportunities are:
• to increase the number of students belonging to health disparities populations or underrepresented minorities who pursue advanced degrees in basic sciences, biomedical or clinical research fields
• to make students aware of minority and international health problems and to seek novel approaches to address them
• to instill the importance and opportunities of international collaboration in research to address health disparities from a global health perspective.
The program's science focus reflects Cal State Fullerton's heightened emphasis on increasing student interest in the science, technology, engineering and mathematics, or STEM, disciplines — one of the university's initiatives.
Aug. 12, 2011