A Global Community
Cal State Fullerton Welcomes New International Students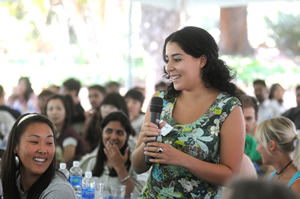 Meryam Messaoudi, a student from Morocco who has been studying in France, greets her fellow international students in her native language during a luncheon in their honor. Photo by Kelly Lacefield
September 1, 2009
President Milton A. Gordon along with several of his administrators greeted international students and members of the International Friendship Council at a special reception in their honor prior to the start of the fall semester.
This year, Cal State Fullerton has more than 1,000 international students attending courses, from programs ranging from California State University and campus/department offerings to University Study Abroad offered through University Extended Education.
In addition to international students on campus, 38 Cal State Fullerton students are studying abroad this semester.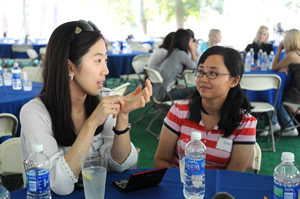 Eunmin An from Korea and Yuan Song from China share a moment at the Aug. 20 luncheon for international students at El Dorado Ranch. Photo by Kelly Lacefield
To help international students adjust to study at Cal State Fullerton, the Office of International Education and Exchange offers several programs including weekly cross-culture conversations and Wednesday coffee breaks at Aloha Java. Coming up is an Oct. 13 Study Abroad Fair.