GEAR UP for College Success
New Federal Grant Expands Work With At-Risk Students
To increase access to higher education and prepare at-risk Anaheim students for college success, the university has been awarded a six-year $5.82 million U.S. Department of Education grant for "Cal State Fullerton-GEAR UP."
The university has received $972,596 in first-year funding for the Gaining Early Awareness and Readiness for Undergraduate Program, known as GEAR UP, which targets middle school students in the Anaheim Union High School District and partners with community youth organizations.
"We know innovative programs like GEAR UP that intervene early can make all the difference in whether young people go to college," U.S. Secretary of Education Arne Duncan said in a statement announcing the award. "These grants provide the mentoring, support and financial aid that will give thousands of students a greater opportunity to achieve success in postsecondary education."
The Cal State Fullerton-GEAR UP grant award provides the university the resources to work in close collaboration with the school district to offer a comprehensive college preparation program for their students, said Kandy Mink Salas, associate vice president for student affairs, who is overseeing the program.
The new grant is similar to the university's GEAR UP Anaheim program, which started with Sycamore and South junior high school students, who have since moved on to Anaheim, Katella and Loara high schools. In 2008, the U.S. Department of Education awarded a $7.9 million grant — the largest in the university's history — for the six-year program, now in its fourth year.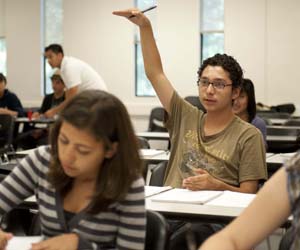 Caption: Esau Hernandez of Anaheim HIgh School was one of 181 students who attended a summer Gear Up program on campus. Photo by Stephen Weissbart Download Photo
With this new grant, 1,219 students at Dale and Orangeview junior highs will be served and followed through high school. When these students attend Western High School or Magnolia High School, they will continue to receive GEAR UP support and services to prepare for college and achieve success in postsecondary education, Mink Salas said.
These students also face a number of challenges and barriers to college, such as high poverty rates, a high percentage of English learners, low academic achievement and lack of sufficient academic support to succeed in college. As a result, a majority of students are not ready for college and do not pursue higher education, Mink Salas said.
"The ultimate goal is to increase the number of students applying to college who are accepted, and who will ultimately complete and graduate from college," Mink Salas said. "Another important goal of the program is to create best practices that can be adopted throughout the school district and the region."
Goals of the program include improving math and English skills; increasing the number of students who complete the standard precollege requirements in high school; offering professional development programs for teachers; and heightening awareness about college readiness, the college application process and financial aid options.
Activities will focus on improving academic performance through tutoring, counseling, college preparatory workshops, and educational and cultural enrichment activities.
Cal State Fullerton faculty members involved in the project are: Mark Ellis, chair and associate professor of secondary education; David L. Pagni, professor of mathematics; and Cheryl A. Zimmerman, associate professor of modern languages and literatures.
Various campus partners, including University Outreach, the Educational Opportunity Program, Freshman Programs and Housing and Residence Life, will work with GEAR UP staff to coordinate university visits and summer academies. The Center for Research on Educational Access and Leadership, under the direction of Dawn Person, professor of educational leadership, will conduct an evaluation of the program.
Those also providing workshops and seminars for GEAR UP students include such community partners as Fullerton College, Project SAY Youth Development Program in Anaheim, the Tiger Woods Learning Center and the College Board.
Oct. 18, 2011