GEAR UP College Experience
Eighth-Graders Join Campus Researchers in Scientific Grunion Study
January 12, 2010
By Debra Cano Ramos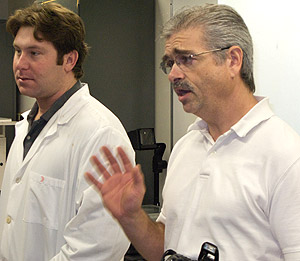 Graduate student Ben Higgins and Sycamore Junior High School science teacher Bill Cavanagh discuss Higgins' thesis project about grunion with the eighth-grade student researchers. Photo by Stephen Weissbart
With forceps and other dissecting tools in hand, 40 eighth-grade students cut open beach-spawning California grunions, carefully removing tiny eggs from their digestive tracts.
The young scientists used microscopes and other high-tech equipment inside one of Dan Black Hall's laboratories to examine and count the eggs from 60 of the small silvery fish.
On one December morning, these students from Sycamore Junior High School in Anaheim were helping to conduct a real scientific experiment under exemplary researcher Michael H. Horn, professor of biological science, and his graduate student Ben Higgins.
Their work was part of Higgins' study on grunions, which focuses on the feeding behavior of the sardine-size fish. Grunions have a unique mating ritual with females spawning on the beach during high tide and releasing eggs in the sand, which are then fertilized by the males.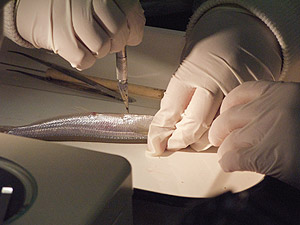 Sycamore Junior High School students dissected California grunion as part of research project conducted by graduate student Ben Higgins. Photo by Stephen Weissbart
But Higgins, who is working toward earning a master's degree in biology, discovered through his thesis project that the grunions, after spawning, also had eggs in their digestive tract.
"A lot of animals eat their own, but little has been known about what grunions eat, so if they are eating their eggs, this is news," explained Horn, a past recipient of the university's Outstanding Professor Award.
To help with his research efforts of this new found and unexpected facet of his research project, Higgins enlisted the help of the Sycamore science students and their teacher, Bill Cavanagh.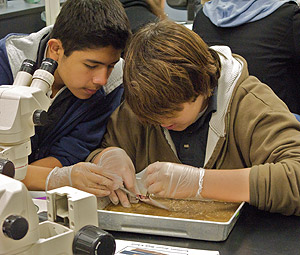 Sycamore Junior High students Oscar Paredes, left, and Chris Moench were among the 40 eighth-graders who participated in a CSUF graduate research project on California grunions. Photo by Stephen Weissbart
Cavanagh is a Cal State Fullerton alumnus who earned a master's degree in biology and completed the teacher credential program in biology. Cavanagh conducted his graduate research under Horn's guidance. Fellow Sycamore science teacher Kimberly Martinez and her students also participated in Higgins' study.
"This was a great opportunity to expose our eighth graders to the college environment and get them involved with a real scientific study with Cal State Fullerton faculty and students," Cavanagh said. "They gathered real-world data, documented the findings, and most importantly, they learned that whether in eighth grade or at the college level, the scientific method to conducting research are the same. We're seeing really good work from them."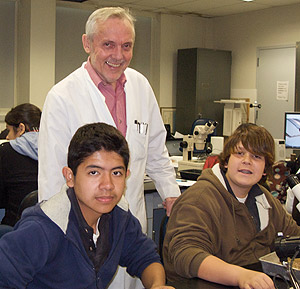 Michael H. Horn, professor of biological science, works with eighth-grade students Oscar Paredes, left, and Chris Moench, during a scientific experiment on California grunion. Photo by Stephen Weissbart
The eighth graders, many of whom are honors students, had to apply to be part of the research project, Cavanagh said.
"They were all eager to participate in an activity like this," he added. "By giving the students this opportunity, we also hope that some of them decide on a career in the sciences."
Sycamore student Miguel Gonzalez, 13, was excited to participate in the hands-on science research. Dissecting the slender fish and finding 38 eggs in one fish was fascinating, he said.
"Science is my favorite subject," Gonzalez said. "I've learned a lot here."
The Sycamore Junior High students also are part of the university's GEAR UP program, which sponsored the learning experience. Last year, the U.S. Department of Education awarded Cal State Fullerton a six-year grant with expected total funding of $7.9 million, the largest grant award in university history.
To date, the university has received $2.6 million for GEAR UP, in which Cal State Fullerton provides educational services at Sycamore and South junior highs schools to help disadvantaged students prepare for higher education.
"This graduate project helped the students prepare for college by exposing them to what it's like to conduct research in a college classroom," said Ana Aguayo-Bryant, GEAR UP director. "It's been an amazing opportunity for the Sycamore Junior High School students and we hope it will instill in them that a college education is within their reach."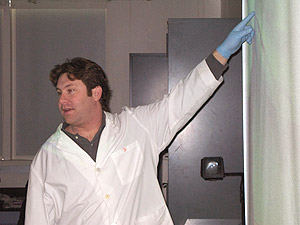 Biology student Ben Higgins is conducting graduate research focusing on the feeding behavior of California grunion. Photo by Stephen Weissbart
The junior high students spent three mornings working in the Cal State Fullerton lab, plus took a field trip to Cabrillo Marine Aquarium in San Pedro where Higgins works and where grunion were collected.
Grunions for the experiment also were retrieved in Long Beach and Malibu by Andy Fredell, another biology graduate student working a on a separate project with grunion. The same fish are being used for both Higgins' and Fredell's research projects. The university obtained state regulatory permits to perform the fish research, Horn noted.
Allison Santos, a post-baccalaureate student volunteering in Horn's lab this academic year to gain research experience before she attends graduate school, was a valuable assistant in all three of the sessions with the Sycamore Junior High eighth-graders, Horn said.
Higgins plans to complete his thesis project, "Feeding Meets Reproduction: Dietary Selectivity, Jaw Mechanics and Feeding Behavior of the Beach-Spawning California Grunion," by next fall and will include the data collected by the young science students.
Related Story: Q&A with Ben Higgins