Campus Leader
Dean of Students Honored With Regional Mentoring Award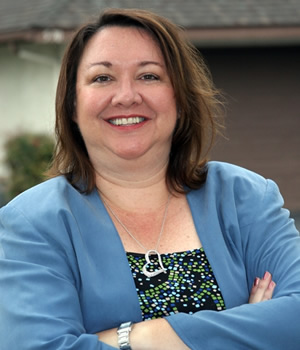 Kandy Mink Salas, dean of students
Kandy Mink Salas, Cal State Fullerton dean of students, is recognized across campus as an institutional leader, role model and accomplished student affairs professional.
For her outstanding work with college students and student affairs colleagues, Mink Salas has been recognized with the Region VI 2009 Sandra Kuchler Excellence in Mentoring Award.
The award, given by National Association of Student Personnel Administrators - Student Affairs Administrators in Higher Education, was presented Nov. 6 during the organization's Western Regional Conference in San Jose.
"I am honored and humbled to receive this prestigious award from NASPA," Mink Salas said. "I am so thankful to have the opportunity to work with wonderful students, staff and faculty every day to forward the educational goals of our students."
Named in honor of the late Sandra Kuchler, former dean of students at Cal State San Marcos, the award strives to recognize individuals for their ability to advocate and advise in administrative, organizational and professional matters, as well as be an excellent role model for others.
"In matters of administrative and organizational leadership, Kandy excels beyond her peers," said Lea Jarnagin, assistant to the vice president for student affairs, who nominated Mink Salas for the honor.
Jarnagin has worked alongside Mink Salas for the past 11 years and also worked with Kuchler at San Marcos. She credits Kuchler with encouraging her to pursue a career in student affairs and Mink Salas for being an outstanding mentor.
"I continue to learn from her on a daily basis and admire her ability to advocate on behalf of the needs of both students and professionals in the field," said Jarnagin, who works with Mink Salas on the student affairs leadership team.
A member of the campus community since 1989, Mink Salas has spent 23 years as a student affairs professional with positions in student affairs administration, student life and leadership training and development. She also has worked as an organizational consultant and leadership development trainer, as well as assistant director of student activities at the University of San Diego.
Prior to becoming Cal State Fullerton's dean of students, Mink Salas served in other positions, including acting associate vice president, assistant vice president for student affairs and associate director of student life.
In her current position, she has oversight responsibility for judicial affairs, student life, new student programs, leadership and multicultural development programs, honors and scholars support services and the assistant deans for student affairs.
She also chairs the University Alcohol and Other Drug Advisory Committee and the Students of Concern Committee, and is a member of the Western Association of Schools and Colleges Steering Committee.
The La Habra resident received her bachelor's degree in English with a specialization in women's studies from UCLA and a master's degree in counseling and human development from Minnesota State University, Moorhead. She is working on a doctorate in higher education administration at Claremont Graduate University.
Dawn Person, Cal State Fullerton professor of educational leadership, was the 2008 recipient of the Region VI Sandra Kuchler Excellence in Mentoring Award.