Language Educator Cheryl Zimmerman Honored
Receives CATESOL Award for Curriculum Innovation
May 27, 2008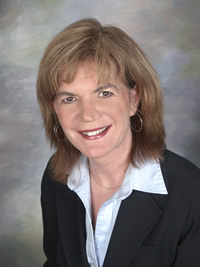 Cheryl B. Zimmerman
Cheryl B. Zimmerman, associate professor of modern languages and literatures, has been honored with the California Teachers of English to Speakers of Other Languages' David E. Eskey Memorial Award for Curriculum Innovation.
It is the fifth time that the award has been presented. It is named the late David E. Eskey, who taught at USC for more than 30 years.
"He was a widely respected scholar, author, mentor and presenter in the areas of applied linguistics, specifically reading for the second-language learner," said Zimmerman, who earned her doctorate at USC. "He had lived, researched and taught in many countries, and was very influential in the work of teachers of English throughout the world."
Zimmerman, who has taught full-time on campus since 1999, is author of the recently released book "Word Knowledge: A Vocabulary Teacher's Handbook," and series editor of "Inside Reading: The Academic Word List in Context, Levels 1-4." Both were published by Oxford University Press.
The presentation to Zimmerman was made in April during the organization's annual convention in Sacramento.