Teaching and Learning Math
Ellis Elected to National Council of Teachers of Mathematics Board
For the last 18 years, Mark Ellis, chair and associate professor of secondary education, has been working to help young students master math. 
Since the former middle school math teacher left the K-12 classroom in 2000, Ellis has focused on reforming mathematics education to help teachers become more effective at supporting students in understanding mathematical concepts and procedures. 
His efforts have garnered national attention — he was recently elected to the 90,000-member National Council of Teachers of Mathematics' board of directors. In April, Ellis begins a three-year term on the board, which makes strategic decisions about council actions, policies and programs. 
"We must support teachers in creating classrooms where students of all backgrounds engage in inquiry and investigation, share thinking and reasoning, and take ownership of mathematical knowledge and understandings," Ellis said. "Too often, schooling acts to separate students according to some perceived 'ability' instead of recognizing and developing each student's potential." 
The math focus reflects the university's renewed emphasis on increasing student interest in the STEM fields — science, technology, engineering and mathematics. 
Ellis joined Cal State Fullerton in 2005 and has helped to develop the university's foundational level mathematics teacher credential program into a national model. The program prepares middle school and high school teachers of mathematics coursework from pre-algebra through advanced algebra.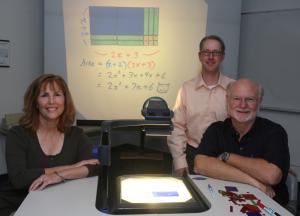 Caption: Mark Ellis, chair and associate professor of secondary education, standing, along with Martin V. Bonsangue, professor of mathematics, and Ruth Yopp-Edwards, professor of elementary and bilingual education, are currently leading a $2.5 million National Science Foundation grant project to recruit mathematics teachers. Photo by Karen TapiaDownload Photo
Currently, Ellis — along with two other professors — are leading a $2.5 million National Science Foundation grant project to recruit and train future mathematics teachers. In 2008, he also helped to establish the College of Education's Professional Teaching Development Center, which provides support and other assistance to local teachers wishing to pursue the national board certification. 
Ellis discusses his new role and sums up his hopes for teachers of math.
What is your role on the board?
As one of 12 board members, I will be helping to set policy for the organization and provide input and guidance on decisions about the use of resources in support of our members — most of whom are math teachers in K-12 schools. I also will be speaking on behalf of the council at national, regional and state-level conferences for teachers of mathematics. I'll be sharing my insights and experiences as a means to encourage the implementation of practices based on the research-based standards established by the council.
What does it mean to you to serve? 
This is an amazing professional opportunity to learn about the inner workings of the largest organization in the world dedicated to promoting and advancing mathematics education. It's a privilege and an honor to have been nominated and subsequently elected by members to this position.
What do you hope to achieve? 
I am looking forward to learning more about the National Council of Teachers of Mathematics and how it sets policy and makes decisions. I also look forward to being able to further the organization's focus on helping teachers of mathematics use strategies that meet the needs of a broad range of learners in order to improve student outcomes. Finally, I look forward to making many new professional friends who share my commitment to improving mathematics education for all students.
How will your appointment advance the preparation of our math teacher candidates? 
As a board member, I will receive every publication the organization puts out and come into contact with many outstanding mathematics educators. The ideas and information I gain from these resources will directly impact the work I do at Cal State Fullerton with colleagues, teacher candidates in our credential programs and teachers in our master's programs. This will help to ensure our programs in mathematics education are among the most innovative and effective nationally.
Dec. 14, 2010