STEM Mission
Cal State Fullerton Science Educator Spends Summer with NASA
August 3, 2010
By Debra Cano Ramos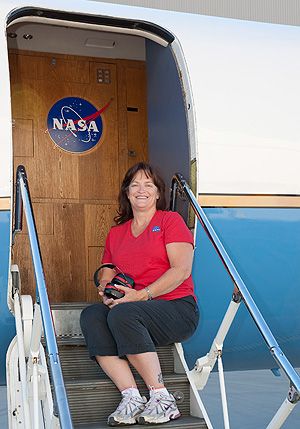 Victoria B. Costa, director of science education, participated in a NASA science education program this summer, which included earthquake studies conducted on NASAís research aircraft, the Gulfstream III. Photo courtesy of NASA Dryden/Tom Tschida
Mission accomplished.
That's how Victoria B. Costa, director of science education, summed up her experiences this summer as part of NASA's Airborne Research Experiences for Educators and Students program.
For the second summer, Costa served as the faculty consultant for the program, designed for K-12 teachers to develop educator and student activities in the areas of science, technology, engineering and math. The math and science focus reflects Cal State Fullerton's heightened emphasis on increasing student interest in the STEM fields — one of seven universitywide initiatives for 2010-11.
Six Southern California elementary, middle and high school teachers were selected to participate in the program and develop instructional materials and activities for educators and students for the upcoming school year. Costa is overseeing the teachers' project, in which they will receive professional development hours and have the opportunity to receive three graduate-level credits from the university.
During the four-week program, held June 21-July 16 at NASA's Dryden Aircraft Operations Facility in Palmdale, Costa and the teachers took part in science missions that focused on earthquake and soil moisture research. The teachers, known as AREES master educators, conducted studies aboard NASA's research aircraft, Gulfstream III. Costa, who also is working with NASA on two other science education programs, is scheduled to board the aircraft this fall on a research flight.
Costa shares her experiences, activities and insights of NASA's educational program:
What is your role in the NASA program?
My role in the project is to help design a professional development experience for the AREES master educator team. This includes the four-week summer workshop and ongoing monthly meetings, which immerses them in the aircraft, instruments and science associated with key NASA airborne science missions; leads them in the identification of existing NASA teacher, student and multimedia resources associated with these missions; and then facilitates the development of integrated, multidisciplinary K-12 curriculum associated with the missions.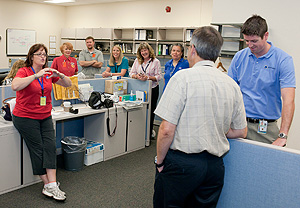 Victoria B. Costa, Cal State Fullertonís director of science education, and six Southern California teachers met with officials of NASAís Airborne Research Experiences for Educators and Students program. Costa served as the faculty consultant for the program. Photo courtesy of NASA Dryden/Tom Tschida
Why was it important for Cal State Fullerton to be involved in the program?
The AREES program is one of the most exciting and innovative professional development programs available for teachers. This is due to the currency of the NASA airborne science studies conducted at the Dryden Flight Research Center. Prior to my involvement in AREES, I had thought that NASA focused mainly on space exploration. I now know how committed NASA is to the study of Earth Systems Science — and to education. The AREES program integrates rich NASA experiences and resources with cutting-edge STEM content and powerful curriculum design, instruction and assessment strategies and Web tools. It is a model that I've adapted for our revised science education methods course that will be offered at Cal State Fullerton for the first time this coming fall.
What are the the highlights of your experiences?
My favorite part of the experience was the immersion component, which included field trips to the Dryden Flight Research Center and Dryden Air Operations Facility, special presentations by engineers and project managers associated with some of the airborne science missions and close encounters with some of the flight platforms and instruments in use. For example, one current mission is the Western States Fire Mission, in which NASA works with the U.S. Fire Service to improve real-time wildfire imaging and mapping capabilities. NASA's Autonomous Modular Scanner, carried in a pod under the wing of the agency's remotely piloted Ikhana, provides real-time data to incident commanders fighting fires throughout California and other states. As part of AREES, we met with one of the Ikhana project managers to learn more about how the Ikhana and the Autonomous Modular Scanner work, how the data has been used and future plans for this mission. And that is just one of many innovative missions that NASA is engaged in!
What has it been like to collaborate with the teachers?
The AREES master educators are one of the most creative groups I've ever worked with. The science and technology behind the instruments used in research are quite sophisticated, yet the educators proposed some wonderful ways to translate these concepts into K-12 learning opportunities.
What's the focus of this summer's research?
This summer, our focus was on the earthquake-monitoring mission conducted on the Gulfstream III. During June and July, NASA flew a specially equipped Gulfstream III jet over the Mexicali quake zone to collect photos and data that are being analyzed to determine differences in distortions on the earth's surface. This data will contribute to our understanding of whether pressure on Southern California faults has increased or decreased due to recent quakes. As part of the summer workshop, AREES master educators participated in one of the Gulfstream III flights and spent extensive time developing standards-aligned curricula for elementary, middle and high school science and math classes. We are now in the process of polishing these materials, which include field and laboratory investigations, engineering design challenges and project-based learning for fall pilot implementation. The tentative title for our unit is "Improving Earthquake Monitoring and Prediction." Our goal is to have the materials ready for national distribution by next summer.
As a result of this program, what are your goals as CSUF's science educator?
Across the nation, we have a renewed focus on STEM education. However, what we really need are ways to engage K-12 teachers and students in cutting-edge research and ideas related to major issues faced at the global level. NASA's airborne science missions provide exactly that, focusing on topics such as climate change, earthquake and hurricane monitoring and green technologies. Additionally, these studies allow for the integration of the science and math behind the mission with advanced technology and engineering design. So, we have the perfect access to 21st century content! My goal is to insure that the curriculum we develop here at Cal State Fullerton is infused with 21st century instruction and assessment strategies, such as the use of information, communication, and collaboration technologies, which will build 21st century skills while also motivating young students to pursue careers in STEM fields.
The AREES program is co-sponsored by NASA Dryden Flight Research Center's Office of Education and the Teaching From Space program at NASA's Johnson Space Center in Houston, in partnership with the Aerospace Education Research and Operations Institute in Palmdale and Cal State Fullerton. For more information about Cal State Fullerton's science education programs, visit http://nsm.fullerton.edu/scied/.
Related Stories:
Flying High
Cal State Fullerton Answers Call
---
Media Contacts:
Victoria B. Costa, Science Education, 657-278-2307 or vcosta@fullerton.edu
Debra Cano Ramos, Public Affairs, 657-278-4027; 657-278-2414 or dcanoramos@fullerton.edu