Flying High
Science Educator Participates in NASA Flight Program
August 11, 2009
By Debra Cano Ramos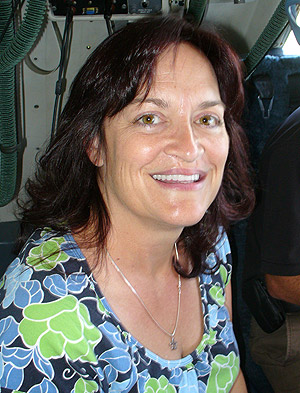 Victoria B. Costa, director of science education, is participating in the NASA-sponsored Airborne Research Experience for Educators, a hands-on earth science program.
---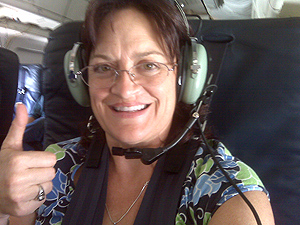 Costa gives a thumbs up to her experience on NASA's DC-8 flying laboratory.
For Victoria B. Costa, director of science education at Cal State Fullerton, a six-week summer stint with NASA has been a high point of her life.
Costa is participating in the NASA-sponsored Airborne Research Experience for Educators, a hands-on earth science program through Aug. 14.
"The opportunity to participate in the NASA Airborne Research Experience has definitely been one of the highlights of my career," said Costa, professor of secondary education.
NASA Dryden Flight Research Center's Office of Education and the Teaching From Space Program at NASA's Johnson Space Center in Houston, in partnership with the AERO Institute and Cal State Fullerton, are sponsors of the Airborne Research Experience for Educators.
Cal State Fullerton's contributions include the education faculty expertise of Costa and other faculty members from the College of Education's Department of Secondary Education.
The program began July 6 with a UCI lecture series presented by university faculty members and representatives of research institutions and NASA scientists. Among those speaking was Sherwood Rowland, a Nobel laureate in chemistry and a longtime user of NASA's DC-8 airborne laboratory's capabilities for his research on atmospheric chemistry.
Using the DC-8 flying laboratory based at NASA's Dryden Aircraft Operations Facility in Palmdale, Costa — along with middle and high school educators — received a rare behind-the-scenes look at instrument integration, flight planning and payload testing that is the basis of every successful earth science airborne campaign carried out by NASA.
These airborne research campaigns play a pivotal role in the calibration and validation of NASA's space-borne earth observations, remote sensing measurements and high-resolution imagery for earth system science.
In addition to the research flight itself, Costa participated in preflight planning and a post-flight briefing.
"I was very impressed with the amount of preparation required and incredible skill and expertise of the NASA flight engineers," Costa said, adding that she was awed with the DC-8 flying laboratory's array of remote sensing instruments that collect in-flight data for research in crop classification, algal blooms and atmospheric science.
"I have learned so much about how airborne remote sensing can contribute to our understanding of global climate change and I am excited about how our educators are translating these experiences into classroom practice," Costa said.
Costa is serving as faculty adviser to secondary educators who are developing middle and high school curriculum based on their experiences during the NASA program. The 10 educators were selected from a national pool.
Curriculum developed during the program will undergo NASA education review and will be finalized for publication on the NASA education Web site. One educator is developing a mathematics and engineering unit to engage students in the design, development and use of a Lego robot to simulate the airborne and ground data collected on algal-bloom locations and levels in the California Monterey Bay, Costa said.
A second educator is developing a unit in which students use mathematical problem-solving strategies to understand relationships between agricultural data collected during NASA airborne research missions, ground collection and satellite, she added.
A third unit will engage students in analysis of air samples collected with the "Whole Air Sampler" and analyzed with gas chromatography. Students will calculate percent composition and parts per million of some of the 50 different gases found in air samples collected over dairy farms to determine whether they pose a health hazard.
A total of 10 curriculum units are under development, Costa explained.
The program's goal is to stimulate interest in NASA's earth science research, and through educators, aid in recruitment of the next generation of engineers and scientists. Through this and the agency's other university and educator programs, critical skills and capabilities needed for NASA's engineering, scientific and technical missions will ideally be developed.
"Engaging teachers in a community of scientific practice improves their understanding of what it means to be a scientist and a teacher of science, and this is evident in the dynamic curriculum activities we are developing," Costa said. "The NASA-related curriculum will be revised after our fall pilot implementation, and we expect that materials will be available to all teachers by the end of the year."
Also participating in the NASA program are secondary education associate professors Debra Ambrosetti and Grace Cho and lecturer Marilyn Leuer. They will work with educators to ensure that unit plans are aligned with state standards, including measurable learning objectives, diverse and authentic assessments, and strategies that will engage and support English Language Learners, Costa said.
Costa also plans to share curriculum units with Cal State Fullerton's science and math teacher candidates.
"NASA's commitment to the professional development of teachers is significant, and I look forward to future projects and opportunities to engage educators, including our teacher candidates, in NASA airborne research on earth systems science."
.
MEDIA CONTACTS:
Victoria B. Costa, Science Education, 657-278-2307 or vcosta@fullerton.edu
Debra Cano Ramos, Public Affairs, 657-278-4027; 657-278-2414 or dcanoramos@fullerton.edu