Big Heart for Art
Alumni, Artists and Community Rally to Support Fullerton School District Arts Program
August 31, 2010
By Mimi Ko Cruz
Lauralyn Eschner
Residence: Fullerton
Degrees: M.S. educational administration '92, Cal State Fullerton
B.A. in English '77, UC Santa Barbara
Teaching credentials: visual art, multiple subject and educational administration
Employer: Fullerton School District
Job title: coordinator, Visual and Performing Arts
Volunteer position: All the Arts for All the Kids Foundation president
Favorite artists: Lascaux Cave painters, Giotto, Leonardo Da Vinci, Kunisada, Pre-Raphelites, Joseph Cornell, Robert Rauschenberg, Walter de Maria, Andy Goldsworthy, Richard Serra
Favorite musicals: "Billy Elliot," "Stomp," "Alegria," "Fiddler on the Roof," "West Side Story"
Favorite music: world music, folk music, Bach, Loreena McKennitt, Beatles, Sting, Allison Kraus, Krishna Das, KT Turnstall, Eva Cassidy, Tom Waits, Lunasa, Alex De Grassi
It started as a drive-by epiphany.
Fullerton School District's arts coordinator Lauralyn Eschner (M.A. educational administration '92) was cruising by artist Katherine England's home when she was struck by the beauty of a large front yard heart sculpture.
"Her heart hit me like a lightening bolt," Eschner recalled.
Wouldn't it be great, she thought, if artists created giant hearts that could be displayed all over town and, then, auctioned off, with the proceeds benefiting the school district's arts programs.
The idea was greeted with great enthusiasm by the All the Arts for All the Kids Foundation, a nonprofit organization that supports the district's arts education.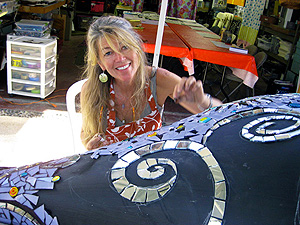 Katherine England working on her first design for the All the Hearts for All the Kids project.
"Everyone loves the message a giant heart sends," said Eschner, the foundation's board president.
With her fellow foundation board members, she recruited Orange County artists, signed up R.C. Baker Foundation, PacMin, St. Paul's Academy of the Performing Arts and the Rotary Club of Fullerton as sponsors, and All the Hearts for All the Kids was born.
England designed the 5-foot-tall-by-4-foot-wide heart form, PacMin manufactured the fiberglass pieces and artists started work on the project.
The artists — England, Kaleeka Bond, Bobbi Boyd, Rebecca Faubion, Jesse Gaona, Kevin Holden, art lecturer and CSUF alumna Marsha Judd (B.A. art '82), emeritus professor of art Don Lagerberg, alumnus Jose Lozano (B.A. art '83, M.A. art-drawing and painting '85), Denise Marshall, alumnus Steve Metzger (B.A. art '81, M.A. art-drawing and painting '83, M.F.A. '86), Paul Nelson, Carolin Peters, Kay K. Robinson, Jonathan St. Amant, Laurel Sternberg, Brian Torres and art lecturer Melanie Vogel — are creating 20 hearts of their own design. Most will be unveiled for the first time Sept. 2 at the Fullerton Museum Center. On Sept. 3, they will be installed at various locations throughout downtown Fullerton.
Three already are on display: England's mosaic heart is at Fullerton City Hall, Nelson's red heart with a Chinese character on one side and a blue and green ribbon-like design on the other is at the Fullerton Public Library and Gaona's portrait heart is at Fullerton Photographics.
On Oct. 30, most of the hearts will be auctioned off at the foundation's annual Artists' Pin Auction and online http://www.allthearts.org/.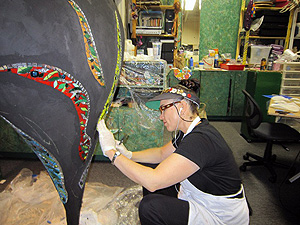 Artist Kay K Robinson works on her mosaic heart creation.
England is creating a second heart with 10 of her art students, and it will be auctioned off Dec. 5 at Los Ayudantes' annual fundraising dinner in Newport Beach.
"We're hoping to raise enough money to keep all of Fullerton School District's arts education programs intact," Eschner said. "With these extremely difficult budgetary times, the foundation board is working tirelessly to ensure that not one child will be without an outstanding arts education, which includes art, music, dance, theater and film making, as well as the opportunity to learn to play an instrument.
"Creativity is the key to our children's success," she added. "All the world's great accomplishments stem from it. The arts nurture creativity in a very specific and extraordinary way. All the Hearts for All the Kids exemplifies this creativity. Each of the artists has taken the same visual problem and come up with a marvelous, visually stunning and uniquely creative answer."
England calls Eschner an arts saint.
"It takes a saint to keep making happen what she makes happen," England said. "Every time there are budget cuts, the arts are the first to go, but Lauralyn does a mostly thankless job keeping the program in the schools. Fullerton is lucky to have her. She knows the importance of art in our lives, how music makes students better mathematicians and art makes them better scientists. It allows you to be creative and have a space where you're not wrong or right. It's empowering."
For more information about All the Hearts for All The Kids, call 714-447-7484 or visit www.allthearts.org.