'Pins, Pots & Possibilities'
Art Department Faculty, Students Aid All the Arts for All the Kids
October 14, 2009
By Paula Selleck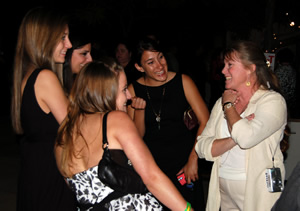 Cal State Fullerton art students and volunteers, from left, Victoria Fields, Julia Bahu, Alyssa Burns and Robin Burgen with faculty member Marsha Judd enjoy the success of last year's pin auction event.
Marsha Judd's living room is strewn with works of art — paintings, drawings, ceramics and more — all bound for Saturday's All the Arts for All the Kids Foundation's annual "Artists' Pin Auction."
"It's almost like Christmas every year because you never know what the artists will bring," she said.
She doesn't mind having to tip-toe around her living room; in fact, it's hard for Judd to contain her excitement about the event she helped to launch 16 years ago, which raises thousands of dollars annually for the arts program in the Fullerton School District.
Fullerton's downtown plaza is the site for what's being billed as a "fabulous party" with donated food, entertainment, silent and live auctions held under a big tent beginning at 6 p.m. Oct. 17. Tickets are $40 per person and available at the door.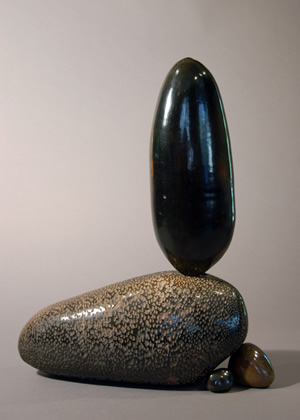 Ceramic art titled "Finger Rock," created by Marsha Judd
Judd, a ceramic artist, and seven other CSUF Art Department faculty members are among the many artists who have created and donated some 300 works of art for this year's "Pins, Pots & Possibilities Artists' Pin Auction." They are: Joseph Biel, Dorte Christjansen, Jim Dahl, Kay Devine, Vincent Suez, Melanie Vogel and Lawrence Yun.
Students fulfilling community service components of their classes also are involved. Some 60 CSUF students are volunteering this year, making up about half the number of community volunteers signed up for the evening. The student volunteers come from various sections of the "Art and Child Development" course taught by Judd, Devine, Vogel and Dru Cottrell – all lecturers in the department's Art Education program.
"The connection with Cal State Fullerton has been incredibly strong," said Lauralyn Eschner, foundation president and coordinator of the visual and performing arts programs in the Fullerton School District, naming emeriti Don Lagerberg and Maurice Gray as early participants. She credits Judd with being "our strongest connection with artists."
She recruited Biel, assistant professor of art, last year to participate, and he did so again this year because "one of the things I feel strongly about is donating artwork to causes in general," he said. Biel creates up to a dozen pieces each year for various causes, including departmental events. Charity auctions have special appeal for him. "I like the fact that it's a direct channel from me to whoever gets [the artwork]. It's not too expensive, and it's a nice alternative to the market."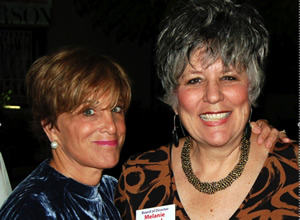 Hilda Sugarman, Fullerton School District board member with fellow All the Arts for All the Kids Foundation board member Melanie Vogel, lecturer in art and a contributing artist, at last year's auction.
Current faculty members, emeriti and students have all volunteered to make the event a success over the years. "They made a huge difference," she said, noting that Judd, "was the person who brought the idea to us."
Judd, also a foundation board member, is quick to credit friends at Rancho Santiago College with the event idea that she asked to borrow to benefit schoolchildren in Fullerton. Her friends readily agreed, then she and others ran with it.
Judd remembers that first year as a time when the arts in public schools had "survived a very large cutback," when teachers, parents and community members who cared about the arts had gotten together and agreed they had to do something to preserve such programs and buffer them against future cutbacks.
The event they launched has grown from a small auction of wearable art pins donated by local artists to a full evening that celebrates a wide range of art, artists and patrons.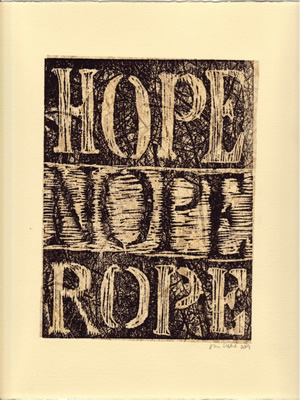 James Dahl's "HOPE NOPE ROPE," a Chine colle wood block print, is one of pieces to be auctioned and part of a series connected to the word "Hope" that Dahl has have been working with since the 1990s.
"It's an opportunity to see so many artists in one place," she said, including those flying in from Nevada and Chicago. "Because of the caliber of the art we have this year, it's even more exciting."
Original oils, acrylics, watercolors, sculpture, ceramics, glass, jewelry and fine art prints by more than 150 local and nationally recognized artists will be featured this year, along with the wearable art pins that started it all.
Judd recalls the first year's proceeds were about $12,000, while last year's event raised $65,000.
Many patrons are now regulars, returning each year looking for new pieces by artists whose work they now collect. Watercolors by Yun, associate professor of art, are among them. "People come every year to bid on his work," said Judd, describing his paintings as "exquisite, sensual florals."
For the most part, she added, "people are buying what they like," and in the days leading up the event, patrons who see each other around town joke about outbidding each other — a telltale sign the Artists' Pin Auction is now a community tradition.
"It's such an important outreach for bringing kids into the world of art and to Cal State Fullerton," said Eschner, foundation president.