Opportunity to Grow
Wang Scholar Brings Back 'Intangible' Rewards From Asia
August 17, 2010
By Pamela McLaren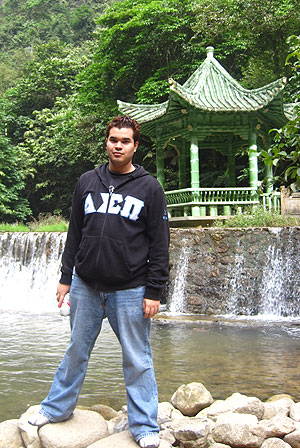 Steve Duran
Age: 21
Major: B.A. business administration, with a concentration in entertainment and tourism management, expected in 2011
Residence: La Puente
Favorite pastimes: Reading, playing video games, hanging out with friends and family, trying new and different foods, technology
Favorite books: "The House of the Spirits" by Isabel Allende, "Memoirs of a Geisha" by Arthur Golden, "Les Miserables" by Victor Hugo
Favorite films: "Slumdog Millionaire," "Hero," "The Last Samurai," "Kill Bill" Vol. 1 and 2
Favorite quote: "We can not forget who we are or where we come from" — Nathan Algren from "The Last Samurai"
Senior business administration major Steve Duran looks like his fellow students as he attends a summer session class, but after spending a year in China, his outlook, opinions and way of thinking has changed from that of the typical university student.
Last summer, Duran was named the first Cal State Fullerton student to receive a California State University Wang Family Scholarship, established to "provide students with an opportunity to learn in an international environment and another culture." Duran spent the academic year at Peking University where he studied Mandarin, a language he was been learning since high school.
"I really can't put it into words," said Duran, calling the rewards of living and studying in Asia, "intangible. I think the whole experience was an opportunity to grow. When I step back a moment, I can see how much I've changed from being in China. My parents have already noticed and commented about it."
What was the toughest time you faced in China?
The first couple of months were the toughest culturally. I asked myself why I had come to China, why did I leave such a good thing that I had here. And, I ended up asking the same questions — and answered much more positively — when I was leaving.
Weather was very hard to get used to. Winter was incredibly cold and the season lasts 4-5 months. Spring was extremely short — about 10 days.
Describe what happened when you arrived.
I arrived Aug. 31 and three weeks later, my classes began. In between, I took placement tests to find out my level of language skills. I was placed with a group of international students based on the results of the tests. That first semester was when I got to meet people — from all over the world — and got to know them.
I loved exploring and taking the opportunity to apply the language I was learning.
What were classes like?
The classes were the most challenging that I have taken by far. Just to be in a class where all you hear is Chinese all day … it takes a toll. The only times I used English was when I was among friends or during our breaks.
One of my classes was solely dialogue and there were questions with lots of back and forth between the instructor and the students in class.
There were also many writing issues because there are so many characters in the Chinese language and if you write a sloppy character, it can have a totally different meaning. I had a big discussion with one instructor who always told me to try to make my characters look better on my tests, but I could never do it if I wanted to finish on time!
We were encouraged to have language partners where you could practice your Chinese and they could practice their English. I made two good connections; one will be in Ohio this year to study. I hope to be able to reconnect with him while he is in this country.
In the end, I was satisfied with the education I received. It was very different, especially the teaching style, but I got used to it. Hopefully, I can take more classes here to keep up with what I had learned in China.
This was the first time that you had ever been away from your family. How did it go for you, for them?
It was tough for a while. My parents worried a lot — much more than me. I called them weekly.
They were even more worried when I took a monthlong trip out of China. They worried that I wouldn't make it back to China, would get into trouble, get lost, etc.
I spent the month in Malaysia, Taiwan, Hong Kong, Macau and the Philippines. It was great seeing other countries but it was a little difficult to orient myself with the changes in language, although people in most of the places I went to spoke English. Actually, I had a lot happen to me while I was there. I nearly lost my wallet because I was so excited to be going to Kuala Lumpur that I left it at the forms counter. Toward the last three days I was very short of cash and down to about PHP 1200 — about $25.
How was it to leave?
The last week I was there was really difficult. I had to visit all the places that had special meaning and say good by to those I had gotten to know — like the cafes that I went to on a regular basis and the waitresses that knew my order without me having to tell them because I frequented their restaurants so much. It was sade.
I am incredible grateful to the Wang family, my own family and everyone who was so supportive as I followed this path.
I hope others take the opportunity to study abroad. It really opens your eyes to the difference, and the similarities, between cultures.