A Year in China
Business Major Makes 'Trip of a Lifetime'
July 14, 2009
By Pamela McLaren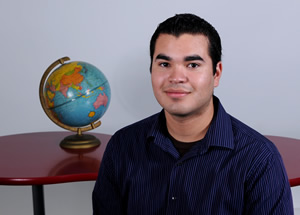 Steve Duran
Age: 20
Major: B.A. business administration, with a concentration in entertainment and tourism management, expected in 2011
Residence: La Puente
Favorite pastimes: Reading, playing video games, hanging out with friends and family, trying new and different foods, technology
Favorite books: "The House of the Spirits" by Isabel Allende, "Memoirs of a Geisha" by Arthur Golden, "Les Miserables" by Victor Hugo
Favorite films: "Slumdog Millionaire," "Hero," "The Last Samurai," "Kill Bill" Vol. 1 and 2
Favorite quote: "We can not forget who we are or where we come from" — Nathan Algren from "The Last Samurai"
Steve Duran has never been away from his family. In August, he will begin a journey that will take him from his Southern California home to a land thousands of miles away. Read about Duran's adventures on his blog.
The 20-year-old business administration major and son of immigrants is the first Cal State Fullerton student to receive a California State University Wang Family Scholarship for study in China. He will spend 10 months in the Asian country, studying Mandarin at Peking University.
Since high school, Duran — whose parents were immigrants from El Salvador — has been studying Mandarin.
"My dad made me study it since I was already fluent in Spanish, and wanted me to challenge myself," said Duran. During his time at Cal State Fullerton, Duran's interest in China has grown, especially after he was able to meet visiting Chinese faculty members. He's been interested in studying abroad since he was a freshman.
"This is really big for my parents," he said. "This will be the first time that I have been away from my family… alone for an extended period of time."
His parents traveled from El Salvador in the 1980s, and his father, Elias, who taught himself English, now works as a computer technician.
"He would have continued his education if he could have — that's why my parents have always been involved in my education," Duran said. "They always stressed that unlike other things, no one can take away your education."
It will take 16 hours to get to Beijing, where he will be living in a dorm. He plans on taking language classes and visiting the Great Wall and several cities while in the region.
"Study abroad is a once-in-a-lifetime opportunity," said Duran. "I can see this as becoming one of the best experiences I ever had at Cal State Fullerton.
"When I return, I look forward to sharing what I've learned with others. I hope to 'pay it forward'," he added. "I want to help others to experience study abroad and would recommend it in a heartbeat."
Following the year in Beijing, Duran will return to Cal State Fullerton, where he hopes to complete his business administration degree with a concentration in entertainment and tourism management. He would eventually like to earn a master's degree in gaming management.
"I have always been interested in entertainment, but I've also had this interest in China and its language," said Duran, who says his ultimate goal is to work in the casino and live entertainment industry. He has family members who already work in Nevada's casino industry, and he often vacations there.
"I don't want to live with 'what ifs' in my life," said Duran. "I want to always look forward to a full life, and I believe that this experience will make me a more well-rounded person.
The Wang Family Scholarship was established by former CSU Trustee Stanley Wang and his family to "provide students with an opportunity to learn in an international environment and another culture." Each year, 20 scholarships of $4,000 each are awarded — 10 for study at either Peking or Shanghai Jiao Tong universities in China and 10 for students studying abroad at National Taiwan or National Tsing Hua universities in Taiwan.
To be eligible for the scholarship, CSU students must demonstrate a strong academic interest in China or Taiwan, be accepted to study in China or Taiwan with the CSU International Programs and have financial need as determined by the Financial Aid Office. Selection is competitive.