Q&A With Ben Higgins
Grad Student Delves into the Grunion Diet
January 12, 2010
By Debra Cano Ramos
Ben Higgins
Age: 26
Major: biology
City of residence: Long Beach
Favorite movie: "The Big Lebowski"
Favorite quote: "When everything's coming your way, you're probably in the wrong lane." by Robert B. Reich
Hobbies or pastime: restoring his classic 1971 Dodge Challenger
Expected graduation date: January 2011; master's degree in biology
Biology student Ben Higgins wants to know the feeding behavior of grunions. He recently discovered that grunions, after spawning, have eggs in their digestive tract. Now, with the aid of young scientists from Sycramore Junior High School, he hopes to find out more about this phenomena.
Why did you involve the junior high students in your project?
I wanted to involve the students because I personally love collaborations with students and talking to them about the scientific method. In fact, this is exactly what I do at the Cabrillo Marine Aquarium. I work in the Aquatic Nursery as the research supervisor, and I work with students from all ages on marine science research. I've had great experiences doing this for work, and when this situation presented itself through my own study, I thought it would have been a waste not to take advantage of it.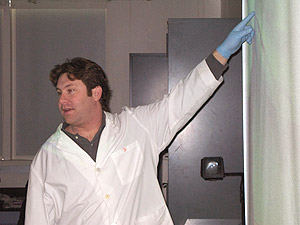 Biology student Ben Higgins is conducting graduate research focusing on the feeding behavior of California grunion. Photo by Stephen Weissbart
How did the students help with your project?
Having the eighth-grade students assist with my project ended up to be mutually beneficial. In the end, the students dissected 60 fish, sexed them, measured them and tallied the eggs in their guts. This would have taken me at least a month, while they did it in three days. So, they clearly helped me out. In turn, the students received directed, hands-on experience in an ichthyological branch of zoology dealing with fishes study — something I know I hadn't done until I was well into my undergraduate work.
What lessons did they learn?
Of course the students learned all sorts of lessons dealing with fish behavior and ecology during our work together. We presented very interesting topics, such as why we study fish, why we record data the way we do and just how weird it is for a mother to eat the very eggs she's carrying.
But on top of the apparent lessons, I think there was a healthy abundance of important lessons that were presented to them as a byproduct.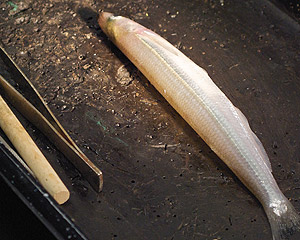 One of the grunions used in graduate student Ben Higgins research. Photo by Stephen Weissbart
What did the students take back to their own science classroom?
I think my project provided the perfect medium to get the students to experience the scientific method, on top of studying it.
Moreover, it was nice to be able to tell them that the data they were collecting is going to be used in a published scientific study. We gave them the notion that the work they were doing was going to be part of the real-world scientific community and that other people will be interested in the things they find. In addition, just presenting them with the idea that there are reasons to work hard for something, other than a grade, was important as well.
Related Story: GEAR UP College Experience: Eighth-Graders Join Campus Researchers in Scientific Grunion Study