Promoting STEM
Summer Programs Strengthen Future Teachers' Science and Math Skills
August 10, 2010
By Debra Cano Ramos
Victoria B. Costa, director of science education, has been busy this summer working with Cal State Fullerton credential students and other future teachers in efforts to increase the number of underserved and underrepresented teachers in the science, technology, engineering and mathematics fields.
She recently returned from her second summer as a consultant to NASA's Airborne Research Experiences for Educators and Students program and continues to serve on two additional programs: NASA's Pre-Service Teacher Institute and the Science Teacher and Researcher internship program.
The math and science focus of these efforts reflects Cal State Fullerton's heightened emphasis on increasing student interest in the STEM fields — one of seven universitywide initiatives for 2010-11.
The Pre-Service Teacher Institute at the NASA Dryden Flight Research Center in Palmdale began Aug. 1 and is designed to increase college students' skills in teaching mathematics and science, while incorporating technology in the curriculum, Costa said. It is also a project of the university's Catalyst Center for the Advancement of Research in Teaching and Learning Math and Science.
There are nine pre-service teachers participating in the two-week residential institute, including Cal State Fullerton teacher credential students and alumni. They are:
Jessica Ciancitto of Huntington Beach, who completed the single subject credential program in foundational level math in June and is enrolled in the master's in teaching science program this fall, recently was hired to teach chemistry at Aspire Pacific College Preparatory Academy in Huntington Park.
Jenifer Evans of Costa Mesa, a 2009 CSUF graduate with a bachelor's in liberal studies and minor in natural sciences currently enrolled in the multiple subject credential program.
Melody Foelsch of Anaheim Hills (B.S. child and adolescent studies '09, multiple subject credential program '10) hired to teach seventh and eighth grade science at El Rancho Charter School in Anaheim and plans to pursue a graduate degree in science education; and
Kathleen Hall of Anaheim, a liberal studies major with a minor in mathematics education who plans to pursue a multiple subject credential with foundational level math and science authorizations.
Alumna Beverly Berekian of Cypress (M.S. geology '08, single subject credential '09), is a second-year earth science teacher at Magnolia High School in Anaheim and is serving as an instructor for the institute.
The institute culminates with participants teaching a lesson at schools in the Palmdale area, and when they return home, they will teach the curriculum in their own classrooms, Costa said.
STAR Program
Costa also is overseeing two CSU students participating in the Science Teacher and Researcher program for aspiring science and math teachers and two students from CSU campuses in Fresno and Northridge who are conducting research at Dryden Flight Research Center. Additionally, two Fullerton credential students, Kristina Goltz of Fullerton and Michelle Wray of Anaheim, are participating in the STAR program at other California research sites.
Wray, a recent CSUF alumna who earned a bachelor's degree in human services and minor in natural sciences, is currently in the single subject credential program in biology. She is exploring the life history of various marine vertebrates this summer at the Romberg Tiburon Center for Environmental Students in Tiburon.
Fellow alumna Goltz, who earned a bachelor's in chemistry in 2004 and a master's in forensic science from National University, is enrolled in the single subject credential program in chemistry. She plans to teach middle school or high school chemistry and is participating in the STAR program at the NASA Jet Propulsion Laboratory in Pasadena. "The internship with STAR will help me to introduce new technology in the classroom and obtain a better understanding of space," she said.
The STAR program is offered by the CSU in partnership with private research organizations and federal agencies, including NASA and the U.S. Department of Energy. It is administered through Cal Poly San Luis Obispo and places future science and mathematics teachers at national labs.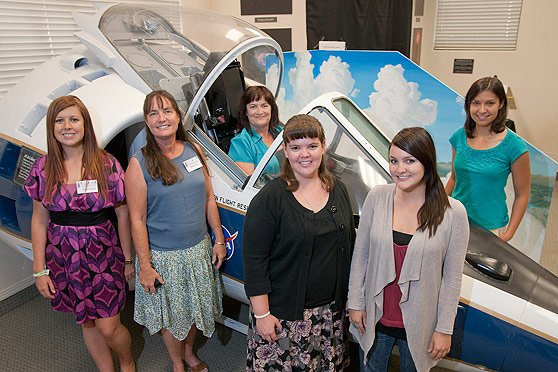 Participating in the Pre-Service Teacher Institute Aug. 1-13 at the NASA Dryden Flight Research Center in Palmdale are, from left, Jessica Ciancitto; Jenifer Evans; Victoria Costa, science education director; Kathleen Hall; Melody Foelsch; and Amy Scott-Williams, NASA project manager. Photo courtesy of NASA Dryden/Tom Tschida
---
Media Contacts:
Victoria B. Costa, Science Education, 657-278-2307 or vcosta@fullerton.edu
Debra Cano Ramos, Public Affairs, 657-278-4027; 657-278-2414 or dcanoramos@fullerton.edu