Witness to History
Student's Take on Sonia Sotomayor Hearings, Confirmation
August 18, 2009
By Cindia Velasco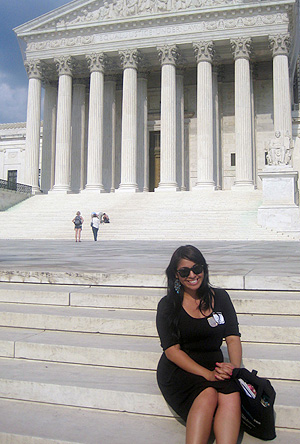 Cindia Velasco in front of the U.S. Supreme Court, where she witnessed Sonia Sotomayor's confirmation hearings.
Washington, DC truly was the place to be this summer. More than 20,000 interns from all over the world came to DC to learn more about our government and public institutions.
Cal State Fullerton interns worked in different governmental agencies and nonprofit organizations throughout the summer. We all got to come together with our professors every Tuesday during our scheduled class time to discuss how our internships were developing and about our daily experiences in DC. From these discussions, you really got a sense that we understood that we were a part of a movement that is taking place in Washington right now.
People like you and I are in DC right now, fighting for better education, environmental and health care policies. I deeply believe that these movements are a product from the way that President Barack Obama has been able to inspire the country as a whole. He has made everyday Americans listen, organize and fight for what we believe in.
Not only has President Obama inspired me, his appointments also made me reflect on my personal life and that is inspirational as well.
The appointment of Judge Sonia Sotomayor to the Supreme Court was controversial for some, and very inspirational to others.
As a Latina who grew up in La Puente, I really gravitated toward Judge Sotomayor's personal story.
The day that President Obama announced her official nomination, I wept with joy. This was her moment, my moment, and what other Latinos all over the nation had been waiting for. Our glass ceiling was getting shattered.
It was a true honor and privilege to be able to be in DC during her confirmation hearings and to attend them. I proudly went to the hearings, wearing my "Sonia" buttons. Some people would compliment me on it, and others would bash it.
I always told people that when I went to her hearings or wore my buttons around town, it was a way for me to cheer for her and to cheer for myself.
This is why Americans have gravitated toward President Obama and Judge Sotomayor. Cheering for their success inspires us to chase and believe in our own.
Every time there was a break during the hearings, Judge Sotomayor would stand up and look at the back of the room. It gave me a great sense of pride that the general public at those hearings was composed of many Latinos, and many other ethnic minorities. We were all there to support her and to reinforce our dreams and ambitions.
Seeing her suceed makes you get out of that room and work twice as hard to achieve whatever it was you want to achieve. Everything is possible.
I never thought I would ever get to go to DC for the summer through an internship program. Where I come from, these types of opportunities are never heard of. If you would have told me a year ago that I was going to sit in the senate judiciary committee on Sonia Sotomayor's confirmation hearings, I would have laughed.
Thanks to the opportunities that I have received at Cal State Fullerton, I was able to be there. The experience has changed my life.
Judge Sotomayor will take the Supreme Court bench in September. She will be the very first Latina to do so, and only the third woman in history. I am extremely proud of her, and I am thankful for her leadership. Now that I am home, I am determined to be a leader in my community and to work as hard as I have too to achieve my goals.
Cindia Velasco is a 22-year-old Cal State Fullerton political science major.
RELATED STORY:
Seeking Sotomayor Success
http://calstate.fullerton.edu/news/Inside/2009/cindia-velasco-q-a.html