Seeking Sotomayor Success
Political Science Student Witnessing Hearings of Her Idol
July 21, 2009
By Mimi Ko Cruz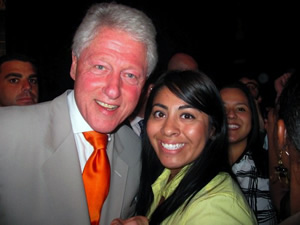 Cindia Velasco
Age: 22
School: Cal State Fullerton
Major: Political Science (B.A. expected in 2010)
Minor: Philosophy
Hometown: La Puente
Favorite Book: "In Common Cause" by John W. Gardner
Favorite Movie: "Boyz 'n the Hood"
Favorite Quote: "...that this nation, under God, shall have a new birth of freedom — and that government of the people, by the people, for the people, shall not perish from the earth." — Abraham Lincoln
Favorite Politicians: Franklin D. Roosevelt and Barack Obama
Favorite Philosopher: Socrates
Favorite Pastimes: Reading, hanging out with my friends and family and going to Dodger games
Judge Sonia Sotomayor may soon become the nation's first Latina justice on the Supreme Court. The daughter of Puerto Rican parents, she already serves as an inspiration to Cal State Fullerton political science major Cindia Velasco, the daughter of Mexican immigrants.
Velasco is in Washington, D.C., where she is attending Sotomayor's confirmation hearings.
"Judge Sotomayor inspires me because I am Sonia Sotomayor," said Velasco, who is working as an intern for Common Cause as part of the California State University summer D.C. Internship Program. "Her experiences are my experiences. Her struggles are my struggles. Her success will hopefully be my success story as well. I think all Latinas feel this way."
When President Barack Obama nominated Sotomayor for the Supreme Court, he called her "inspiring" and the embodiment of the American dream. That's what Velasco, too, thinks of her idol.
Velasco expects to complete her bachelor's degree next spring and pursue a law degree. She said her hope is to become a lawyer and, eventually, a judge.
Her professors believe she will succeed.
"I am glad Cindia is able to enjoy, first-hand, such historic events like the Sotomayor Senate hearings," said Steven Stambough, associate professor of political science and director of CSUF's D.C. Internship Program. "She is a driven and bright student who will take these experiences and use them to inspire her to succeed in areas of public service. Her professionalism is one of the reasons I wanted her to participate in the program and one of the reasons I expect to send students to her in the future for mentoring and inspiration."
Velasco said she kept her dreams a secret from friends and co-workers for fear of discouragement. But, when she learned about Sotomayor and her up-by-the-bootstraps story, things changed.
"I can hold my head up high and talk about my dreams and ambitions now, and not feel like I really can't do it," said Velasco, the first in her low-income family to attend college and the first to graduate from high school.
She recently spoke about her own life journey.
Q: What is your family background?
I am the second youngest of seven children. Both of my parents came to the U.S. from Mexico in hopes of economic prosperity and opportunity. They grew up in extreme poverty. My father has a third-grade education and my mother just received a first-grade education. They both had to help their parents work in order to survive. My parents always told me and my siblings to get educated, but they really could not watch over us because they worked long hours every day. My siblings joined gangs and dropped out of high school.
Spanish was my first language. My mother still does not speak any English. When I first began elementary school, I was taught in Spanish-speaking classes. By the fourth grade, I was in bilingual classes and my teachers wanted me to transition to English. I did not know how to read or write English, so I was horrified. I cried every day. It was more frustrating at home because my parents could not help me and my siblings did not want to help me. So, I decided to learn on my own. Once I learned how to read the language, it revolutionized my life. I fell in love with English literature and I deeply believe that this is where my passion for school and education came from.
My nieces and nephews have no excuse not to receive a higher education because I am their example of what you can achieve.
Q: What are your internship duties?
I work at Common Cause, a nonprofit public interest group that was established to hold the government accountable. It is an unpaid internship. I regularly speak to members nationwide about legislation that Common Cause is working on, including the Fair Elections Now Act, which would set up a national public-funding system. I also did a research piece about Arizona's public-funding system and how it has benefited ethnic minorities in the state.
Q: What is it like attending Sotomayor's Senate confirmation hearings?
Attending Judge Sotomayor's confirmation hearings has been amazing and difficult. They are amazing because you know you're a part of something historical and monumental. Barriers are being broken, and I'm extremely proud that I am there every day to be a part of it. They are difficult, though, because, as a Latina, some of the things that the senators ask her are difficult to hear. She has been given a lot of trouble for her "wise Latina" comment. I feel like she constantly has to defend her ethnicity and heritage. Everyone knows that she meant to inspire Latinos and Latinas with that comment. Experiences shape the way you think, you cannot debate that. It's just hard, at times, to hear what the opposing side has to say.
Q: What do you hope to be doing professionally in the future?
I will hopefully be a lawyer working toward reforming our education system. I am very passionate about education reform because I believe that without a good education, my state of California will not be able to get out of the mess it is in. The state needs to invest in Californians so that we can rise through any challenge that the 21st century presents to us. We can only do this through innovation and new ideas, and all these things occur in the classroom. In 20 years, I hopefully will be sitting on some judge's bench in California!