Cal State Fullerton Receives U.S. Presidential Award
Campus Honored for Exemplary Contributions to Service in Local Communities
March 18, 2008
by Debra Cano Ramos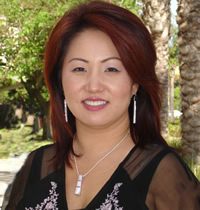 Jeannie Kim-Han
Cal State Fullerton students have performed more than 715,000 hours of community service that benefits children, homeless individuals, the elderly and others in need. For that achievement, the university was named to the 2007 U.S. President's Higher Education Community Service Honor Roll with Distinction for the outstanding academic internship, service-learning coursework and volunteer activities performed by nearly 9,000 students.

"This honor was awarded to the entire campus in recognition of all forms of community-based learning and service that our students performed in 2006-07," said Jeannie Kim-Han, director of the university's Center for Internships & Community Engagement (formerly the Center for Internships and Service-Learning). "This is well-deserved recognition for all of the students, faculty members, program staff and community partners who collaborated so willingly on all of these learning and service opportunities."
Students perform a variety of work through community service programs and projects offered by the Center for Internships & Community Engagement, Volunteer & Service Center, Associated Students and other campus organizations.

During 2006-07, an estimated 5,000 students performed more than 625,000 hours of community service through internships. Additionally, students served their communities through either service-learning classes or volunteering.
"Over the years, Cal State Fullerton has demonstrated its strong commitment to providing outstanding service to the community and offering many diverse opportunities for students to become engaged in volunteerism, service-learning and internships," said Amy Mattern, coordinator of the university's Volunteer & Service Center, which provides service to the community by coordinating a variety of service and social action projects. "These goals are reflected in the university's mission and goals and are critical in our efforts to ensure students receive a well-rounded education."

The President's Honor Roll was launched in 2006 and recognizes institutions of higher education that support innovative, effective and exemplary community service programs. The Honor Roll is jointly sponsored by the Corporation for National and Community Service, the U.S. departments of Education and Housing and Urban Development, USA Freedom Corps, Campus Compact and the President's Council on Service and Civic Participation.
Cal State Fullerton was among 127 higher education institutions across the country given the Honor Roll With Distinction recognition.

Twelve other California State University campuses also received Honor Roll recognition in various categories. In 2000, CSU trustees passed a landmark resolution to ensure that all CSU students had the opportunity to participate in community service/service-learning. Since then, CSU campuses have engaged in partnerships with private foundations, as well as state and federal agencies, to bring $16.5 million in support of community engagement activities throughout the CSU system. Of that amount, Cal State Fullerton brought in $3.45 million, Kim-Han added.
Nearly 1.4 million CSU students have engaged in a range of community service-learning activities since 1999. As a result, their contribution to their communities, calculated on a minimum wage rate, equates to a value of $1.5 billion.

For more information visit www.fullerton.edu/cisl, www.fullerton.edu/deanofstudents/volunteer or http://campusapps.fullerton.edu/news/inside/2008/community_giving.html for some of the programs and projects offered.