Helping Seniors Stay Mobile
University Institutes Transportation Project With $400,000 Grant
March 9, 2010
By Debra Cano Ramos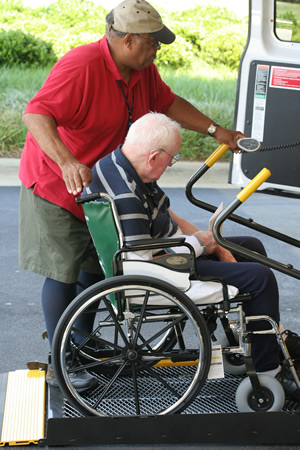 Many Orange County seniors do not have access to affordable transportation services and become homebound, isolated and lonely.
But a new Cal State Fullerton project launched in February seeks to address this critical community need facing the county's growing elderly population.
To better serve older adults in need of transportation services, Cal State Fullerton has been awarded a $441,119 grant from the Orange County Transportation Authority for "WECARE Transit."
The transit project is offered under the university's WECARE — Working to Enhance Care and Resources for Elders — program, started on campus in 2007. Through this AmeriCorps program, 47 volunteers, ages 21-78, are providing a variety of services to older adults who are at risk of losing their ability to maintain independent living.
Now, with the help of the OCTA funding, the program has added the transportation services component.
"Transportation is a critical issue among seniors," said Adrienne Stokols, WECARE director. "As people get older, many lose their ability to drive, which can begin a downward spiral of declining physical and mental health."
WECARE Transit was developed to help fill the gaps and barriers in existing transportation services for seniors, explained Deborah Davis, project coordinator.
"This is important because the senior community should have access to safe, accessible, user-friendly and affordable transportation services to get to and from medical appointments and the grocery store," Davis said. "But as important, is their ability to get to and from the hairdresser, social activities or wherever they need to go.
"This contributes greatly to their overall physical and mental well-being by providing them a 'safety net' resource. This safety net resource is a catalyst to aging well, which is WECARE's overall mission."
The Orange County Office on Aging, a WECARE partner, captures and reports on trends as seen through queries to its call center, which receives more than 35,000 call activities per year from local seniors, said Ericka Danczak, interim manager of information and assistance. Of those calls received in 2008-09, transportation was among the top call topics, Danczak said. "The most requested services were housing, transportation, in-home services, medical care and insurance."
Currently, 20 individuals — most ages 55 and older — have volunteered and trained as WECARE Transit members. They serve in one of two roles: as volunteer development team members or mobility ambassadors. The volunteer development team will recruit, screen and train 60 new volunteer drivers at local senior-serving organizations, Davis said.
"There will be a special focus on recruiting bilingual drivers, as well as drivers who will provide same-day rides, cross-jurisdiction rides and special-needs rides. They also will assist in developing and implementing new volunteer driver programs within these community organizations," Davis said.
The mobility ambassadors assist senior clientele, their caregivers and other human service workers in identifying, navigating and accessing existing transportation options, Davis explained.
WECARE is offered through the university's Office of University Research, Initiatives and Partnerships and the Institute of Gerontology in partnership with more than 25 Orange County community agencies that serve older adults.
Additional openings are still available for interested volunteers, said Davis. As AmeriCorps members, they receive a modest living allowance, or stipend, and may be eligible for an education award in return for their community service. For more information on the program or to volunteer, contact Davis at 657-278-7279 or debdavis@fullerton.edu.