Helping Hands
Cal State Fullerton Volunteer Program Cares for the Elderly
March 24, 2009
By Debra Cano Ramos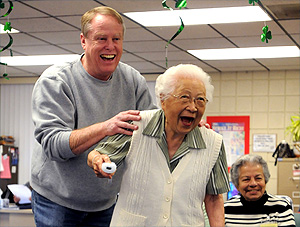 WECARE volunteer Richard Carney helps 91-year-old Nobu Hara bowl a perfect game on Nintendo Wii bowling as senior Arura Linares cheers her on. Photo by Kelly Lacefield
Whoops and hollers echoed inside the Buena Park Senior Day Program on a recent March afternoon. Volunteers Patricia and Richard Carney were showing a roomful of senior bowlers how to throw a perfect game as they took turns on the Nintendo Wii virtual bowling on a big screen TV.
"Good one!" Patricia Carney cheered as 91-year-old Nobu Hara gave it a try. "You got that spare!"
This was a typical day at the center, where the Carneys volunteer two days a week. They help lead the seniors, many of whom have varying stages of dementia, in a variety of activities such as Wii bowling, bingo, puzzles, crafts, spelling bees and exercise classes.
The couple also take the seniors on walks and engage in friendly conversations. They plan to start a gardening class this spring.
"It just feels really good to help out," Richard Carney said. "My wife and I enjoy coming here and helping the seniors."
WECARE volunteer Richard Carney, standing, helps out seniors, from left, Elizabeth "Bunny" Shedd, Peggy Anson, Jean Law, Katie Chambers, Tom Kresal and Carmen Cruz at the Buena Park Senior Day Program. Photo by Kelly Lacefield
The Carneys, who live in Fountain Valley, are Working to Enhance Care and Resources for our Elders — volunteers. WECARE is offered through Cal State Fullerton's Center for Internships & Community Engagement and the Institute of Gerontology in partnership with 25 community organizations that serve the elderly.
The program currently has 65 volunteers ranging from 18 to 80 years in age and is focusing on recruiting baby boomers (ages 42-60) and pre-boomers (ages 61 and older). Jeannie Kim-Han, director of the Center for Internships & Community Engagement, and Pauline Abbott, director of the Institute for Gerontology, are WECARE's co-advisers.
"Our goal is improve the lives of seniors living in Orange County and to assist these older adults who are at risk of losing their ability to maintain independent living," said Adrienne Stokols, WECARE founder and director.
As an AmeriCorps program — a domestic version of the Peace Corps — WECARE gives adults the opportunity to get involved in service activities in their local communities. Volunteers also are eligible for stipends and educational awards based on volunteer service hours. The program's 2008-09 budget is about $900,000 with funding coming from various sources, including the university, California Volunteers, CalOptima and community partners.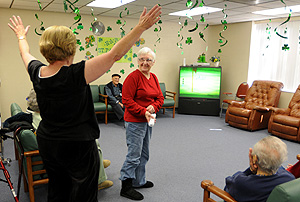 WECARE volunteer Patricia Carney gives senior Margaret "Peggy" Anson a lesson on playing Nintendo Wii golf as senior John Webright watches. Photo by Kelly Lacefield
WECARE volunteers, referred to as members, are placed in senior-serving organizations. They perform a range of services such as delivering meals, visiting seniors in their homes, providing transportation and assisting with health and recreation activities, Stokols explained. Members also recruit and place additional volunteers and develop or enhance programs to serve seniors, she added.
One of the participating organizations is Community SeniorServ, which promotes the independence of older adults through programs focused on health and nutrition. The Anaheim-based nonprofit placed the Carneys at the Buena Park Senior Day program, which offers services to frail seniors who are 60 years of age and older and in need of supervision. WECARE volunteers also provide service at local hospitals, physician groups, community college older adult programs and faith-based organizations.
"We couldn't be happier with the quality of the care and dedication the WECARE members have brought to our senior programs," said Theresa Powell, volunteer manager of Community SeniorServ.
The WECARE volunteers have not only enhanced the organization's services to the senior population in Orange County, they're making a personal difference in the lives of older adults, Powell said.
"WECARE helps bridge the gap between the growing number of aging adults and the budgets available to provide adequate staff to sustain their care," Powell added. "WECARE members are reliable, responsible and inspired to make a difference. We feel comfortable assigning important and vital tasks to them because they have embraced the concept of giving and caring whole-heartedly. They provide helping hands that make all the difference."
The Carneys, who each volunteer 10 hours a week, were looking for a program where they could be directly involved with seniors.
"We were looking for the right volunteer program — and that's hard to find," explained Richard Carney, 65. "This program is more hands-on and is the right fit for us."
"We finally found our home here," added Patricia Carney, 64. "The people here are wonderful. They all thank you when you leave. … It's a good feeling knowing that you made someone happy and that you were helpful."
The couple, married 43 years, also lauded WECARE because of the training and personal development opportunities offered to volunteers.
As the aging population continues to increase, so does the need for community volunteers, who are vital to sustain the health and happiness of older and frail adults often living in isolation, Stokols said.
"Experienced and trained community volunteers create a safety net for caring for our seniors," Stokols added. "At the same time, the volunteers benefit from being actively and purposely engaged in helping to improve their community. Many report that they feel they have benefited more than the senior they helped."
For seniors like Hara, who lives in Costa Mesa with her son and frequents the Buena Park Senior Day Program at least twice a week, there's nothing more comforting than caring volunteers like the Carneys.
"They serve us lunch, talk with us and do a lot of fun activities with us," Hara said. "We all really like them and we enjoy having them here."
Contact WECARE for more information or to volunteer.
Related Story: