TEST:UP's Second-Year Check
$2.5 Million Program to Attract, Support STEM Students Meeting Expectations
June 14, 2010
By Russ L. Hudson
More than 400 students are studying science, technology, engineering and mathematics, thanks to Talent Expansion in Science and Technology: an Urban Partnership, a collaborative effort by Cal State Fullerton, Mt. San Antonio and Santa Ana colleges. The program, entering its third year, is underwritten by a five-year, $2.5 million National Science Foundation grant.
Many of those students may never have attempted to enter the so-called STEM professions or might have gotten discouraged navigating the academic labyrinth and quit STEM pursuits, said Steven Murray, grant recipient, chief TEST:UP creator and dean of CSUF's College of Natural Sciences and Mathematics. That was of great concern to the three institutions' leaders because the demand for professionals in the STEM fields is growing while the number of graduates isn't keeping pace.
"We have an unusual program," Murray said. "Other U.S. colleges and universities have programs to recruit and retain STEM majors, but true collaborations to achieve this objective are rare between two- and four-year institutions. Our goal is to create a model of how to recruit, retain and generate more STEM transfers from two-year colleges and more STEM baccalaureate degrees from four-year universities."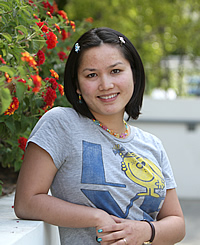 Phuong Nguyen
Strategies
The program has four "strategies." Three are under way and the fourth is in final staging phases.
Strategy 1 is strengthening counseling, guidance and mentoring for STEM and potential STEM students, with administration centered at CSUF. Strategy 2 is developing support networks, facilities and programs to back up learning communities. Strategy 3 is strengthening student learning through instructional workshops, peer facilitators, tutoring and resource centers. Strategy 4 is developing a network of graduate students as teaching interns to work with faculty at the community colleges.
Perhaps the most telling statistics on TEST:UP's influence so far shows that in fall 2009, 84 percent of students participating in the program's Supplementary Instruction workshops passed their classes, compared to 64 percent for others. Those students' grade point average at 2.59 was more than half a point above the others'. Another measure of success is the increasing number of students walking through Cathy Fernandez-Weston's door at Fullerton. Many of them heard about TEST:UP by word-of-mouth. Fernandez-Weston, as coordinator of TEST:UP's STEM Transfer Student Services at Cal State Fullerton, visits the colleges weekly to oversee and work with them on TEST:UP programs.
"There's a buzz in the hallways now," said Marty Bonsangue, professor of mathematics and co-leader with Sean Walker, associate professor of biological science, of the SI program on the CSUF campus. It has 20 "leaders," as the upper classmen in charge of calculus, biology and chemistry workshops are called. "Students are telling each other if they want to do really well, go to the workshops.
"I've gone to the community colleges myself to speak to mathematics classes. With some students, there seems to linger an idea that SI is remediation, and it's not. I explain it's a way to excel, to be able to follow the track they want."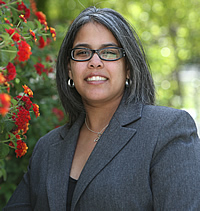 Cathy Fernandez-Weston
Leaders Get Education
Bonsangue said most of the student leaders from CSUF and the community colleges – more than 30 in all - are considering becoming math and science teachers, and they find leading workshops enlightening.
"I'm a prospective math teacher and wanted to experience being in front of a classroom," said Dawn Brander, a senior math major slated to graduate in August. Brander is a returning student with a three children. "I ran precalculus workshops. I realized you need to know your students personally, not just academically" to give the most to them and get the most from them. "You learn to tell when they're getting it and when you need a new approach."
Besides the math, the best thing for them, Brander said, was learning to find study mates, ask questions not only of her but of each other, and help each other with the concepts. "They went out better than they came in. So did I."
Fernandez-Weston's office focuses on helping students graduate at all three institutions. Students are informed about what STEM Transfer and Cal State Fullerton have to offer: tutoring groups, professional and peer advising, computer rooms and study areas. Informative websites and Facebook pages have been developed.
"We also have TEST:UP-backed STEM Transfer Student Scholarships and host workshops on how to qualify," Fernandez-Weston said.
Phuong Nguyen of Fullerton came from Vietnam to take advantage of educational opportunities. The junior transferred from Santa Ana College after getting TEST:UP advising and switched from nursing to biological science. Advising is key, she said, but potential financial help is an incentive, too.
"I was interested in science, but didn't think I could do it, financially or academically," she explained. "Academically, things were cleared up for me, and I was awarded a $500 STEM Transfer scholarship for textbooks. That's a big help, and I hope to qualify for research stipends. I'm getting advice on that, too."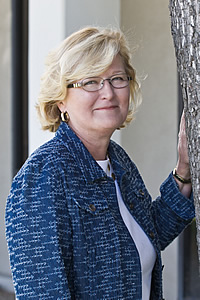 Carol Comeau
Transitions
STEM Transfer also helps with transition issues. Many students don't realize the amount of homework and lab time required, said Fernandez-Weston. "A conversation about scheduling study hours helps achieve a better balance," she said.
Sometimes students' parents need to know how much work there is, especially those with no college experience. Some think all schoolwork is done on campus, so off-campus time is at the family's disposal. Once they see the true picture, it usually resolves any issues.
But first, interested students have to get to a four-year institution, so the efforts start at the community colleges.
"There are a lot of students who don't choose STEM disciplines because they don't know what the field offers professionally," said Carol Comeau, dean of science, math and health sciences and TEST:UP administrator at Santa Ana.
"One way we used TEST:UP funding to build STEM visibility is by showing videos drawing the connection between STEM coursework and interesting jobs. Large turnouts saw 'Naturally Obsessed: The Making of a Scientist,' a gritty documentary on how three graduate students got their doctorates. Another, narrated by Matt Damon, 'Journey to Planet Earth: Hot Zones,' had multiple showings to accommodate more students," said Comeau.
Santa Ana College hosts industry speakers who tell why they chose STEM careers, as well as workshops and conferences offering academic and career information. Comeau added that a direct approach is used, too: going into science and math classrooms to talk.
She said the college also leveraged TEST:UP help to partner with departments to increase resources. The Biology Study Center was established as a place for students to study, collaborate on projects and access the learning resources that help them grasp complex concepts. In addition, 12 supplementary instruction leaders have been trained to advise, guide and tutor.
Steven Murray
First in the Family
"I'm the first in my family to go to college," said 19-year-old freshman Carlos Macias. "I got good grades in Sierra Vista High School in Baldwin Park. At Mt. SAC, I talked to Oscar Flores (TEST:UP counselor) and realized I wasn't taking college seriously enough. It was more intense and faster-paced than high school. The TEST:UP office showed me how to succeed by adjusting study habits to the '25/35 model' at CSUF, meaning study 25 to 35 hours a week and be smart about it."
Flores, who holds a master's in counseling from Cal State L.A. and worked seven years in the UCLA Admissions Office, was a first-time student, but he didn't get the help Macias is getting. It makes him more sympathetic.
"It took me four years at East L.A. College. Finding your way through all the required classes, paperwork and tests — which can vary for the major and the college you want — is hard. It's hard, too, for someone new to know about professional opportunities. I keep them from going through what I did."
"So far, TEST:UP has met my expectations," said Comeau. "But next year, we intend to urge increased student participation at conferences. We would also like to see TEST:UP funding finance more research opportunities.
"We want to reach more and more students to tell them of the rewarding opportunities STEM disciplines can lead to."
Related Story:
$1.5 Million TEST:UP Program Will Mentor/Recruit Science, Math Majors