$1.5 Million TEST:UP Program Will Mentor/Recruit Science, Math Majors
Three-Year Effort Unites Cal State Fullerton, Mt. San Antonio College and Santa Ana College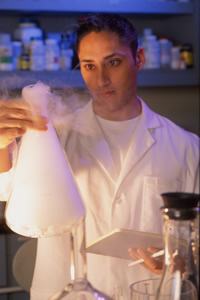 A chemistry student studies the smoky results of an experiment
Cal State Fullerton, Mt. San Antonio College and Santa Ana College, have launched Talent Expansion in Science and Technology: An Urban Partnership (TEST:UP) to attract, retain and graduate more students in the so-called STEM disciplines: science, technology, engineering and mathematics.
Funded by a $1.5 million grant from the National Science Foundation, TEST:UP aims to draw recruits from the general student population, including those who are the first in their families to attend college. All three institutions have traditionally educated high percentages of underserved students, who are currently underrepresented in the STEM programs.
The $1.5 million NSF grant will fund the project's first three years: approximately $700,000 to Cal State Fullerton's College of Natural Sciences and Mathematics as the lead agency, and $400,000 each to Mt. SAC and SAC.
The three campuses formed the collaboration in response to shared concerns about the need to increase the number of students majoring in math, technology and the sciences, and about the large number of majors who drop out or move to other fields prior to graduation. They decided they could do more working together.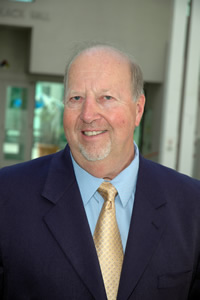 Steve Murray, Dean of the College of Natural Science and Mathematics
"The program's ultimate goal is to create a national model of how to recruit, retain and advance STEM students," said Steve Murray, dean of NSM, and the primary person responsible for the program.
"We aim to tie together the efforts of all three partners to recruit more students in the sciences, technology, engineering and math, help them complete their associate degrees, and assist their transfer to Cal State Fullerton or other four-year schools to complete their undergraduate degree," he said.
"Along the way," said Murray, "we will alert students to avenues for STEM-related study and prospective employment, and provide specialized advisement, mentoring and networking support to keep them motivated, focused on their studies and informed about the courses needed for STEM majors."
TEST:UP calls upon SAC and Mt. SAC to recruit students into science- and math-related fields, increase retention of existing students and produce more STEM students annually who graduate or transfer to four-year institutions.
In the same period, CSUF is expected to increase the graduation rates of upper-division transfer students and retain more freshmen who might otherwise have dropped out or changed their majors before completing their baccalaureate degrees.
Mt. SAC and SAC will supplement their existing student support staff with part-time advisers specializing in science, technology and math fields.
"We strongly believe that most of our students can be successful in science and math," said Larry Redinger, dean of natural sciences at Mt. SAC. "This NSF grant and partnership with Cal State Fullerton will provide the necessary elements to set up our students for success."
Both colleges also will produce electronic presentations that will be tools for faculty members, counselors and advisers.
CSUF faculty members, industry representatives and researchers will take part in guest lecture series and panels at Mt. SAC and SAC to explain academic and career opportunities and recruit community college students into math and science-related fields of study.
"Students don't naturally gravitate to STEM fields because they don't see the variety of career options available to them," said Carol Comeau, SAC's dean of science, math and health sciences.
"TEST:UP will help us foster an excitement about science by introducing them to CSUF faculty, researchers, engineers, computer scientists — those who touch science every day. It will make careers in STEM fields a realistic expectation for them," she said.
Cal State Fullerton recently named Gina Garcia to serve as coordinator for STEM transfer student services, a sort of "academic success coach" to visit each college on a weekly basis and assist NSM Assistant Dean Rochelle Woods and Murray in coordinating the work of the three institutions. Garcia also will work closely with faculty members and administrators on all three campuses to increase student success in the entry STEM courses and ease the transition from a two-year to a four-year institution. Planned strategies include supplemental instruction workshops and peer-led student learning communities.
Garcia has three years experience as the student retention and assessment coordinator in Cal State Fullerton's NSM and College of Engineering and Computer Science. She holds a bachelor's degree in business administration from Cal State Northridge and a master's degree in counseling and personnel services, with an emphasis in college student personnel, from the University of Maryland.
TEST:UP students at the three institutions will be tracked individually to determine the success of each of the program elements and to determine what improvements should be made.
Looking to the long term, Cal State Fullerton will develop a teaching intern program to provide opportunities for Mt. SAC and SAC students to more closely interact with CSUF graduate students interested in community college teaching careers.
California State University, Fullerton
A comprehensive, regional university with a global outlook, Cal State Fullerton enrolls more than 36,500 students and offers 105 degree programs in eight colleges. Accredited by the Western Association of Schools and Colleges, Cal State Fullerton is sixth in the nation for the number of bachelor's degrees awarded to minority students and first in California for the number of bachelor's degrees awarded to Hispanics.
Mt. San Antonio College
Based in Walnut, Calif., Mt. San Antonio College is the largest community college in the United States, with an annual student population of more than 65,000. The college offers more than 200 academic and career programs, as well as a variety of support services to foster student success.
Santa Ana College
Part of the Rancho Santiago Community College District, Santa Ana College serves nearly 40,000 credit and non-credit students each semester and offers 136 certificate and associate degree programs. The district's mission is to respond to the educational needs of an ever-changing community and to provide programs and services that reflect academic excellence. Santa Ana College and Santiago Canyon College are public community colleges of the district, which serves the residents of Anaheim Hills, east Garden Grove, Irvine, Orange, Santa Ana, Tustin and Villa Park. Both colleges provide education for academic transfer and careers, courses for personal and professional development, customized training for business and industry, and programs to train nurses, firefighters and law enforcement personnel.