Honoring a Dedicated Workforce
University Celebrates Staff for Service
June 15, 2010
By Pamela McLaren
President Milton A. Gordon joined his top administrators in giving praise to the university's staff members during the June 4 Staff Recognition and Appreciation Day festivities in Portola Pavilion of the Titan Student Union. Gordon told the assembled campus members that he was proud of how they had continued to serve the needs of the campus and its student population, despite the tough economic times.
"This is an event I always look forward to each year for it honors our staff employees for their years of dedication and service to our University," Gordon told the assembled campus members. "Because of the significant contributions of the staff working in partnership with the faculty and our student affairs professionals, for more than 50 years California State University, Fullerton, has turned students' dreams of earning a college degree into reality. I want to express my deep appreciation and thanks to all of you for your individual efforts which have contributed to our successful year.
"I am proud to serve as the president of this great university because we, the members of the Titan family, function as a family in terms of supporting and helping each other," Gordon said. "We are here this morning to honor you and tell you that we know that you are the ones who make a difference in the quality of our university.
"The dedication and pride each of you displays in your respective positions contributes to the overall excellence of Cal State Fullerton. This was never more evident than this year, when each of you, in so many different ways, made a positive learning environment for our more than 36,000 students and in so doing, you made the 2009-10 academic year a memorable one."
The annual event recognized this year's Outstanding Staff and Titan Excellence awards recipients (LINK), staff members who have earned college degrees and honored staff for years of service.
Four Decades of Service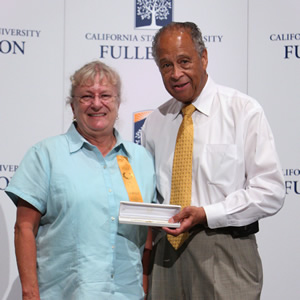 President Milton A. Gordon congratulates Joan Monteverde for forty years of service. Photo by Karen Tapia
Among those honored were two staff members who have served the campus for 40 years: Barbara Hooper, university articulation/project officer in Admissions and Records, and Joan Monteverde, credential specialist in the College of Education.
Monteverde joined the campus in 1969 as a stenographer in Admissions and Records, then was promoted to senior clerk and evaluation technician, prior to becoming a credential analyst in the College of Education's Credential Preparation Center in 1990. During her tenure, she has processed paperwork for more than 30,000 credentials and maintained the program's archives.
Monteverde has earned the title of education credential specialist from the California Commission on Teacher Credentialing and is one of the few credential analysts in the state who can make paperless credential recommendations to the commission.
As part of her work, Monteverde has developed forms to effectively communicate credential requirements to incoming students; initiated an imaging system for storing files; and reduced the turnaround time for research and credential evaluation and verification.
"Though her persistence and well-organized efforts," said Gordon, "she continues to be an invaluable resource for the College of Education, as well as many districts that Cal State Fullerton works with on a daily basis. Joan is always looking for ways to make procedures run more efficiently. She keeps everyone well informed and is able to resolve any complex issue.
"Last, but not least, Joan is extremely supportive of her staff and maintains a professional work environment that is honest, relaxed and pleasant, while at the same time establishing positive and harmonious relationships among faculty, staff and students."
Thirty-Five Years Recognized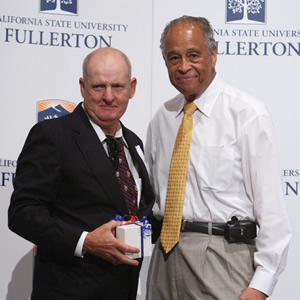 Terry Bohannon is honored for 35 years of service. Photo by Karen Tapia
A trio of long-time campus members were honored for their three and a half decades of service to the university: Terry Bohannon of the Auto Shop, Elizabeth Gibbs, director of the Children's Center, and Louisa "Lisa" James, parking officer.
As a member of the Auto Shop, Bohannon has serviced all gasoline, diesel and electric-powered university vehicles, and currently repairs and conducts maintenance on small motorized equipment. During his tenure on campus, however, he has worked in almost every unit of the trades — beginning as a groundsworker — and has become especially adept at creating parts that manufacturers no longer produce, or for which a manufactured part is not available, to keep campus equipment running.
"His work has been known to prolong the use of equipment and ensure they operate efficiently, a practice that both saves money and contributes to the Physical Plant's commitment to greener working habits," said Gordon in recognition of the Vietnamese veteran. "Terry has made many good friends in the Physical Plant and counts those relationships as a big reward for his time at Cal State Fullerton."
Gibbs is known on campus for her service to the campus' youngest population — the preschool-aged children of the university's students. When she joined the campus in 1974, said Gordon, the Children's Center was not even on campus; it was located at St. Andrew's Church in Fullerton. It would take five years to bring the center to two 'temporary' buildings located on campus. Late last year, construction began on a permanent home for the Children's Center that will allow the center to expand its program by more than 30 percent.
"Betsy insures that the Associated Student Inc. Children's Center continually is awarded significant grant funding," said Gordon, noting that the center annually receives more than $400,000 in grant income from the California Department of Education to help support child care for low-income students.
"In addition, thought her efforts, the university secured a $995,000 Child Care Means Parents in School grant from the U.S. Department of Education. This will greatly enable the Associated Students ton continue in its mission of providing quality child development for low-income student parents.… Betsy's selflessness and unswerving personal commitment to the operation of our Children's Center has contributed significantly to California State University, Fullerton, and has literally enabled thousands of student parents to attain their dream of receiving a high-quality university education."
Jaimes joined the campus in June 1975 after her brother, Robert, encouraged her to apply. She served for seven years as a custodian and through a cross-training program transferred to Parking and Transportation Services as a parking officer.
"Lisa enjoys being on a campus because it is a wonderful work environment and the friendships she has made throughout her career," said Gordon. "Lisa is a valued employee because of her camaraderie and willingness to support her co-workers."
Also Honored:
30 years of service —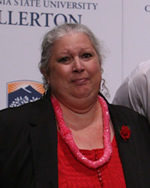 Bonnie Brewer
Doris Brissae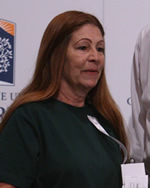 Kerry Hallas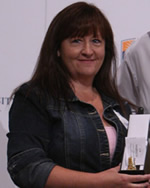 Susan Maddoz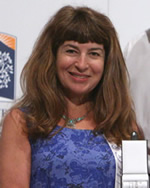 Maria Mezhinsky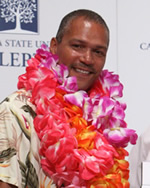 Anthony Prince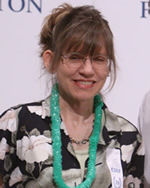 Jan Sheridan
Bonnie J. Brewer, Custodial Services
Doris M. Brissae, Student Financial Services
Ruth M. Dye, Pollak Library
Kerry L. Dye, Pollak Library
Susan G. Maddox, Psychology
Maria Mezhinsky, Admissions and Records
Danny R. Miranda, Shipping/Receiving and Logistics
Anthony D. Prince, Parking and Transportation Services
Richard F. Roland, Custodial Services
Jan M. Sheridan, Mathematics
Judy A. Strong, University Extended Education
Mark M. Thompson, Pollak Library
25 Years of Service —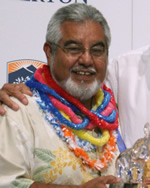 Silas Abrego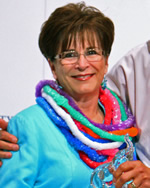 Patricia Boggs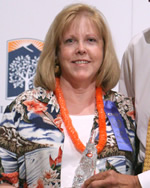 Shannon Glaab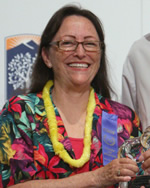 Roberta Grayson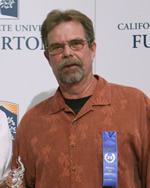 Wiliam Jones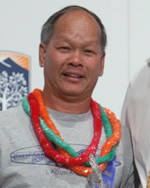 Michael Nguyen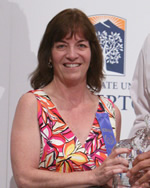 Elizabeth Regan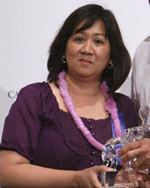 Mercedita Ricasata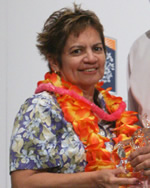 Irma Torres-Garcia
Raquel Richardson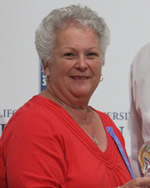 Billie Smith
Silas H. Abrego, Student Affairs
Patricia M. Boggs, University Advancement
Shannon Glaab, Academic Programs
Roberta A. Grayson, Humanities and Social Sciences
William T. Jones, Psychology
Joanna H.C. Liu, Career Planning and Placement
Michael C. Nguyen, Auxiliary Services Corp.
Elizabeth A. Regan, Communications
Mercedita L. Ricasata, Student Health and Counseling
Raquel Richardson, Admissions and Records
Billie L. Smith, Physical Plant
Irma Torres-Garcia, Parking and Transportation Services
Maria T. Valdivia, Career Planning and Placement
20 Years of Service —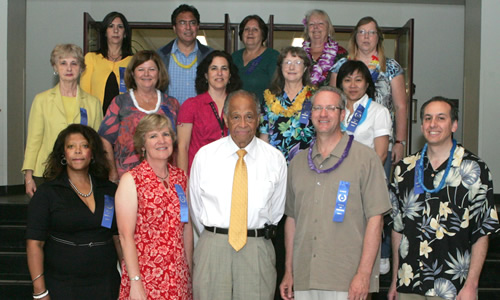 Pamela J. Bellomy, College of Education
Jay W. Bond, Facilities Management
Annette R. Bow, Human Communication Studies
Wilhelmina O. Bugaoan, Student Academic Services
Catherine A. Carreiro, Student Health and Counseling
Linda Chang, Electrical Shop
Norma Charest, Desert Studies
Cynthia K. Fields, Auxiliary Services Corporation
Edward A. Flynn, Mail Services
Margie D. Flores, Pollak Library
Lusia Komala, Associated Students, Inc.
Fred Kulikoff, Associated Students, Inc.
Joseph M. Luzzi, Information Technology
Christine E. McCarthy, Athletics
Pamela J. McLaren, Public Affairs
Mary Jo Medyn, Academic Affairs
Kandy S. Mink Salas, Dean of Students
Teresa M. Prather, Pollak Library
Judith C. Ryker, Parking and Transportation Services
Donna Shroyer, University Extended Education
Bronislava Shub, Student Health and Counseling
15 Years of Servicee —
Marcelo A. Aguirre, Desert Studies
Kurt Borsting, Associated Students, Inc.
Janet H. Chen, International Education and Exchange
Carroll K. Deitrick, Auxiliary Services Corporation
Richard E. Dickinson, Student Health and Counseling
Sheila D. Faris-Penn, Strategic Communications
Doreen L. Ferrel, Accounts Payable
Ignacio Gavino Navarro, Auxiliary Services Corporation
Catherine M. Grapham, Mail Services
Michelle M. Gromacki, Athletics
Melody M. Johnston, University Extended Education
John L. Lang, Custodial Services
Linda T. Lui, College of Communications
Sara Martinez, Admissions and Records
Regina Matthews, Student Academic Services
Karen J. McKinley, University Extended Education
Elda D. Moreno, Human Resource Services
Christine A. Nowicki, Admissions and Records
Mary Lou Rogers, Auxiliary Services Corp.
Jeffrey C. Senge, Disabled Student Services
Ellen B. Shaw, Student Affairs
Lay Tuan Tan, International Education and Exchange
Eboni N. Threatt, Counseling, Human Services and Social Work
Reginald T. Turnbow, Parking and Transportation Services
Penelope J. Utley, Auxiliary Services Corporation
Bev Vargish, Associated Students, Inc.
Gail C. Wright, University Extended Education
Kiyo Young, Human Communication Studies
10 years of Service —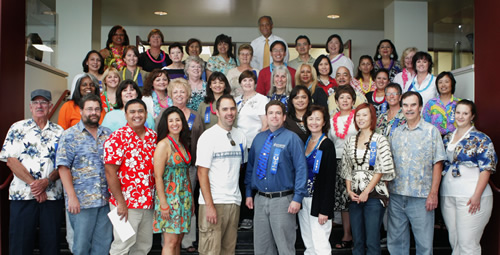 Pauline S. Abbot, Gerontology Institute
Chris W. Abelardo, Information Technology
Claudia Acosta, Radio-TV-Film
Ramon Alamillo, Landscape Services
Elahe Amani, Dean of Students
Carole A. Angus, American Studies
Michael M. Anthony, Physical Plant
Tony M. Arnuco, Custodial Services
Michael W. August, Music
John Bage, Deaign and Construction
Jesse N. Blanpied, University Police
Evangeline Bravo, Associated Students, Inc.
Vicki R. Brewster, Academic Programs
Patricia M. Brown, Student Health and Counseling
Gerald Bryant, Auxiliary Services Corporation
Rosalina Camacho, Women's Center
Shannon Campos, Student Health and Counseling
Monica Castro, Auxiliary Services Corporation
Patricia S. Chang, Admissions and Records
Matthew Conner, Auxiliary Services Corporation
Iris E. Cortes-Valle, University Police
Carol A. Creighton, University Extended Education
Carmen Curiel, Dean of Students
Deborah Diep, Auxiliary Services Corporation
Catherine T. Dinh, Faculty Development Center
Karen M. Emas, Mihaylo College of Business and Economics
Kelly A. England, Financial Aid
Mariana Ferrari, University Extended Education
Thomas S. Foster, Plumbing Shop
Alma J. Gonzalez, Health and Human Development
Sheila C. Greiner, Testing Center
Daniel Guzman, Information Technology
Catherine Halliday, Presidents Scholars Program
Elizabeth L. Hendershot, Teacher Education
Antonio Hernandez, Custodial Services
Billie J. Herring, Health and Human Development
Joseph A. Holbrook, Theatre and Dance
Carl F. Jones, University Police
Raymond D. Juanico, Budget Operations
John C. King, Information Technology
Thomas Kinney, Auxiliary Services Corporation
Laura K. Labuda, Information Technology
Cathy L. Lampshire, Politics, Administration and Justice
Elaine C. Landicho, Academic Programs
Janice R. Lee, Human Resource Services
Amy C. Lentine, Admissions and Records
Anhhoa Lu, Anthropology
Peggy B. Luna, Distance Nursing
Khoi B. Luu, Information Technology
Tracey Magyar, Associated Students, Inc.
Julie M. Martinez, Human Services
Robin L. Matthew, Auxiliary Services Corporation
Marilyn J. Miller, Academic Senate
Leanne Morinaka, Human Resource Services
Aimee L. Nelson, Student Affairs
Cassandra Newby, President's Office
Jeffery W. Newell, Information Technology
Rosa M. Newton-Mares, Cal State Teach
Kevin J. Nye, Financial Aid
David C. Palmquist, Career Planning and Placement
Denelle C. Pankratz, University Extended Education
Margaret A. Plenert, Auxiliary Services Corporation
Howard A. Pursche, Landscape Services
Hector A. Ramirez, Information Technology
Sandra K. Rhoten, Dean of Students
Anita M. Rios, Design and Construction
Linda G. Rodgers, History
Noel C. Runcie, Administration and Finance
Mozhan M. Samadi, Student Financial Services
Lillybeth N. Sasis, Center for Careers in Teaching
Christopher S. Searight, Music
Eugene N. Sim, Administration and Finance
Andrea F. Sims, Student Affairs
Cynthia N. Togami, English, Comparative Literature and Linguistics
Matthew D. Van Norman, Pollak Library
Patricia Verdugo, Human Resource Services - Payroll
Steven S. Vu, Academic Affairs
Edith A. Wilkins, Custodial Services
Andrea Willer, Associated Students, Inc.
Angela J. Zuniga, University Extended Education
Five Years of Service —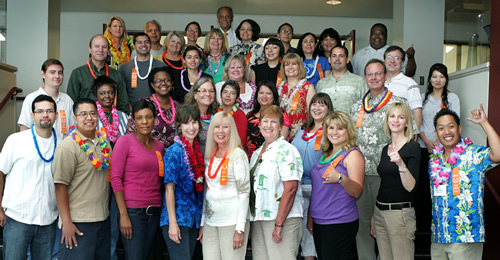 Tanya C. Abalos, University Advancement
Melvin G. Alegado, Human Resource Services
Amy J. Alspaugh, Academic Affairs
Karalyn Andrew, University Extended Education
Laura J. Archer, Pollak Library
Karla Arellano, American Studies
Lorenzo J. Armas, Information Technology
Jesus Barrueta, Student Housing
Mary M. Becerra, Student Health and Counseling
Susan L. Beckett, Child and Adolescent Studies
Philip S. Berriman, Chemistry and Biochemistry
Scott M. Bourdon, Environmental Health and Instructional Safety
Theresa I. Brown, Admissions and Records
Kellee M. Carter-Scales, Mihaylo College of Business and Economics
Jennifer Chung, Budget Operations
Pia R. Claudio, University Advancement
John B. Clement, Auxiliary Services Corporation
Tannise A. Collymore, Anthropology
Manuel C. Contreras, Student Housing
Maria Anita Costello, Auxiliary Service Corporation
Jeanne J. Crawford, Biological Studies
Patricia C. Cruz-Nicolas, Auxiliary Services Corporation
Juanita Daly, Cal State Teach
Edward De La Torre, Disabled Student Services
Michael T. Freeman, Landscape Services
Susan M. Gaitan, Faculty Development Center
Gloria M. Garcia, Liberal Studies
Roberto Garcia, Custodial Services
Tracey L. Gayer, Auxiliary Services Corporation
Clayton I. Gediman, Pollak Library
Silvia Gonzalez, Human Resource Services
Michael S. Greenlee, Athletics
Constance A. Gustaitis, Admissions and Records
Joseph R. Hackbarth, Admissions and Records
Margaret M. Hilgemann, Student Health and Counseling
Ma Lyzette E. Hingco, Admissions and Records
Heidi E. Hodges, Auxiliary Services Corporation
Brian K. Jenkins, Administration and Finance
Shannah E. Johnson, Fullerton First Year
Erin M. Lance, Auxiliary Services Corporation
Lyn V. Ledyard, Information Technology
Juan M. Magdaleno, Auxiliary Services Corporation
Dianna L. Malinao, University Advancement
Veronica Martinez, University Extended Education
Ken Maxey, Associated Students, Inc.
Patricia L. McCarthy, Physics
David B. McKenzie, Student Affairs
Deanna L. Merino, Academic Advisement
Jacqueline D. Michaud, Information Technology-Telephone Services
Michael W. Miles, Athletics
Monique Del Rio Miranda, Modern Languages and Literatures
John H. Mothershed, Information Technology
Barbara T. Mullinax, Human Resource Services
Hector Muniz, Contracts and Procurement
Patricia A. Myles, Center for Careers in Teaching
Maria R. Nunez, Custodial Services
Valerie J. Orleans, Public Affairs
Stacy L. Padilla, Strategic Communications
Angelica C. Perez, Human Resource Services
Anne Marie Perry, Human Resource Services
Denay S. Ponce, Auxiliary Services Corporation
Alison T. Quigley, Counseling, Human Services and Social Work
Verna L. Raun, University Police
Edward L. Read, Biological Studies
Donna M. Reeson, Contracts and Procurement
Allison Rich, Athletics
Katherine A. Rinos, Auxiliary Services Corporation
Jose J. Rivera, Auxiliary Services Corporation
Rosalva Rodriguez De Gomez, Student Housing
Victor M. Rojas, Student Affairs
Ignacia Royer, Natural Sciences and Mathematics
Fred Sanchez, Associated Students, Inc.
Warren K. Sasahara, Information Technology
Melem K. Sharpe, University Extended Education
Susan R. Smith, Human Resource Services - Payroll
Raymond H. Stapf, Landscape Services
Anne M. Thiele, University Extended Education
Delia A. Tuerina, University Outreach
Seonag G. Turner, Auxiliary Services Corporation
Velisa D. Webb, Admissions and Records
Pamela P. White, Information Technology
Theresa Wright-Reid, Human Resource Services - Payroll
YaPing "Lisa" Xue, University Extended Education