Interim Appointed
Koch Named Acting Dean for Natural Sciences and Mathematics
July 20, 2010
By Russ L. Hudson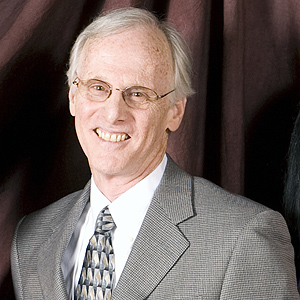 Robert A. Koch
Robert A. Koch, chair and professor of biological sciences, has been appointed interim dean of the College of Natural Sciences and Mathematics, effective July 19.
President Milton A. Gordon made the announcement to the campus community July 13: "Because of Dr. Koch's dedicated service as a faculty member since 1976 and excellent leadership as department chair since 2004, I am confident in his abilities to effectively guide our College of Natural Sciences and Mathematics at this time."
As interim dean, Koch is charged with overseeing the departments of Biological Science, Chemistry and Biochemistry, Geological Sciences, Mathematics, Physics and the Science Education Program. In addition, he will oversee department clubs and college centers. The college has 91 full-time faculty members and more than 1,800 majors.
Koch has been honored for service, teaching and research, including the 2010 California State University Program for Education and Research in Biotechnology's Andreoli Faculty Service Award, the College of Natural Sciences and Mathematics Distinguished Faculty Member Award and the Biology Faculty Distinguished Service Award.
Koch has served as a member of the university's Planning, Resources and Budget Committee from 2006 through 2010, as well as committee chair in 2007-2008, and has served on the NSM Dean's Advisory Board since 2004. He also served several terms on department personnel committee, including two terms as chair.
His leadership extends beyond the campus, including founding the Center for Applied Biotechnology Studies and the Program of Applied Biotechnology Studies, which includes a multicampus consortium administered from Cal State Fullerton. Koch has served a term in 2001 as president of the Southern California Society of Microscopy and Microanalysis, and was a delegate for the American Association for the Advancement of Science in 2001-2002.
Koch has brought in more than $4.5 million in grants for research and has partnered with other faculty members to bring in more, including $1.4 million stem cell research grants in the last two years. He has mentored more than 100 students and co-authored more than 50 papers with them.
The 36-year campus veteran has served as a visiting scientist at the Beckman Research Institute, City of Hope, and Caltech.
"These experiences and accomplishments are a credit to Dr. Koch's commitment to excellence, academics and our university, and serve as a critical foundation as he leads our College of Natural Sciences and Mathematics," Gordon said.
Koch received his master's and doctorate in biological science from Florida State University, Tallahassee, and his bachelor's in biology-chemistry from Eckerd College in St. Petersburg, Florida.
Koch fills the post previously held by Steven N. Murray, professor of biological science and dean of the College of Natural Sciences and Mathematics since 1995, who is now serving as acting vice president for academic affairs.
Media Contacts:
Russ L. Hudson, Public Affairs, 657-278-4007 or rhudson@fullerton.edu
Chistopher Bugbee, Public Affairs, 657-278-8487 or cbugbee@fullerton.edu