Revved Up About Higher Education
CSU 'Road to College Tour' Makes Stops at Anaheim Schools
April 27, 2010
By Debra Cano Ramos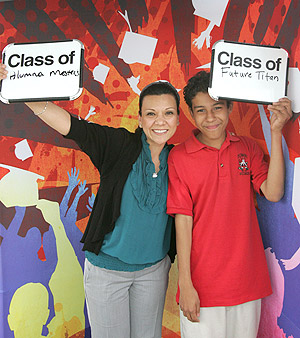 CSUF graduate student Gabriela Castañeda takes a photo with Sycamore Junior High School student Victor Gonzalez as part of the CSU/AT&T Road to College Tour. Castañeda, who attended Sycamore Junior High, was among CSUF student volunteers who gave information and answered questions about college life. Photo by Karen Tapia
Stephanie Aldaz is only in eighth grade, but she is already thinking about going to college.
"College will help me with a career. I want to study psychology," said the 13-year-old Sycamore Junior High School student.
Aldaz would also be the first one in her family to attend college.
"I want to make my parents proud," she said quietly.
On this day, Aldaz and her classmates had the chance to get information about getting ready for college — and they got excited about their future educational possibilities when a 40-foot, cool-looking yellow bus rolled onto their campus.
The Road to College Tour: Get On Board made stops April 15 at Sycamore and South junior high schools in Anaheim. Presented by the California State University and AT&T, which provided $500,000 in funding, the statewide bus tour continues through May 14. The tour of nearly 40 stops focuses on increasing awareness of the importance of early academic preparation and access for underserved students.
More than 200 students at each school boarded the bus, equipped with high-tech equipment so students could get a jumpstart on college. Inside the bus, students had computer access to college academic requirements, financial aid and scholarship information, career ideas, college majors and more.
"Students were very excited to get the information and to know that the CSU was there to provide them with everything they needed to begin planning for college," said Brenda S. Estrada, coordinator of Cal State Fullerton's Early Titan Outreach Program.
Silas H. Abrego, Cal State Fullerton's associate vice president for student services, told the Sycamore Junior High students to explore their college opportunities and become aware of college requirements and expectations, as well as take advantage of scholarship and financial aid information.
"Preparation is the key — and it starts now in junior high school," Abrego said, adding "don't use the cost of higher education as a reason not to go to college because there are scholarships and financial aid to assist you."
This event was an important lesson for junior high school students because the earlier they start thinking about college and preparing for their futures, the better off they will be in attaining higher education, Estrada said.
At Sycamore Junior High, parents also stopped by the event after school to make sure that their children received the information they needed to begin planning early, she added.
"It is all about planting the seed of knowledge early so that the reality of college can continue to grow throughout their secondary education and, ultimately, have a positive impact on the students, their families and our community," Estrada said.
College Ambassadors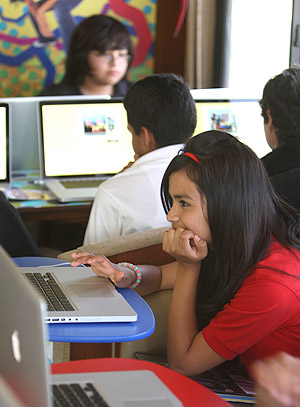 Sycamore Junior High School student Ariana Orduno works on a laptop computer to explore information about going to college during the Road to College Tour. Photo by Karen Tapia
Cal State Fullerton student ambassadors also were on hand at the two schools to answer questions, give information and show the students that college is possible.
Sophomore Ruben Santa, who is studying graphic design, was among CSUF ambassadors at Sycamore Junior High. He shared his own testimonial about his quest for higher education.
"In junior high, I didn't think about preparing for college like I should have," he admitted.
Santa, of Anaheim, added that he was glad to emphasize to the young students the importance of preparing early for college: "Judging from their expressions and positive feedback, I was convinced that they gathered the necessary information for their future education. The students left with a positive impact about higher education."
Graduate student Gabriela Castañeda also volunteered to assist the young students at her alma mater. Castañeda, also of Anaheim, graduated from Sycamore Junior High in 1993 and is the first in her family to earn a college degree. She told the students how important it is to get a college education and talked about the different majors and career possibilities.
"The students learned that they have options — and can choose from 23 CSU campuses. But most importantly, they learned that they can attend college and that there are people who care and are cheering for them to succeed," said Castañeda, who earned a B.A. in psychology in 2007 from Cal State Fullerton and is currently enrolled in the M.S. in education-higher education program.
"My hope is that the students were able to see themselves as successful college students with endless possibilities."
Planting the Seed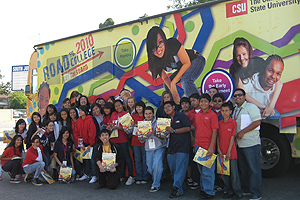 The CSU/AT&T Road to College Tour made a morning stop April 15 at South Junior High School in Anaheim to get students geared up for higher education.
Students at Sycamore and South junior high schools already are receiving college preparation services through the university's Early Titan Outreach and GEAR UP programs.
The goal of the Early Titan Outreach Program is to work with educationally disadvantaged students in grades 6-8 at participating schools and to assist them to explore higher education and career options, Estrada said. Cal State Fullerton interns provide positive interaction, mentoring, esteem building, motivational workshops and academic support services.
Participants and parents learn what is needed to prepare early for college, tips for academic success and how to apply for college and financial aid. The program also serves Brookhurst Junior High School in Anaheim, plus Imperial and Washington middle schools in La Habra.
In 2009, the U.S. Department of Education awarded Cal State Fullerton a six-year grant for GEAR UP with expected total funding of $7.9 million. This is the largest grant award in university history. To date, the university has received $2.6 million for GEAR UP, in which Cal State Fullerton provides educational experiences on campus, as well as services at South and Sycamore junior high schools to help disadvantaged students prepare for higher education.
The Community Mathematics Education Center serves low-income, mostly immigrant Latino students where families primarily speak Spanish at home, Vander Veldt said. Elementary school students are identified and referred to the program by teachers at the school.
Susan Ly, a sixth-grade teacher at Richman Elementary School, said the tutoring program has dramatically helped her students.