Becoming Educational Leaders
First Class Completes Master's in Higher Education Program This Summer
June 8, 2010
By Debra Cano Ramos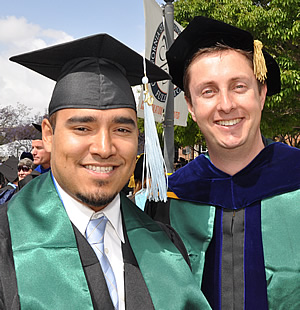 Master's candidate Joseph Alonzo, left, with John L. Hoffman, assistant professor of educational leadership. Photo by Patrick O'Donnell
Seventeen students are set to become the first to earn a master of science in education with a concentration in higher education this August.
In this first class are 11 Cal State Fullerton staff members who work in various college departments and divisions, including Student and Academic Affairs.
One of the program's students, Joseph Alonzo of Irvine, was selected to give the College of Education's commencement address during last month's celebration.
Alonzo advised education graduates to look inside themselves and what they have learned in their graduate programs to create change and influence policies to positively affect their students.
"Our schools should be inclusive and accessible to all. If we wish to see change in the education system in which we serve, we must first start with ourselves," said Alonzo, the first in his family to earn a college degree.
John L. Hoffman, assistant professor of educational leadership, called Alonzo an "impressive individual" who has been a strong leader in the program.
The purpose of the graduate program, launched in 2009, is to prepare entry-level professionals and career-changers to become educational leaders who support college students' learning and holistic development, said Dawn Person, professor of educational leadership and the program's coordinator.
"There is a tremendous need for people to work with college students who have an understanding of how to support and serve them," Person said.
The five-semester program, which includes one summer session, is being offered in collaboration with the university's Student Affairs Division. Students represent a range of careers from education-related fields to those seeking a new career and pursing a graduate degree for the first time, Person said.
The M.S.-higher education candidates and their cities of residence are:
Ericka Adakai, Fullerton
Joseph Alonzo, Irvine
Jessica Barco, Downey
Dina Bartoloni, Orange
Kerry Belvill, Whittier
Jessie Chou, Ontario
Brenda Estrada, Inglewood
Jolene Hill, Fullerton
Sun Lim, Bellflower
Jasmine Mageno, Fullerton
Diane Mazzey, Anaheim Hills
Lyndsey McKinley, Fullerton
Rosean Moreno, Fullerton
Deb Perkins, Orange
Ethan Shimer, Trabuco Canyon
Diane Steele, Mission Viejo
Delia Tijerina, Placentia
RELATED STORY: