Summer Springboard
Two Students Travel to Take Part in Programs for Their Futures in Public Policy
May 18, 2010
By Mimi Ko Cruz
Two new Cal State Fullerton graduates are packing their bags for summer experiences they hope will be springboards to future careers in public policy.
Eduardo Garcia has copmleted his bachelor's degree in American studies and psychology, and Cindia Velasco completed her bachelor's degree in political science with a minor in philosophy.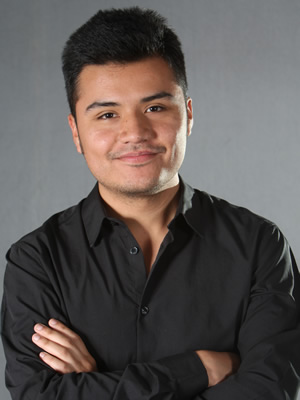 Eduardo Garcia. Photo by Karen Tapia
Eduardo Garcia
Garcia leaves his hometown of Anaheim this month to participate in the summer fellowship program of Humanity In Action, an international educational organization promoting human rights around the world. He is one of 44 college students throughout the nation chosen as HIA summer fellows.
Garcia will travel to the Netherlands to learn about the history and theories of resistance to legal and institutional abuse of minority populations and the development of international human rights institutions and doctrines after World War II and the Holocaust.
He will conduct research and produce a written report on human rights violations. Once he completes his studies abroad, he will create an action project, engaging human rights or minority issues, back home in Orange County.
"As the first in my family to go to college, I never imagined something like this could ever be a possibility for me," Garcia said, adding that he's felt a responsibility to give back since the day his ninth-grade high school English teacher commented in his journal.
"She wrote in red ink, 'I believe in you.' I still have that note," the 22-year-old said.
Garcia engages in community improvement projects through volunteer work for the Orange County Communities Organized for Responsible Development, a nonprofit organization that advances the rights of Orange County's working families.
"I help organize communities for social justice causes and I help people apply for U.S. citizenship status," Garcia said. "I'm really interested in public policy. By learning to work together, we can improve our community and make long-term change that is sustainable."
Last summer, Garcia was one of 30 students nationwide chosen to take part in UC Berkeley's seven-week public policy institute, where he took courses designed to improve the analytical and quantitative skills required by top-level graduate programs in public policy and international affairs.
Once he completes the HIA program, Garcia plans to find a job in Washington, D.C. and eventually pursue his master's degree in public policy.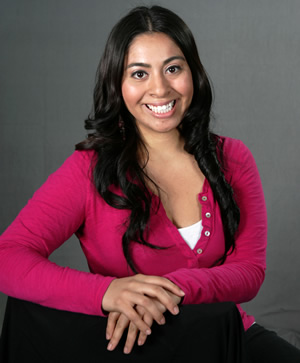 Cindia Velasco. Photo by Karen Tapia
Cindia Velasco
As an intern in Cal State Fullerton's Washington, D.C., Internship program, Velasco, of La Puente, spent last summer witnessing the confirmation hearings of Supreme Court Justice Sonia Sotomayor. This summer, she will begin a two-year stint teaching in a Chicago elementary school with Teach for America.
It's all part of her grand plan to become a lawyer and, eventually, a judge.
"I want to understand what problems kids face in the classroom," she said, adding that she will earn a teaching credential at Dominican University as part of the program. "During my second year, I'll be attending the University of Chicago to earn my master's degree in public policy. I am committed to closing and learning more about the achievement gap that plagues our urban cities."
After she completes the program, Velasco plans to pursue a law degree.
"I want to become a lawyer to reform our education system, and the Teach for America program will give me a better understanding of what needs to be done," the 23-year-old said.
As an undergraduate at Cal State Fullerton, Velasco has written papers about education reform and lobbied for education in Sacramento and Washington, D.C.
The daughter of Mexican immigrants who never attended college, Velasco said higher education has been her key to success. She credits her political science professors and mentors for giving her a solid foundation for her future career.
"They believed in me when I didn't, and they empowered me with knowledge," she said. "Cal State Fullerton inspires me. I gained ambition here."
For her undergraduate work, Velasco has received various awards, including being named a Future History Maker by the statewide organization Hispanas Organized for Political Equality.
"I'm excited about the future," Velasco said. "My dreams are coming true."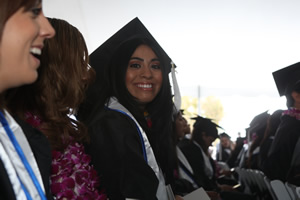 Cindia Velasco, center is all smiles during her commencement ceremony. Photo by Karen Tapia