From Addiction to Redemption
Former Drug Addict Finds New Direction: Graduate School
June 8, 2010
By Mimi Ko Cruz
As a drug addict, Daniel Cole didn't care about his life. He just wanted to stay high, even if it meant harming his health, becoming a dealer, harming others and landing in jail.
"I was lost in a freak existence," Cole said. "By getting clean and sober, I took advantage of the opportunity to earn my bachelor's degree here at Cal State Fullerton, and this has been quite a humbling experience. I was putting all my energy into abusing drugs and alcohol. Today, I put that energy into positive places, such as my education, so I can go out into the community and save lives, instead of taking them."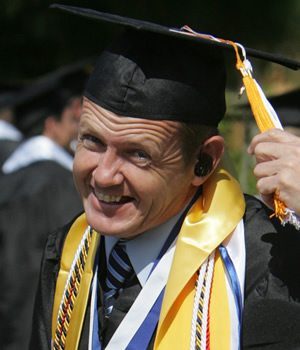 Daniel Cole
The 43-year-old Baldwin Park resident is so serious about reaching out to help others that he's completed his bachelor's degree in human services and will begin his studies in Cal State Los Angeles' master of social work program in the fall.
During his undergraduate years at Fullerton, Cole co-founded and served as vice president of the Substance Abuse Awareness and Prevention Student Association. He also served as a member of the Alcohol and Other Drug Advisory Committee, the Human Services Advisory Committee and the Human Services Student Association on campus, while maintaining a 3.74 grade point average.
Last year, he was the recipient of a William Randolph Hearst/CSU Trustees' Award for Outstanding Achievement and received the additional distinction of being named a Murray L. Galinson Scholar. Galinson, is a trustee emeritus of the California State University Board of Trustees.
His other awards and scholarships since 2009 include Cal State Fullerton's Dorothy M. Hagan and Juanita W. Hicks Achievement Scholarship, the Associated Students' Book Scholarship, the 2010 Associated Students Adult Re-Entry Scholarship, the 2010 Melinda Guzman Moore Excellence in Multicultural Leadership Scholarship, the 2010 Non-Profit Alumni Association Award, the 2010 Human Services Department Scholarship, the EOP Graduate of the Year Award and several others. In all, his awards have totaled more than $13,000.
Award grantors said they selected him for his story of overcoming odds, changing his life focus and finding redemption in higher education. Lori Phelps, CSUF human services lecturer calls Cole "a perfect example of the exceptional people we often overlook or discard because they are addicted to drugs or alcohol."
"Addicted individuals represent a population that is often misunderstood, misdiagnosed and still the focus of public and institutional discrimination," she said. "Fortunately, Daniel has overcome his own demons through hard work and determination. He stands out as a beacon for others who suffer from some of the same problems he has transcended."
Cole credits Phelps, adviser of the Substance Abuse Awareness and Prevention Student Association for helping him and the club promote substance abuse awareness and prevention on campus and in the community.
"Dr. Phelps has really made an impact on me, by showing me new ways in which I can help people," Cole said. "I thank her and everyone who has encouraged me and helped me succeed here at Cal State Fullerton. Ms. Lorraine Klein (human services lecturer) helped me map out my academic career, Charles Royston (human services lecturer) taught me about cultural awareness and identifying and delivering human services to diverse community groups and Michelle Berelowitz (human services lecturer) prepared me to become a human services professional."
As for his future, he said: "My life's goal is to earn my master's degree in social work, so I can in turn, give back to those who are less fortunate, who have lost their way and who need another human to give them a place to belong."
Related Stories: