Ex-Con Turns Scholar
Daniel Cole Reaches for Redemption Through Higher Education
September 29, 2009
By Mimi Ko Cruz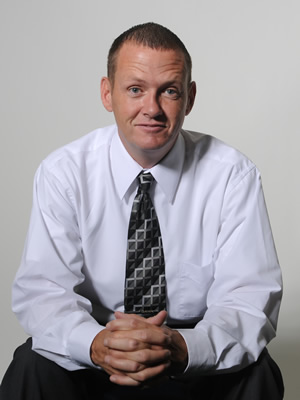 Daniel L. Cole
School: Cal State Fullerton
Degree: B.S. in human services expected in May
Age: 42
Hometown: Baldwin Park
Family: Mother, Jan Cole
Extracurricular: Attending drug and alcohol recovery meetings and conventions throughout Southern California; co-founding Cal State Fullerton's Substance Abuse Awareness and Prevention Student Association; and being active in the university's Phi Theta Kappa and Human Services Student Association
Pastimes: Watching Laker and Dodger games
Motto: "Never give up."
When Daniel L. Cole was a kid, he didn't like being scrawny "Little Danny Cole."
Born without a spleen and with his stomach and liver in reverse place, Cole was a sickly child, who suffered from hernias and underwent several intestinal surgeries. By the time he reached high school, he didn't have a place on any sport, and he longed for popularity.
At 14, he attended a party where he was introduced to marijuana, alcohol and cigarettes.
"I tried it and I didn't feel so little any more," recalled Cole, today a 42-year-old human services major.
Cole got hooked on beer and methamphetamines, and he became a dealer to support his habit. By the time he reached his 20s, he figured he was invincible, having eluded police by running from them many times.
But the law caught up with him in 1994, when he was arrested for possession of a gun and meth for sale and for resisting arrest.
"I was looking at nine years in prison," he said.
He got two, but was arrested and sent back to prison four times more on similar charges. He spent a total of seven years behind bars.
Released for the last time in 2003, Cole decided to enroll in a recovery program, which he credits for his decision to "get sober and stay clean."
"I was tired of living that lifestyle and wanted something better for myself," he said. "I never knew what I wanted to do until I started recovering."
Today, Cole is a senior looking forward to receiving a bachelor's degree next spring. He has a 3.91 grade point average and is this year's recipient of a William Randolph Hearst/CSU Trustees' Award for Outstanding Achievement and received the additional distinction of being named a Murray L. Galinson Scholar. Galinson, is a trustee emeritus of the California State University Board of Trustees. The honors came with $6,000 in scholarships.
The scholar also is the recipient of Cal State Fullerton's $1,000 Dorothy M. Hagan and Juanita W. Hicks Achievement Scholarship and the university's Associated Students' Book Scholarship, which pays for all his books this year.
Cole was chosen to receive the Hearst/CSU Trustee's awards because "he has come a very long way," said Anne Gillespie Brown, director of CSU Foundation Programs and Services. "From being incarcerated to changing his life to working on degrees that will enable him to assist others in the same position he was in is amazing."
Cole said once he made the decision to turn his life around, there was no going back.
"I believe we learn from our experiences, good and bad," he said. "Today, I live a more productive life, and I want to help others who are going through what I went through. I have a purpose now."
In fact, Cole, who works as a recovery specialist for Mid Valley Recovery Services in a treatment home for addicts in El Monte, has been busy establishing a new student club — Substance Abuse Awareness and Prevention Student Association. Its purpose is to help educate students about substance abuse.
"My goal is to give back what has been given to me so enormously through my educational experience at Cal State Fullerton," he said. "I have a reason for being now, and it feels great."
Before enrolling at CSUF last year, Cole had attended Mt. San Antonio College, where he earned associate's degrees in natural sciences and mathematics and social and behavioral sciences. He also holds an alcohol and drug counseling certificate from the California Association of Alcohol/Drug Educators (CAADE).
"To look at Daniel, you might never imagine the hardships he went through or the places addiction took him," said Lori Phelps, CSUF human services lecturer and executive director of CAADE. "He is just a perfect example of the exceptional people we often overlook or discard because they are addicted to drugs or alcohol. Addicted individuals represent a population that is often misunderstood, misdiagnosed and still the focus of public and institutional discrimination. Fortunately, Daniel has overcome his own demons through hard work and determination. He stands out as a beacon for others who suffer from some of the same problems he has transcended."
Cole credits his professors and CAADE mentors for encouraging him to pursue his goals and make a better future for himself.
He recently reflected on his life and answered a few questions:
Q: What have you learned?
Anything's possible. I finally found a path, a purpose. I used to be just a walking dead man with no direction, no meaning. But, now, I know what I want to do with my life, and that's help others out of the path I was on during my active addiction.
Q: Who are your role models?
My mother, who has been strong and stayed by my side through everything; my recovery program sponsor, who has shown me how to apply spiritual principles to my life, so I can, in turn, pursue my dreams; and Paul Sharpe, director of Mt. SAC's Alcohol and Drug Program and CAADE board member, who encouraged me to seek a higher education. Many people inspire me, and I hope to inspire others as well.
Q: What are your goals for the future?
After I graduate from Cal State Fullerton, I plan to pursue a master's degree in social work. Then, I plan on opening a nonprofit drug and alcohol treatment facility for the poor, the homeless and ex-offenders, so I can, in turn, give back to our community. This has been a dream of mine and my friend, Kerry Gracia, who is a CSUF graduate.
Related Video
The video for the Hearst award ceremony is available.