Double Time
Titans Dance Team Wins Back-to-Back National Championships
February 23, 2010
By Mimi Ko Cruz
On the heels of winning the 2010 College Cheerleading and Dance Team National Championship, the Titans Dance Team has won a second national title.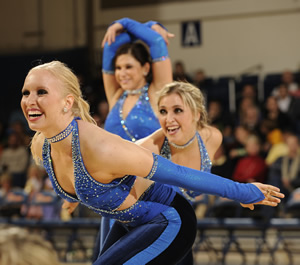 Titans Dance Team members, from front: Melanie Bridge, Tracy Bernardo and Lauren Knox. Photo by Matt Brown
Competing against other college dance teams from throughout the world, the Titans performed their winning routine Feb. 14-15 at the United Spirit Association's College Spirit and Dance competition at the Anaheim Convention Center.
Fullerton beat last year's champions Cal State Long Beach in both contests. Coming in third was Idaho State. Below Idaho were dance teams from UCLA, USC, University of Oregon, Boise State and a university in Japan.
"Even after several national titles over the past decade, these two — Universal Dance Association and United Spirit Association — this year are icing on the cake!" said alumna Sam Shen, the team's co-adviser and herself a former team member. "Our wins encapsulate the entire year as a whole. The team remained focused on being the best, training hard and practicing until the routine was perfect. We had a huge support system from our alum dancers to our parents, family and friends, from our cheer squad and Tuffy to our Athletics Department — a true team effort."
Members of the Titans Dance Team, their cities of residence, class level and major, are:
Tracy Bernardo of Saugus, sophomore dance
Melanie Bridge of Chino Hills, sophomore undeclared
Sarah Ellman of Lake Forest, junior health science, team captain
Bernadette Green of La Habra, freshman communications
Chelsea Horn of Mission Viejo, sophomore child and adolescent development
Amanda Moravek of Fullerton, sophomore business administration
Jessica Kerbs of Corona, junior liberal studies
Lauren Knox of Yorba Linda, sophomore undeclared
Lidia Mercado of Anaheim Hills, freshman nursing
Nare Sahakyan of Glendale, junior biological sciences
Marisa Struzik of Morgan Hill, sophomore kinesiology
Rebecca White of San Ramon, sophomore communications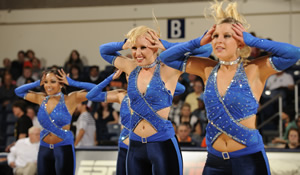 Dancers, from left: Bernadette Green, Melanie Bridge and Sarah Ellman. Photo by Matt Brown
The team's choreographer is Kenndra Alvarez of Yorba Linda, a senior health science major, and the advisers are Shen (B.A. communications-public relations '99) and alumna Jennie Volkert (B.S. child and adolescent development '97).
The video of the team's winning performance can be viewed online. Type in "Cal State Fullerton" in the search box to find it.
A photo tribute of the dancing champions by photographer Bryan Crowe also is available online.
Related Story: