Cheers for Dancers
Titans Dance Team Wins Back National Title
January 26, 2010
By Mimi Ko Cruz
Members of Cal State Fullerton's Titans Dance Team have reclaimed their title as national champions.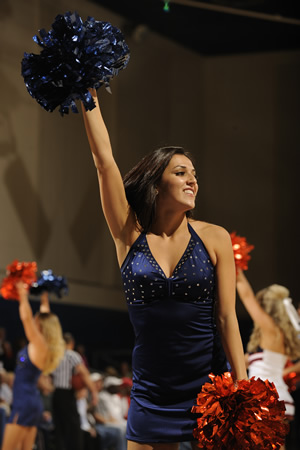 Nare Sahakyan performing at a recent CSUF basketball game. Photo by Matt Brown
Earlier this month, the dancers competed against thousands of the top college dancers from throughout the country and Puerto Rico at the 2010 College Cheerleading and Dance Team National Championship, produced by Universal Dance Association in Orlando. The competition will be aired on ESPN and ESPN-2 throughout the year.
The Cal State Fullerton team garnered top scores to win its ninth title in the last 11 years. Cal State Long Beach had the title in 2009, but Fullerton had it from 2000 through 2004 and 2006 through 2008.
"This win this year means so much because the girls worked so hard and there were so many parents and alumni supporting them," said alumna Sam Shen, the team's co-adviser and a former team member. "Everybody really pulled together, and it became less about beating Long Beach and more about winning the title back for alumni and parents."
Members of the team, their cities of residence, class level and major, are:
Tracy Bernardo of Saugus, sophomore dance
Melanie Bridge of Chino Hills, sophomore undeclared
Sarah Ellman of Lake Forest, junior health science, team captain
Bernadette Green of La Habra, freshman communications
Chelsea Horn of Mission Viejo, sophomore child and adolescent development
Amanda Moravek of Fullerton, sophomore business administration
Jessica Kerbs of Corona, junior liberal studies
Lauren Knox of Yorba Linda, sophomore undeclared
Lidia Mercado of Anaheim Hills, freshman nursing
Nare Sahakyan of Glendale, junior biological sciences
Marisa Struzik of Morgan Hill, sophomore kinesiology
Rebecca White of San Ramon, sophomore communications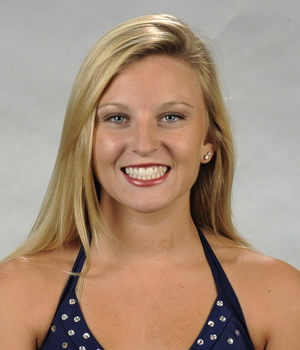 Sarah Ellman is this year's Titans Dance Team captain.
The team's choreographer is Kenndra Alvarez of Yorba Linda, a senior health science major, and the advisers are Shen (B.A. communications-public relations '99) and alumna Jennie Volkert (B.S. child and adolescent development '97).
"We really focused this year," Ellman said, adding that the team's members practice at least 15 hours a week on campus and take dance courses at local studios. "Dancing is fun to do, and we love Cal State Fullerton."
The team will perform its winning routine at the university's homecoming game Jan. 30 in Titan Gym and at the United Spirit Association's College Spirit and Dance competition at the Anaheim Convention Center Feb. 14-15.
Titans Dance Team is part of Cal State Fullerton's Spirit Squad, which includes Tuffy, the university's mascot, and 12 cheerleaders. The squad performs at every men's and women's basketball games on campus. They also make appearances at other games and at special events throughout the year.
Below is the Cal State Fullerton Titans Dance Team winning performance at the 2010 College Cheerleading and Dance Team National Championship.