CSU Grads Exceed Workplace Expectations
Cal State Fullerton Career Center Oversees Employer Survey
February 2, 2010
By Debra Cano Ramos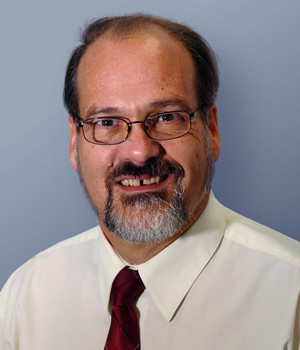 Jim Case, Cal State Fullerton Career Center director
James Case, Cal State Fullerton's Career Center director, always had the hunch that employers value the skill set California State University graduates possess when they become career professionals.
Now, a survey of California employers that hire CSU students have confirmed Cases' own gut instincts.
"The survey results show that not only are we doing a good job at preparing students for the workforce, but employers are highly satisfied with their performance. It's nice to have that objective confirmation," said Case, who has led the Career Center since 1999. "The message is that CSU graduates have the distinctive qualities that are widely recognized and valued by employers."
In October and November 2009, career centers from 21 CSU campuses — including Cal State Fullerton — conducted a statewide survey of employers who recruit students for professional postgraduate positions. The Center for Research on Employment and the Workforce, operated by Cal State Fullerton's Career Center, compiled the survey results.
A total of 258 employers responded to "Putting Education to Work: CSU Career Directors Statewide Employer Survey" — most of whom recruit on multiple CSU campuses, Case noted.
"Career center directors wanted to find out just how important their services are to employers," Case said. "We wanted to find out directly from employers how they value what we do and what they think of our students."
From an employer perspective, survey results show that the CSU system is producing highly qualified candidates — the next generation of professionals and leaders to grow the California economy in the future, Case said.
"The survey provides powerful evidence to support the return on investment that the taxpayers have made in the CSU," he added.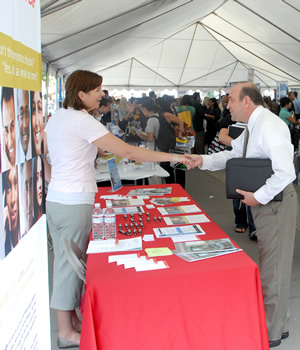 The Career Center works with employers to promote their organization on campus and recruit students during the spring Internship & Job Fair.
According to the findings, employers identified four areas where CSU students rated significantly above the pool of all college graduates employers had hired, Case said.
These areas are: teamwork; flexibility to respond to changing work demands; potential to contribute to the success of the organization; and representative of the diversity of the workplace — all attributes that are growing in importance in the workplace, particularly as employers across the state respond to the opportunities and challenges presented by the current economic disruption, the survey concluded.
Employers also highly rated the value of services CSU career centers provide, including posting job and intern positions; holding campus events, such as job fairs and campus interviews; and helping to build relationships between employers, academic programs and faculty members.
Moreover, 85 percent of those surveyed strongly or moderately agreed that centralized, campus-based services provided to them by CSU career centers had met their expectations.
On the other hand, nearly 90 percent of employer respondents indicated that there would be some to great impact on their hiring of CSU graduates should career centers no longer offer services to them, Case said.
"If for some reason, there were significant reduction in services, it would have an ominous consequence for not only students, but the programs and institutions as a whole," he added. "It's critical for each CSU campus to maintain the services to employers currently available, including efforts to assure that our students are well prepared to effectively engage in the career selection and job search process."
The executive summary and full report are available on the Career Center's website.
For more information, contact Jim Case at 657-278-2499 or jcase@fullerton.edu, or visit the Career Center website.
Related Stories:
Career Center Director Offers Advice http://calstate.fullerton.edu/news/Inside/2008/jim-case-interview.html
Career Center to Address Generational Issues http://calstate.fullerton.edu/news/Inside/2008/career-center-generational-study.html
Making Careers http://calstate.fullerton.edu/news/Inside/2008/jennifer-cunningham.html