Career Center to Address Generational Issues
New Employment, Workforce Research Center Introduced
September 23, 2008
By Debra Cano Ramos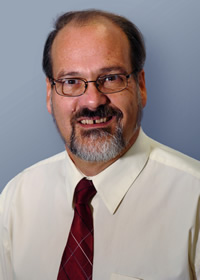 Jim Case
When young college graduates land their first jobs and work side by side with professionals two or even three times their age, generational differences often arise.
In today's workplace, many senior managers and professionals feel that young staff members under age 30 — often referred to as "Generation Y" — lack a willingness to pay their dues, according to early data collected by the Center for Research on Employment and the Workforce, or CREW, recently established by Cal State Fullerton's Career Center.
Young employees are anxious to quickly climb the corporate ladder. If they don't have flexibility or immediate recognition from older managers, often they move on to another job, resulting in high employee turnover and related costs for employers, said Jim Case, Career Center director.
On the other hand, senior managers believe young professionals should put in the time to get promoted. Their perception: "Generation Y is unwilling to pay their dues."
"When these differing generational perceptions occur, these contrasting views often lead to miscommunication and misunderstandings in the workplace," Case said.
Sean Gil
Initiative to Delve into Generational Issues
To address generational concerns, CREW has developed the "Young Emerging Professionals Initiative," which includes several planned projects, including the "Generation Y Perceptions Study." Preliminary study results will be released later this fall with final results in the spring, Case said.
The study's focus is to examine issues and perceptions between young college graduates in the workplace and that of older generations, including baby boomers (born before 1964) and Generation X (born between 1964 and 1978). To date, the study has surveyed more than 700 respondents, including Cal State Fullerton alumni, about how they view statements made about Generation Y in the workplace.
"Often, companies face challenges with recruitment, retention and management of young professionals," Case added. "We're hoping that through this research, we can bridge the generational differences in order to effectively meet the needs of young employees and their organizations."
The university's Career Center launched CREW to better help both Cal State Fullerton graduates and organizations — including corporations and government and nonprofit agencies — better understand workforce issues among the generations sharing today's workplace, Case noted.
"In our conversations with both recruiters and young alumni, this generational divide is a recurring theme," Case said. "Young professionals and organizations are vulnerable if they neglect to understand, and respond to, contrasting expectations among the generations. We want to better prepare our graduates for the workplace and to be successful in multigeneration work environments."
What is Crew?
CREW is a partnership between the Career Center and Spectrum Knowledge, a Southern California-based research and training firm that works with corporations on workforce issues. CREW's goals are to collect, analyze and disseminate information about issues and trends that are reshaping the professional opportunities of Cal State Fullerton graduates, as well as expectations of employers, Case said.
Other workplace issues and trends that the center will study include diversity, globalization and new technologies, all of which impact hiring requirements, organizational expectations and business opportunities.
Projects under the Young Emerging Professionals Initiative include:
Young Emerging Professionals Council, which consists of representatives from about 20 companies, ranging from aerospace to technology sectors. This year, council members and their executive sponsors are participating in a series of meetings where they are sharing their perceptions concerning generational issues, including best practices for successfully managing young professionals.
The Guide to Developing Young Professionals, an annual publication to assist companies and recruiters retain and develop young employees; and,
Young Employee Savvy and Success Program, developed and operated by Spectrum Knowledge to address employee and organizational needs.
The Career Center recently finished "Where Have They Gone: Survey of 2006 Graduates," which examined postgraduate employment and graduate school experience of recent Cal State Fullerton graduates. Copies of the study are available at the Career Center's website for download.
New Diversity Publication
Another key project of CREW is "Diversity Works," which launched this month, at the Urban League of San Diego County's Annual Diversity Summit.
This online professional community of diversity advocates will be developed to feature blogs, discussion forums and a secure Web-based polling system to keep readers up to date with the current pulse of diversity, said Sean Gil, Career Center associate director, who is overseeing this effort.
Additionally, CREW has developed a newsletter to share practical diversity strategies and insights from readers and supporters of diversity.
"We know there are other diversity publications out there, but we have three key differentiating features. First, we will focus on how diversity efforts help an organization accomplish its objectives, including evaluating their return on investment in diversity," Gil said. "Second, we will showcase compelling testimonies of personal transformation of former skeptics of diversity who have become influential and passionate advocates within their organization. Third, in each issue we will feature a secure Web-based polling system of reader's opinions, which we will compare to the latest findings in diversity trends, and include in the next Diversity Works newsletter."
Visit www.fullerton.edu/career and click on "CREW" for more information, or, contact Jim Case at 657-278-2499, jcase@fullerton.edu or Sean Gil at 657-278-2019, sgil@fullerton.edu.