Outstanding Staff Recognized
University Honors Three for Exceptional Service
June 14, 2010
By Pamela McLaren and Debra Cano Ramos
Three campus staff members from widely divergent fields and backgrounds are this year's Outstanding Staff Award recipients.
Recognized this month during Staff Recognition and Appreciation Day were staff members with jobs that range from protecting the university's people and property; protecting its communications, staff, faculty and student information and intellectual property; and serving as mentor, guidance counselor and support to students.
All were selected for their creativity, initiative, leadership, teamwork and special contribution to the university.
This year's honorees are: Robert Botzheim, detective/investigator with University Police; Dale Coddington, security analyst in Information Technology; and Giulii Kraemer, program coordinator for the Guardian Scholars Program.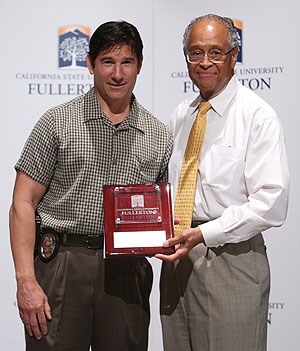 Robert Botzheim
Robert Botzheim
A member of the campus community since 1992, Botzheim, "has made extraordinary efforts to assist his department with their mission of providing a safe environment for faculty, staff and students," President Milton A. Gordon said. "He has been recognized with every possible award that can be given by his department, including multiple awards for employee of the quarter, the distinguished service award and other awards for achievement."
"Robert accomplishes through initiative and his work ethic what would take two to three other investigators to complete," said Lt. John Brockie, who nominated the officer. He is "the 'do more with less' model employee. He is the most important driving force for the high case closure rate of University Police."
University Police Chief Judi King agrees.
"His contributions to the department and to his profession are impressive," she said. "It's nice we can recognize his achievement with this type of award. 'Botz' is not a man who just shows up, he truly lives the job."
An example of his diligence is in the investigation of identity theft cases.
"Identity theft cases that involve the Internet are difficult to solve and prosecute," Brockie noted. "Many police departments are hesitant to take and investigate these types of crimes due to many reasons. Robert's relentless pursuit in identity theft cases has resulted in case closure rates of over 60 percent the last two fiscal years."
Botzheim also is creative in "thinking out of the box," added Brockie, giving an example of multiple thefts from lockers in the Student Recreation Center. "Robert examined all of the cases and started creating a list of potential suspects using the hand scan data (used in the SRC). Robert used the list of potential suspect names to cross reference with California Department of Motor Vehicles photos and physical descriptions. He was then able to find video of the suspect carrying stolen items out of the locker room on multiple occasions.
"The final piece of the puzzle was how the suspect was getting into the lockers without damaging the locker or the lock. He did research on the Internet, finding a step-by-step video of how to defeat the combination locks." When he made the arrest, he discovered evidence matching the video and was able to tell the suspect exactly how he had managed to commit the thefts, Brockie said, and the suspect confessed.
When a robbery occurred in student housing, Botzheim was required to work with other police agencies in several counties. "A Los Angeles Sheriff detective commented to me during the investigation that he was impressed with the level of commitment that Robert had to finding the perpetrators and the support Robert had from the university," Brockie noted.
"In this case alone, Robert's exemplary and professional service touched many people in a positive way. For the victims and their families, Robert's service reinforced that they made a good decision to attend Cal State Fullerton," Brockie added. "Although Robert's role is different than the majority of staff members, his role as an ambassador for the university is very important."
Botzheim, Brockie said, works well independently, as a team member, or with other other police agencies. "His flexibility in the roles that he plays, his willingness to share his knowledge and his ability to take the lead when necessary makes him an invaluable part of the University Police."
"Its a good feeling to be recognized for the things you do, especially on a campuswide basis," said the Brea resident, who added that he enjoys working on the college campus because of its small town feel and the ability to make a difference. "I enjoy solving a case and getting the victim's property back to them.… Being able to give peace of mind to the victim."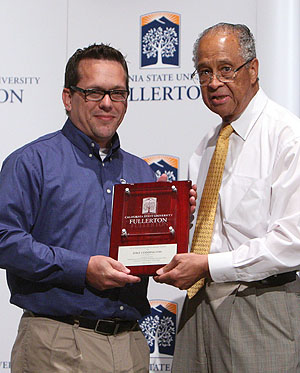 Dale Coddington
Dale Coddington
Coddington said he was surprised but got a big thrill when President Gordon announced his name as one of the recipients of the Outstanding Staff Award. But his naming was no surprise as Gordon told the assembly that Coddington "is the 'go-to-guy' for system security and evaluation. He has established himself as an excellent reviewer of security issues and their respective impact on campus systems."
"Based on his efforts, we are consistently ahead of the curve in determining issues and keeping campus systems secure," said Kerry Boyer, Information Technology's information security officer, who nominated Coddington for the honor. As an example of the work that he does, Boyer noted that Coddington "produces a daily security blog, available to the campus, on current security issues, as well as trends in information security, which might impact campus operations."
Coddington, who joined the university in 2006, is the campus point of contact for all incidences involving computers infected with viruses and worm programs involving possible confidential data, Boyer said. "Dale has even gone off campus to assist faculty in resolving security issues with their home and campus systems."
In addition, he has worked with the system in an information security audit, coordinated systemwide forensic training attended by eight CSU campuses, reached out to a number of external law enforcement areas and provided assistance in developing a regional forensic proposal, which was accepted, for the Department of Justice in Southern California.
"Technical staff across the CSU have been able to benefit from his expertise; they consider Dale as a leading resource of forensic tools to solve computer security incidents," said Chris Manriquez, chief information/technology officer. "As lead analyst for the first CSU-wide Virtual Information Security Center, Dale has worked with other VISC member campuses, to build a remote centralized environment for investigating computer security incidents."
"Working with others on campus has given me a broader knowledge of the technology used in other areas and a way to work with them on solving problems that might arise," said the Orange resident. "I feel by working together, we can keep Cal State Fullerton secure from outside and inside security threats."
"Dale has brought to the campus commercial relationships in the computer security software arena that have made it possible for the campus to evaluate cutting-edge security software at no cost," Boyer added. "He has been able to leverage his security knowledge and expertise from the commercial sector in implementing best practice recommendations in the areas of securing enterprise servers and administrative database systems. Dale routinely determines the current threat level from off-campus sites and makes sure that the campus systems are constantly maintaining their security posture."
In the interest of maintaining campus security, Coddington has developed courseware and given other campus technical staff training on security processes and procedures for academic systems. He's participated in the development of campus security standards, guidelines and procedures.
"I am proud to have received a Titan Excellence Award and receiving the Outstanding Staff Award is an even greater honor," said the network security analyst. "My manager and division recognize my work, however, to be recognized by the campus community was beyond my expectations."
"Dale is an integral component of the information Security function of the university," said Boyer. "Dale supplies expertise in security investigation techniques and forensic functions, which are not found at many of the CSU campuses. He has taken the initiative a number of times to negotiate no-cost relationships with vendors to supply the information security team with cutting-edge tools for evaluation."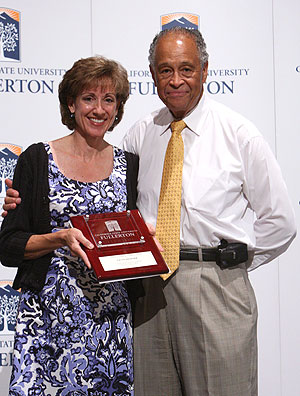 Giulii Kraemer
Giulii Kraemer
Some students refer to her as "Momma G," others call her "an angel sent from heaven" or the Guardian Scholar Program's "goodwill ambassador."
Now all can call her an outstanding staff member.
For the past nine years, Kraemer has been the coordinator of the university's Guardian Scholars Program, which supports former foster youth pursuing a college education. She works closely with the Guardian Scholars and assists them in countless ways. For one student, it may be helping them select a topic for a term paper, or for another, assisting them in planning for a workshop.
"I feel blessed to be able to support the students in their quest to earn a college degree, where they will have the opportunity to make their dreams come true," Kraemer said. Being selected for this award is an honor, she added.
"It means a great deal to me to receive this award because I feel very connected to the university and the Guardian Scholars Program," Kraemer said. "I am proud to represent Cal State Fullerton. It is an outstanding institution of higher education and our students receive a first-rate education."
Grace Johnson, the program's director who nominated Kraemer for the award, said Kraemer always represents the program in a professional and positive manner, and just as important, puts the needs of students first. "Giulii is a remarkable woman. I have never met anyone as kind and patient as she is, especially in supporting the unique population of students we serve in the Guardian Scholars Program. She truly serves as an inspiration to our students."
Students in the program fondly call Kraemer their cheerleader, motivator and role model.
"When I think of Giulii, I think of her constant caring and devotion that she gives to each one of us. Giulii is always putting everyone else first and goes above and beyond for people," said Guardian Scholar Melanie Demedenko, who graduated in May. "Her upbeat and positive attitude is something I look up to. There are no words to truly explain the positive impact she has made on each and every one of us. Having a 'second mom' like Giulii has been so wonderful."
Johnson added that Kraemer's collaborative approach to her job has contributed to the program's success.
"Giulii works as a team member with the many student support services on campus with one common goal of providing students with a quality education and a university learning experience," Johnson said.
Kraemer joined Cal State Fullerton in 1987 as a part-time administrative assistant in the Marketing Department. She later worked in other academic departments before landing the position with the Guardian Scholars Program in March 2001.
"It's rewarding to love what you do, to be proud of where you work and to respect and admire the people you work with," said the Brea resident.
Kraemer is married with two sons. Her eldest son, Geoffrey, graduated from Cal State Fullerton in May with a bachelor's degree in political science.
Last fall, Kraemer was honored with the 2009 Leaders of Integrity Award from the Orange County-based Passkeys Foundation's Ethical Edge.
---
Titan Excellence Award Recipients
The Outstanding Staff trio were selected from among 41 recipients of this year's Titan Excellence Award recipients. They are:
Academic Affairs
Pam Bellomy, Kerry Belvill, Kim Naujokas and Jacque Russell, College of Education
Julia Capelli, Academic Advisement
Penny Connell, Faculty Affairs and Records
Leo Cota, University Outreach
Shannon Glaab, Scheduling
Alma Gonzalez, College of Health and Human Development
Maria Hernandez-Figueroa, College of Humanities and Social Sciences
Lyzette Hingco, Admissions and Records
Linda Lui, College of Communications
Xiomara Melendez, University Outreach
Hye-Sun Moon, Institutional Research and Analytical Studies
Thoedore Nguyen, Mathematics
Vincent Nguyen, Biological Science
Shannon Wilson, Reading
Rochelle Woods, College of Natural Sciences and Mathematics
Eileen Yuhico, Military Science
Administration and Finance
Joyce Cross, Dawit Haile and Christine Quach, Student Financial Services
Leonardo Lopez, Environmental Health and Safety
Thao Nguyen, Noel Runcie and Barbara Scarpa, Information Technology
Marilyn Dela Cruz, Physical Plant
Auxiliary Services
Kathleen Olmstead, Children's Center
Information Technology
Svetlana Chekardzhikova
Steven Hensley
Andy Pho
Jamie Vu
Student Affairs
Diana Avendano and Kathryn "Kappy" Ruzzi, Office of the Vice President
Elizabeth Buchanan, Disabled Student Services
Susan Leavy, Women's Center
Joanna Liu, Career Center
Amy Mattern, Volunteer and Service Center