Inspiration and Guidance Rewarded
Guardian Scholars Leader Receives Integrity Award
November 2, 2009
By Debra Cano Ramos
For nearly nine years, Giulii Kraemer has worked with Cal State Fullerton's Guardian Scholars — former foster youth pursuing a college education — to give them guidance, support and even a shoulder to cry on.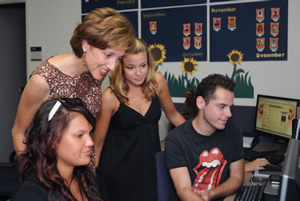 Giulii Kraemer, top left, with Guardian Scholars Frankee Estrella, Ashley Fortini and Danny Martin. Photo by Kelly Lacefield
Some have fondly thought of Kraemer as a mother figure, while all have relied on her advice, compassion and encouragement to help them get through college and into successful careers.
"Watching the students blossom and grow over the years they spend with us is by far my favorite part of working in the program," said Kraemer, scholars coordinator. "The students are very inspirational; they've overcome so much, yet they're so resilient and focused on their education."
For her commitment to helping students develop personal ethics, as well as inspiring those she serves, Kraemer recently received the 2009 Leaders of Integrity Award from the Orange County-based Passkeys Foundation's Ethical Edge. The award was presented at a Sept. 22 luncheon attended by student affairs staff members, students and Kraemer's family.
Giulii Kraemer's family, son Geoff, left a CSUF student, husband Roger, and son Garrett, a Mt. San Antonio College student, congratulate her on receiving the 2009 Leaders of Integrity Award.
Kraemer, who is married with two sons — one of whom is a Cal State Fullerton student — said she is honored to be a recipient of the organization's inaugural award.
"It's gratifying for me to know that others agree that our program is positively impacting the lives of our students," she said.
Kraemer acknowledged that she tries to lead by example and model ethical and honorable behavior: "For me, integrity means doing the right thing for others, as well as yourself."
The Guardian Scholars Program provides financial support and services to young adults no longer in the foster care system and working to achieve their educational goals. The program is the first of its kind in the nation and serves as a model for other universities implementing similar programs on their campuses.
Grace Johnson, Guardian Scholars director, said Kraemer is deserving of the accolade.
"I'm very proud of Giulii's commitment and dedication to the Guardian Scholars Program. She serves the students well as a role model and leader of integrity."
The Brea resident began working at the university in 1987 and held various administrative positions before joining Guardian Scholars in March 2001. She was a recipient of the university's Titan Excellence Award in July 2005 and September 2009 for her overall service to students and others on campus.
Related Stories:
New Cohort Joins Guardian Scholar Ranks
Successful Program for Former Foster Youth Wins National Award
Guardian Scholar's Life Change by Influence of Foster Mother