Town and Gown Series
CSUF Faculty Are Guest Lecturers at Fullerton Public Library
September 10, 2009
Fullerton Public Library's Town and Gown Lecture Series kicks off again with eight of the 10 speakers from Cal State Fullerton faculty ranks. This year's lecture topics range from Disney and twins to Mary Shelley and cultural landscape preservation.
The annual series began Tuesday, Sept. 8, with "One Person Can Make a Difference" presented by James D. Young, Cal State Fullerton's founding chair and emeritus professor of theatre. Young delivered a program about Paul Harris, who created Rotary International. A member of Rotary, Young has performed a one-man show about the organization's founder at Rotary clubs around the world.
The one-hour talks with Q&A are slated for the second Tuesday of each month through June 2010.
Also scheduled are:
Oct. 13 — "Viva La Causa" film and "Giving Farmworkers a Sense of Place: Cesar Chavez and the Forgotten Legacy of the Forty Acres" by Raymond W. Rast, assistant professor of history and associate director of Cal State Fullerton's Center for Oral and Public History
Andi Stein
Nov. 10 — "Special Veteran's Day Program" with Robert McLain, associate professor of history
Dec. 8 — "Closing the Achievement Gap: The Economic and Political Implications" by Barry Munitz of Cal State Los Angeles
Jan. 12 — "The End of the Line? Overfishing and Climate Change in the North Pacific" by Michael Horn, professor of biological science
Feb. 9 — "Deconstructing Disney: The Power of the Disney Brand" by Andi Stein, associate professor of communications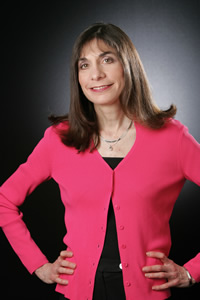 Nancy Segal
March 9 — "Twins: What Their Life Stories and What They Tell Us About Human Behavior" with Nancy Segal, professor of psychology and director of Cal State Fullerton's Twin Studies Center
April 13 — "One Woman's Life: Poetry, History and Memory" with Irena Praitis, professor of English, comparative literature and linguistics
May 11 — "Mary Shelley Writings: The Triumph of Death" by David Sandner, associate professor of English, comparative literature and linguistics
June 8 — "Cultural Landscape Preservation in Southern California" by Noel Vernon of Cal Poly Pomona
The Fullerton Public Library is located at 353 W. Commonwealth Ave., Fullerton. For more information, go to www.fullertonlibrary.org or call 714-738-6326.