Deconstructing Disney
Communications Students Delve Into the Influence of 'The Happiest Place on Earth'
January 13, 2009
By Valerie Orleans
Andi Stein loves Disney.
But, the associate professor of communications knows that "for all those who love it, there are folks who believe it is an evil empire, overshadowing our lives."
Stein teaches "Deconstructing Disney," a graduate level class that looks at the history, formulas, image and future for this worldwide conglomerate. This spring will be the third time the class has been offered. Stein said each time she teaches the class, it's filled with students eager to learn more about the phenomenon that is Disney.
"Since the university is practically in the shadow of Disneyland, I thought I'd like to talk about how Disney is structured and what impact it has," she said.
Stein's class focuses on three major elements in the Disney empire: the theme parks, the movies and media.
Theme Parks
"The theme parks and movies are pretty well-known," she said. "But, many people don't know how many theme parks there are. There is Disneyland in Anaheim as well as the newer California Adventure. There also are four theme parks in Orlando, two in Paris, two in Tokyo, and one in Hong Kong."
Initially, Disney's plan was to create identical parks throughout the world.
"I think Disney thought they could just drop a park into Paris and that would be that," Stein said. "They discovered, however, that they needed to segment the parks and adapt to different cultures.
"There are fans who appreciate that Disney makes everything seem so wholesome and clean," she said. "We talk about the theme parks and how employees are expected to look and behave. We look at the reasons why customers are referred to as guests. We also explore the concept that Disney employees must attend an extensive 'Disney University' to learn about the company's mission and goals, customer service philosophies and, of course, all the rules."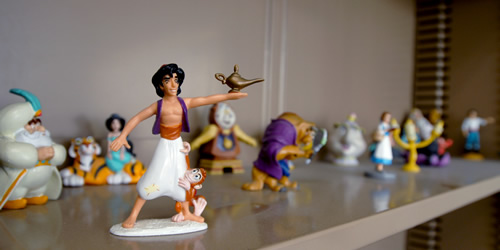 Some Disney figurines decorate Andi Stein's office. Photo by Kelly Lacefield
Media
Many students also don't realize that Disney has been building its own media empire over the past decades. Its media purchases include ESPN, Hollywood Pictures and ABC.
"By owning all these stations, Disney exerts a huge influence on the news," Stein said. "This influence extends far beyond their theme parks."
The students who take the "Deconstructing Disney" classes, are primarily majoring in communications or American studies although there are students from other fields of study as well. Most have definitive opinions about Disney — both good and bad.
Film
In terms of movies, Disney was the first to make a full-length animated feature film, "Snow White."
The company had made a series of short animated films, Silly Symphony Cartoons. It also created a series, "True Life Adventures" that was shown extensively in schools. The first venture into television was in 1954 with the popular "Disneyland" weekly series. (Later renamed "Walt Disney's Wonderful World of Color.") The show always featured scenes from Disneyland, most especially the fireworks that were part of every broadcast.
Critics will point out that the early Disney "classics" frequently featured beautiful young princesses or damsels in distress who simply wait for Prince Charming to show up rather than taking matters into their own hands, Stein said.
In fairness, some of Disney's more recent fare show girls taking heroic roles.
"Many folks don't like Disney's take on the classics that all end in 'happily ever after,'" Stein said. "But, there's no question that with Disney's media outreach, the company is influencing a lot of people.
"I grew up in Philadelphia and Disneyland was just the most magical place to me," she said. "Its influence is felt throughout the world. Whether you hate 'em or love 'em, there is always plenty to talk about in class."
Masters of Marketing
Merchandising "is an area where Disney is masterful," Stein said. "The movies support the park, the park supports the movies, and there are toys and costumes based on both."
First Character
Other Disney facts students learn in Stein's class include this tidbit:
The earliest character created by Walt Disney was not Mickey Mouse, but Oswald, the Lucky Rabbit, Stein said.
"Disney created Oswald for Universal Pictures and when he developed his own company, he naturally wanted to take the Oswald character with him," she said. "Universal refused to let him do so and that was always a huge thorn in Disney's side. I think that's why Disney takes copyright law so seriously. I think a lot of those feelings came from Walt's frustration about not having Oswald."