Celebration
University Police Hold Oct. 8 Grand Opening for New Building
October 6, 2009
Emergency operations center in the new University Police Building. Photo by Kelly Lacefield
"It's been a long time coming," says Chief Judi King as she stands in the new lobby of the recently completed University Police Building.
There's obvious pride in her voice as she leads a tour through the facility that doubled the amount of space for the 24 sworn officers, eight civilian employees and 25 student assistants/community service officers in the department. It also allows for more offices and other features, such as a state-of-the-art communications center, locker rooms for both male and female officers, a dedicated emergency operations center, secure parking for police vehicles and other essential facilities for weapons, evidence and interviews.
There will be pride and celebration when University Police host an Oct. 8 grand opening of the new building. A dedication ceremony will be held at 10:30 a.m. followed by refreshments and tours throughout the day.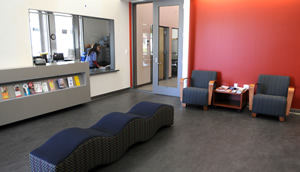 Lobby of police building. Photo by Kelly Lacefield
The new building, located at the corner of State College Boulevard and Gymnasium Drive, has provided double the square footage of the department's old facility which was originally placed on campus grounds in 1960 as temporary classrooms for the new university. University Police moved into the facility in 1972 and called it home for 37 years.
"We did a lot of research and planned for growth," said King of the new building. "Many of the features that are included in this new building are what are standard in police departments across the country. This facility will allow us to better serve the campus."
Related Stories:
University Police Eager for New Headquarters