University Police Eager for New Headquarters
Construction Slated for Completion In Early 2009
July 15, 2008
By Pamela McLaren
Early next year, University Police will be celebrating a big move — figuratively and literally.
For the department will be leaving its "temporary facility" — one where it has been housed since 1972 — to move into a new 10,470-square-foot state-of-the-art facility with expanded space for administrative offices and service areas.
Just off State College Boulevard and south of where dispatchers currently answer calls and police officers write reports, a new, bigger facility is developing.
"We're extremely excited about the new facility and all it will have to offer our community," said Chief Judi King with pride.
When completed the new building will be more than double the department's old size and provide space for locker rooms for both male and female officers, a dispatch center, evidence storage, a holding-processing area, an armory-safety equipment room and a dedicated emergency operations center.
University Police has been housed in a structure originally placed on campus grounds in 1960 as temporary classrooms. After the department moves to its new location in early 2009, the facility will continue to be used for a little longer — for storage.
"We did a lot of research and planned for growth," said King. "Many of the features that are included in this new building are what are standard in police departments across the country. This facility will allow us to better serve the campus."
Architects for the police facility are LPA Inc. of Irvine, who designed the 8,000-square-foot expansion of the Student Health and Counseling Center, noted Michael Smith, director of design and construction. Gonzales Construction of Los Angeles is the contractor. Campus project manager is Stephen Chamberlain.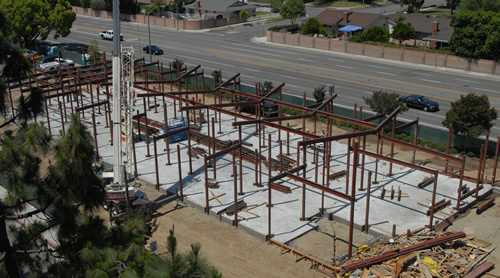 The new University Police facility is currently under construction. Photo by Kelly Lacefield.
Upcoming Campus Projects
Currently in the design phase are:
phase one of new facilities for the Children's Center to accommodate approximately 144 children on a full-time basis or up to 240 attending on part time
a third phase of student housing that will increase the available residences by 1,000 beds
a parking information center located on Arts Way
a reconfigured South Campus Drive parking area that will include a drop-off/pick-up turnaround at the Langsdorf fountain
third parking structure for 1,500 vehicle spaces located north of the Fullerton Marriott in Lot E