Honoring Memory of Joan Greenwood
Irena Praitis to Speak Nov. 15 as Part of Patrons Lecture Series
October 27, 2009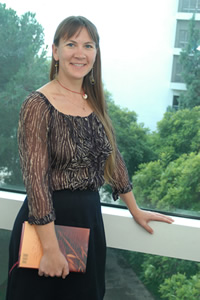 Irena Praitis
Irena Praitis, associate professor of English, comparative literature and linguistics, will honor the memory and poetic accomplishments of the late Joan V. Greenwood, emerita professor of English and comparative literature, when she speaks Nov. 15 as the first in the 2009 Patrons of the Library Lecture Series.
Praitis will discuss and read from "Stirring Dawn: Selected Haiku and Poetry," a collection of Greenwood's work edited by Praitis and published posthumously earlier this year by D-N Publishing. The book will be available for purchase following the lecture.
A member of the university faculty since 2001, Praitis has had poems, essays, translations and reviews in such publications as Mid-America Poetry Review, International Poetry Review, The Iconoclast and Connecticut River Review. Praitis is author of two books, "Touch" published by Finishing Line Press in 2004 and "Branches" published by D-N Publishing in 2007.
The free, public lecture will be held at 2 p.m. in Room 130 of the Pollak Library. For more information, call 714-870-7208 or 714-526-3617.
Related Article