Retired Professor Joan Greenwood Dies
May 20, 2004 :: No. 253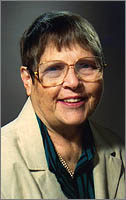 Joan Greenwood
Joan Greenwood, emerita professor of English and comparative literature at Cal State Fullerton, died today at St. Jude Medical Center from pancreatitis. The Fullerton resident was 71.
A funeral service is scheduled for 11 a.m. Tuesday, May 25, at St. Andrews Episcopal Church, 1231 E. Chapman Ave. in Fullerton. A reception will follow at the home of her daughter in Orange.
Greenwood first joined the Cal State Fullerton faculty in 1963 and was honored in 2001 as the recipient of the university's Faculty Leadership in Collegial Governance Award. She was named emerita professor in 1996.
In her nearly four decades of service at Cal State Fullerton, she taught many courses in American literature, Asian literature in translation and composition. Among her publications are haiku and articles about the late novelist Edith Wharton.
She chaired the English and Comparative Literature Department from 1970-73 and served on various university committees and organizations, including nine years on the Faculty Council (now known as the Academic Senate), which she chaired from 1969-70. In addition, she served 18 years as a member of the Health Professions Committee. Greenwood received her bachelor's degree from Wellesley College, and her master's degree and doctorate from Stanford University in 1962.
Born in Montreal, Canada, she served on the faculty of Kobe Women's College in Nishinomiya, Japan, from 1958-60. She also taught at Rosary College in River Forest, Illinois, from 1961-63.
She enjoyed traveling with her family, art and doting on her cats. A self-described ailurophile—a lover of cats—she was "mom" to a series of feline friends. Greenwood is survived by John, her husband of more than 50 years, and their two grown children, Neil and Mary.
Because Greenwood was so grateful for the financial assistance she received from Stanford University, her alma mater, the family has requested that in lieu of flowers, donations be made to the English Department at Stanford University. Contributions can be sent in care of Gift Processing, Office of Development, Frances C. Arrillaga Alumni Center, 326 Galvez Street, Stanford, CA 94305-6105.
Media Contacts:
Joseph Sawicki, chair and professor English, comparative literature and linguistics, at 657-278-3163 or jsawicki@fullerton.edu
Valerie Orleans, Public Affairs, 657-278-4540 or vorleans@fullerton.edu