Middle East Awareness
FIRST Institute Focuses on Promoting Understanding
September 1, 2009
By Mimi Ko Cruz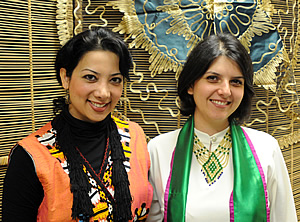 Tar player Sahba Motallebi, left, and singer Sepideh Raissadat performed at the FIRST institute on Iran and Afghanistan. Photo by Kelly Lacefield
About two dozen junior high and high school teachers from throughout Orange County recently converged in Cal State Fullerton's Pollak Library for a week of "Understanding the Histories, Cultures and Current Events Between the United States, Iran and Afghanistan."
Middle Eastern scholars, experts, students and performers delivered lessons and provided a glimpse of Islam during the Aug. 17-21 teacher-training institute, sponsored and produced by Fullerton International Resources for Schools and Teachers (FIRST) at Cal State Fullerton.
The institute's events included lectures on political values, the development of the Middle Eastern region, what it means to be Persian, the changing role of women in Iran and Afghanistan, revolutions and ramifications, Iran and Afghanistan's relationship with the U.S. and the world, Iran's nuclear peace treaty conference and the Iranian-American experience.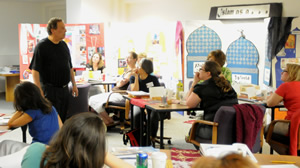 William W. Haddad, chair and professor of history, delivers a lesson on the history of Islam. Photo by Kelly Lacefield
William W. Haddad, chair and professor of history, delivered a lecture on the history of Islam. He spoke on the major beliefs of one of the oldest religions in the world, the differences between the Shi'a and the Sunni and martyrdom.
In addition, graduate student S. Sattar Langary, spoke about the human cost of war and the refugee experience.
The purpose of the event, "is to increase understanding of the history and the current political scene in Iran and Afghanistan," said Connie DeCapite, FIRST director.
"Part of our job as history teachers is to help students become powerful citizens capable of making good decisions," she added. "So, we're looking at ancient histories to help understand current issues and to be able to make more informed choices and teach more accurately."
Connie DeCapite, FIRST director
Masako White, who teaches Japanese at Brea Olinda High School, said she attended the institute because "I firmly believe that as teachers, we need to teach the whole student."
"There's so much going on in the world," she said. "It's really important for us to be able to answer students' questions and help them to think and be curious. Learning is a lifelong thing and that make life interesting."
About FIRST
FIRST is an interdisciplinary project that emphasizes history and social sciences placed in the larger world context. As one of a network of regional sites, FIRST offers comprehensive K-12 professional development programs throughout the school year, as well as summer institutes. These efforts focus on improving knowledge of the world by exploring international themes and issues inherent in geography, economics, government, world and U.S. history, regions, cultures and religions. The programs address reading, writing and academic language skills and the development of teacher leaders and coaches.