Surviving Wars
Afghan Student Fights For Human Rights, Studies Sociology as Fulbright Scholar
May 6, 2008
By Mimi Ko Cruz
In 1994, a Taliban bomb hit S. Sattar Langary's home in Afghanistan, searing his mother's arm and leg and destroying his family's house. Down the street, another bomb killed two of his cousins who were getting ready to go to class at Kabul University.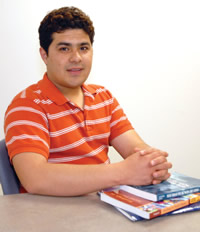 S. Sattar Langary
Home Country: Afghanistan
School: Cal State Fullerton
Degree: Master's degree in sociology, expected in August 2009
Undergraduate degree: Bachelor's in sociology and philosophy, Kabul University, 2006
Present Residence: Fullerton
Hobbies: Reading novels, playing basketball and bodybuilding
Favorite book: "Tuesdays with Morrie" by Mitch Albom
"They were lying on the street, bleeding all over, and my mom was terribly injured," Langary recalled. "Our home burned down and we had to flee to Pakistan, where we lived as illegal immigrants for six years."
Because his mother, who recovered from her burns after a three month hospital stay, is a high school history and geography teacher and his father is an auto mechanics teacher, they were able to find work in Pakistan. Langary attended school and learned English. After Sept. 11, 2001, when the Taliban lost control of his home country, he and his family moved back to Afghanistan where Langary earned his bachelor's degree at Kabul University and worked for human rights organizations.
Today, the 25-year-old graduate student is studying sociology at Cal State Fullerton as a Fulbright Scholar. His goal is to learn how to affect change in his homeland.
"I was born and grew up in war," he said. "I've experienced civil war, the Soviet invasion and Taliban rule. That was a dark time. It made me care more about my country. I want to continue my education because I really want to bring about change in society."
Langary said he aspires to earn a doctorate and become a professor at Kabul University, where he hopes to be influential in educating young people about the need for democracy, human rights and freedom of religion.
"Even though women now can go to school in my country, they still have few rights and the rights of minority groups, such and Jews and Hindus and Christians, are not respected," he said. "In our public schools, students must learn the religion of Islam. I'm working toward secularization in Afghanistan and basic human rights. I'm hopeful that this reform is not impossible."
By teaching at the university level, Langary said he hopes to "open minds."
"I believe that through education, more people will understand and value human rights," he added. "All humans are equal and should have freedom — of speech, of religion, of media, of ideas."