Engineering Diversity Recognized Nationally
College's Steadfast Inclusiveness Honored by ABET
November 10, 2009
By Russ L. Hudson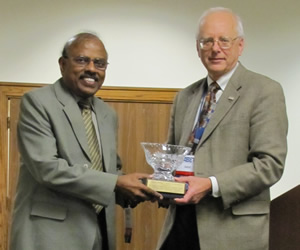 Raman Unnikrishnan, dean of the College of Engineering and Computer Science, receiving the Felbinger Award from David Holger, president of ABET. Photo courtesy of ABET.
A long record of success graduating students from underrepresented groups earned the College of Engineering and Computer Science an award for diversity from ABET, Inc., the internationally recognized accreditation agency for college and university programs in applied science, computing, engineering and technology. ECS Dean Raman Unnikrishnan received the Claire L. Felbinger Award for Diversity Oct. 28 during ABET's 2009 Commission Summit Conference in San Antonio, Texas.
A federation of professional and technical societies, ABET (formerly known as Accreditation Board for Engineering and Technology), sets the standards for and assesses the quality of college and university programs in applied science, computing, engineering and technology. All of ECS's programs are ABET-accredited.
ABET gave three awards for diversity in 2009: to ECS, the UC Riverside Bourns College of Engineering and the College of Engineering at Florida A&M University.
"We acknowledge the people, institutions and organizations that are making the fields that ABET accredits more representative of the populations they are serving, and we also want to inspire others to do the same," said ABET President Joseph L. Sussman in his letter announcing the Felbinger honor.
The 22-year-old Center for Academic Success in Engineering and Computer Science drives ECS's success by helping educationally disadvantaged students — most of whom are the first in their family to pursue higher education — make the transition to a university, get tutoring and counseling, and get assistance with finding professional work in part-time and summer jobs.
ABET also cited the college's five-year-old ECS Scholars Program, which institutes block class scheduling for students from underrepresented groups so freshmen can go through in cohorts, giving them more chances to form connections with other engineering students and faculty. They attend an engineering seminar each semester, get tutoring in core engineering, math and science courses through specialized freshman interest groups, and have constant access to counseling. After their freshman year, they can take advantage of CASECS services until they graduate.
A pleased Unnikrishnan said, "This is a wonderful recognition not only of the College of Engineering and Computer Science's long-term commitment to helping all areas of our society, but to the faculty and staff who gave of themselves to the students and the programs."
The ABET honor for diversity came at almost the same time as a separate ABET action: full accreditation of all of ECS's programs. The accreditation retroactively includes the first two classes to graduate from the college's two-year-old Computer Engineering program, making their degree more valuable in the marketplace. The accreditation also benefits faculty by making them eligible for all applicable grants, which enhances their ability to teach and the students' educational experience. The benefits follow students through their entire careers.
"The students are more marketable because industry has more confidence in the students graduating from our program." said Nikki Ahmadi, one of the pioneering students who enrolled in the Computer Engineering program as soon as it opened. She was in the first graduating class in spring 2008 and now works at Raytheon Company, a technology and security concern, in its hardware department.
"Being a graduate of CSUF's accredited Computer Engineering program is a good indication for prospective employers that I have met the standards and expectations required by those in the profession," Ahmadi said.
Maza Eshak, another of the pioneers who graduated in 2008 and now a systems engineer at Raytheon, sees the accreditation as a path to promotion: "I was lucky, I started as an intern at Raytheon. But lack of accreditation could have been an issue in my further advancement." Accreditation turns what might have been an obstacle into a benefit, Eshak said.
"ECS does not conduct these programs for recognition, but for the good of the students and for the good of engineering, which benefits from the diverse experiences and outlooks the students bring," Unnikrishnan said. "In that way, the students give back as much as they get.
"A number of students who went through here using CASECS are now corporate executives, mayors, inventors and, of course, practicing engineers," the dean said. "That is the real reward."
Related Stories:
Cal State Fullerton Among Leaders for Graduating Hispanics
National Organization Awards $50,000 to ECS Scholars Program