Witnesses to History
Cal State Fullerton Students, Alumni, Faculty, Staff and Administrators Attending the Inauguration of America's 44th President
January 20, 2009
Cal State Fullerton will be represented in the crowd, at parties and other events during Barack Obama's inauguration today. The following are a few Cal State Fullerton alumni, staff, administrators and students in attendance.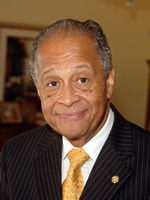 Milton A. Gordon
Milton A. Gordon
President Milton A. Gordon and his wife, Margaret Faulwell Gordon, dean of the College of Extended and International Education at Cal State Dominguez Hills, will be among the guests of Rep. Ed Royce (R-Fullerton) seated for today's inauguration. They also have tickets to tonight's Presidential Inaugural Western Ball at the Western Convention Center. Their weekend activities included attending a reception of the Democratic Foundation of Orange County, at the Army and Navy Club, as invitees of Rep. Loretta Sanchez (D-Garden Grove) and the Latino Inaugural Gala. Monday, they attended a reception hosted by Royce, a Cal State Fullerton alumnus (B.A. business administration-accounting, 1977).
William Lett
Soon after the election of the candidate he'd campaigned for, William Lett set the wheels in motion to see him sworn in. A lecturer in the Theatre and Dance Department who lives in Long Beach, Lett contacted his elected representatives to request tickets to the inauguration, but in the end it was his e-mail to Rep. Ed Royce (R-Fullerton) that scored.
Since 1994, Lett has been choreographing the university's annual Vision & Visionaries gala, which recognizes outstanding alumni, and joined well-wishers in 1999, the year Royce was honored. "I remember him shaking my hand and saying, 'If there's anything I can ever do for you . . .,' " Lett recalled. Not only did he get the four tickets he requested, but a voicemail that referenced that evening nine years ago and how the congressman wanted to return the favor so that Lett could share in the nation's "momentous occasion."
Anticipating massive crowds during this, his first visit to the nation's capital, Lett bought tickets in advance for the "hop-on-and-hop-off" jitneys that are transporting attendees around town.
"I'm envisioning a New York Times Square type of thing in my head . . . 250,00 tickets were issued to representatives of Congress . . . Of those, 25,000-30,000 are seated tickets and 220,000 standing," he said. "Beyond that is the chain-link fence, where folks are standing in the mall and hoping to catch a glimpse. All I know is, I will have Jumbotrons and Porta-Potties, so I'm fine."
Accompanying him is his partner and sister-in-law. After polite declines from other family members not keen on braving D.C's 36-degree weather, Lett offered the fourth ticket to department colleague Matt Schleicher, who readily accepted.
Matt Schleicher
Matt Schleicher, lighting and sound technician for the Theatre and Dance Department, not only has a ticket to the swearing-in ceremony that will put him within 100 yards of the Capitol steps, but entree to a living room in Georgetown to park his sleeping bag, and he couldn't be happier.
"I'm attending the inauguration because I was fortunate enough to be in the right place at the right time," he said. "I was leaving work one day when I ran into Bill. He was just finishing listening to a voice message from Royce's office notifying him of the tickets . . . Bill told me he had use for three of the four tickets, but was not sure about the last one. I jokingly said if he couldn't find anyone, then he needed to give it to me because I would, for sure, take it and find a way there." Schleicher figured that was the end of it, but a few weeks later, "Bill called and said, 'Congratulations! It is yours!'"
Then, the scramble began to find housing and transportation to a sold-out D.C. Thank goodness for air miles and far-flung relatives.
"I have been an avid supporter of Obama since 2004 when I first heard him speak at the DNC. I became quite passionate in my belief that his ideas, leadership and ability to listen to all sides of the argument, in order to find a common thread or ground to build from were just what this country and world needed. I became completely engulfed, like many others, in the campaign. I was very active in debating friends and family and campaigning on behalf of Barack. So when I received that phone call from Bill, I was filled with a feeling of joy, pride and excitement I can't really explain."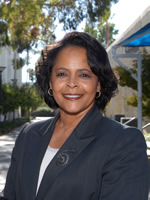 Davida Hopkins-Parham
Davida Hopkins-Parham
Davida Hopkins-Parham, executive assistant to the vice president for academic affairs, is making the inauguration a family affair. She's attending with her husband, Thomas, assistant vice chancellor of counseling and health services at UCI, and their two daughters, Tonya, who lives in New York, and Kenya, a sophomore majoring in political science at Cal State Northridge, who opted to skip her first day of classes to attend.
"My family and I just decided we needed to be there," said Hopkins-Parham," who spent more than a year campaigning for Obama, eventually winning a Congressional District election to serve as a delegate to the Democratic National Convention on his behalf. In bipartisan style, she landed tickets to the inauguration from her congressman, Rep. John Campbell (R-Newport Beach.)
"My role as a delegate was one that sure got me fired up," she said, noting the various campaign roles also played by her daughters and husband, who serves on the executive board of the 100 Black Men of Orange County and is the former chair of the national group's education committee. Their weekend was packed with visits to see family and friends, a reception sponsored by the 100 Black Men and two galas — the "Audacity of Hope Ball," sponsored by the National Policy Alliance, and the Democratic Party's "The California Bash Inaugural Celebration" at the Smithsonian's National Air and Space Museum, where the theme was "Fly Me to the Moon!"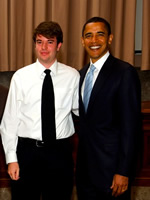 Ian Keller and Barack Obama
Ian Keller
Alumnus Ian Keller is attending the inauguration today, the Eastern Ball (one of the official balls) tonight and a Staff Ball Wednesday night.
"I worked on the Obama campaign from August through November in Southeastern Indiana," said Keller, who received his bachelor's degree in political science in 2008. "I was able to get the position because of the contacts I had made volunteering during the primaries in California. We were very successful in Indiana, turning the state blue for the first time in 44 years. I am attending because this is a tremendous celebration. A celebration of the work we did on the campaign, but also of the new direction this country is potentially heading into. I have not been around that long, only 23 years, but I have never seen this country so mobilized, involved and excited about the political process. I think the 350,000 people who applied for jobs with the Obama Administration, combined with the tremendous amount of support we received in traditionally non-Democratic areas like Southeastern Indiana during the campaign, is evidence. It is a difficult time in our nation's history, but there is also great hope and promise now for the future."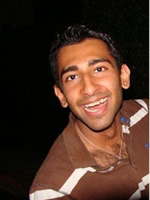 Ali Mushtaq
Ali Mushtaq and Serena Whitecotton
Junior sociology major Ali Mushtaq and sophomore communications major Serena Whitecotton are among students attending the University Presidential Inaugural Conference this week, featuring Al Gore, Gen. Colin Powell and NBC news correspondent Luke Russert as keynote speakers. As conference attendees, the students will be among those witnessing the inauguration, the parade and attending a black-tie gala inaugural ball.
Mushtaq's travel to D.C. is through the National Collegiate Honors Scholars and Golden Key Honor Society.
"I chose to go because I want to understand how political behavior is shaped in the U.S.," he offered by e-mail. "This is a great opportunity. I'm very curious to see how an entire group of people get so enthralled by the prospect of a president transitioning into power. Since I'm in sociology, I want to understand how his ascent to power mirrors the minority myth — if Obama can do it everyone else can."
Jeffrey Gonzalez
After Jeffrey Gonzalez, received his bachelor's degree in political science last spring, he went to work for Sen. Judd Gregg (R-New Hampshire) as a legislative correspondent. His responsibilities include responding to constituent concerns, staffing legislative meetings and conducting various legislative research projects. In addition, he is responsible for driving Gregg to meetings and events. He will be driving the senator to the inauguration and all of the balls that Gregg will be attending.
"This is an exciting time for Americans and inauguration day is going to be a celebration of not only President Obama, but also a celebration of America's diversity and the opportunities that each of us enjoy as citizens of this great country," Gonzalez said. "I am extremely excited to be in Washington during this historic time and I feel lucky to have the chance to experience this great event."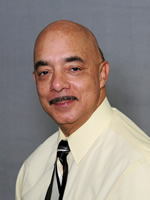 Gerald Bryant
Gerald Bryant
Gerald Bryant, director of Cal State Fullerton's McNair Scholars Program, will be at the parade with his wife, Romelia Madrigal-Bryant.
"Both my wife and I understand the global significance of this time in history and we want to be a part of the celebration," Bryant said, adding that he also plans to watch entertainers perform at the Kennedy Center tonight. He, like most other inauguration attendees, plan to bring back plenty of mementos, commemorating the occasion.
Je'nell Griffin
Once it was confirmed on election night that Barack Obama would be president, Je'nell Griffin, assistant coordinator for Greek life, knew she wanted to be in D.C. for his inauguration.
"A few friends and family members discussed the logistics over Thanksgiving and decided we were going!" she said. "I'm staying with some sorority sisters who live in the area and meeting up with various friends and family. We were not fortunate enough to receive tickets, but we all still going to the Mall and parade."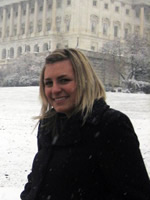 Raisa Orleans
Raisa Orleans
Raisa Orleans, a graduate student at the University of Chicago who received her bachelor's degree in American studies and political science from CSUF last year, will be at the parade.
"I feel that this is the first election (and far from the last) where my generation, along with many other underrepresented constituencies, has played a significant role," she said. "We forced a massive shift in the electorate after hearing numerous lectures and campaign speeches from teachers and politicians alike about the necessity of civic participation. This year, something amazing happened. We all listened to that message and took action! As a grad student now living in Chicago, I watched the votes come in on election day in Barack Obama's hometown. What an incredible experience. I was in the crowd at Grant Park when Obama made his acceptance speech and it was great seeing the eruption of joy. Going to the inauguration and having the ability to be a part of another historic moment is an honor. Even a loyal supporter can't help but worry about the state of our deteriorating economy, our foreign relations, the war. What I, and many Americans, need is reassurance and strong, thoughtful leadership. We will look to our new president for this assurance."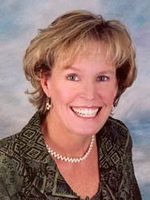 Pamela C. Keller
Pamela C. Keller
Fullerton Mayor Pro Tem Pamela C. Keller, who earned her bachelor's degree in child development in 1986 and completed CSUF's teacher credential program in 1992, read a newspaper story, saying that if readers wanted tickets to the inauguration, they should contact their favorite member of Congress.
"So, I e-mailed Congresswoman Loretta Sanchez, asking to be placed on the ticket list," Keller said. "I will be standing in the mall in the middle of hundreds of thousands of other people. I expect the energy to be electric. I hope so because it promises to be a freezing cold day and we will need the warmth from the crowd to sustain us. My family will be watching on TV from California. I promised to wave from the crowd."
Keller purchased tickets to the 56th Presidential Inaugural Western Ball, one of the official balls that Obama is expected to visit tonight. She may also attend other parties that are planned for attendees from Orange County.
"I feel so fortunate to be a part of history by being able to attend in person," Keller said. "To see our first African-American president being sworn in is truly an honor. I am so impressed that President Obama has made this event accessible to the masses like no other has done before him. I feel that he wants all of us to share equally in this moment. This is a once-in-a-lifetime experience."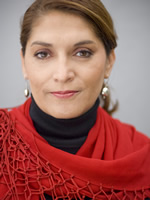 Sharon Quirk
Sharon Quirk
With tickets from Rep. Sanchez, Fullerton City Councilwoman Sharon Quirk, who completed the teaching credential program at Cal State Fullerton in 1987, will be among the many standing on the Washington Mall during the inauguration. She will attend the Official South Western Ball tonight. She already attended the Latino Inaugural Gala on Sunday at Washington's Union Station.
"It feels like an amazing honor to have this opportunity," Quirk said. "Being part of the passion, energy and excitement to such a huge "change for America" is incredible. I feel like a character in the children's classic novel, 'The Little Engine That Could.' We think we can, we think we can!! Yes we can!!!!"
Mark Kamimura-Jiménez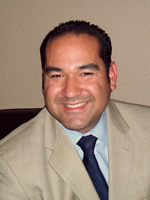 Mark Kamimura-Jiménez
Mark Kamimura-Jiménez, director of the university's educational partnerships, will be attending the swearing-in ceremony with his wife and CSUF alumna, Aurora Kamimura-Jiménez, and his cousin, also a CSUF alumnus, Adam Koyanagi. He attended the Latino Inaugural Gala Sunday and a party hosted by his alma mater, the University of Michigan Monday.
"Witnessing this historical event is important because it is changing what I've known as a kid that could be possible, to what can be possible," Kamimura-Jiménez said. "Being at the inauguration is not just about me but about all of the people in my family and extended family who could not be there. I am attending to represent all of them and generations of struggle for true freedom and equality. This event is another step toward that future."
Maurine Mikhail-Yakoub
McNair Scholar Maurine Mikhail-Yakoub, a junior political science and economics major, is not yet an American citizen, but before the election, she helped get hundreds of people registered to vote and decided to go to Washington to witness the inauguration.
"I don't have tickets, but I'll be on the mall watching with the crowd," she said. "I'm from Egypt, and I have my permanent American residency, but I have to wait five years before I can become a citizen and register to vote, but even though I was unable to vote in this election, I feel like I'm part of the change in America, and it feels really good."
If you are Cal State Fullerton students, faculty or staff members or alumni attending Obama's inauguration or related events, we would like to hear about it. Send your stories and photos to Mimi Ko Cruz at mkocruz@fullerton.edu