She's in Denver, Doing Her Civic Duty
Hopkins-Parham Elected Convention Delegate
August 25, 2008
By Paula Selleck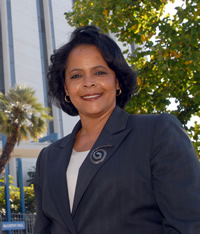 Davida Hopkins-Parham
Davida Hopkins-Parham is hardly a political rookie.
As executive assistant to the vice president for academic affairs, the wife of a UCI administrator and the relative of family members elected to office, she knows this territory well.
Still, she was surprised to win an election this spring — her maiden voyage as a candidate — that propelled her this week to the floor of the Democratic National Convention in Denver, where she is serving as a delegate for Barack Obama.
She's paying her own expenses to be there — as expected of delegates — and she is on vacation this week from Cal State Fullerton, while she participates in an American political tradition that every four years serves as a national reminder of the power and privilege of voting.
Voting is a passion for Hopkins-Parham, who has never missed an election — not for president, or governor, or city council or school board — since she was eligible to register. As a college student, she did her first stint as a campaign volunteer and credits her late father with imbuing her with the notion that voting is "a responsibility to be taken seriously."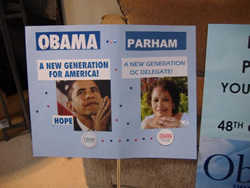 One of the posters Hopkins-Parham made for her election as a candidate for the Democratic National Convention.
She was featured in Sunday's edition of the Orange County Register as one of three delegates from Orange County profiled on the eve of the convention.
Hopkins-Parham became one of nine OC delegates pledged to Obama by winning one of the April 13 Congressional District Caucuses held around the state. Hers was in the 48th District, where she resides. That Sunday afternoon gathering of would-be delegates and their supporters was a sink-or-swim test of the grassroots organizing skills of the candidates.
Reflecting back on that day and the weeks leading up to it, Hopkins-Parham says she couldn't have done it without the help of her sister-in-law, her husband and friends, who made posters and fliers, sent e-mails, and encouraged neighbors, friends and acquaintances residing in the district to attend the caucus session to vote on her behalf.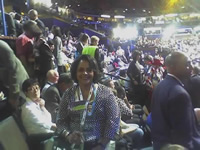 Davida Hopkins-Parham attending the Democratic National Convention.
"I did not know what I was getting into," she recalls, still marveling at her win, especially since she competed against 14 other candidates for the district's single female delegate slot. (Gender factors into these caucus votes as party rules call for the
election of one female and one male delegate per district of that size.) Among the hopefuls was a longtime city councilmember and former mayor with hundreds of supporters.
That day at the caucus, thinking of herself as a political unknown, Hopkins-Parham introduced herself to the city councilwoman, who greeted her with big smile and offered: "You're my biggest competition."
Another perceived threat to the desired outcome for Hopkins-Parham that day had been the move of the caucus session to Tustin 48 hours before the vote. Originally, the caucus had been planned for Irvine, in the city where she lives.
"Before Obama came on the scene, I was convinced I was going to vote for Hillary," said Hopkins-Parham, who later billed herself as "the unwavering Obama delegate." It was her winning campaign slogan.
"Being a delegate is not just about going to the convention," she explained. "It's about doing the work of a volunteer and helping a candidate win."
A volunteer for the Obama campaign since early 2007, when she signed up online, Hopkins-Parham is now a team leader for the campaign in Orange County.
On Sunday, she flew to Denver and met up with 10 other women who are delegates and/or volunteers.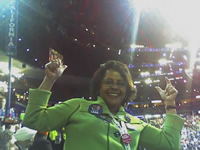 Hopkins-Parham cheers when her home state of New Jersey casts all of its votes for Obama.
Late Monday afternoon, Pacific time, her e-mail subject line announced: "I am in my seat at DNC." In her black-and-white polka dot jacket, she could be seen in the California section, fifth row above the floor in the middle, "right behind the CNN post on the floor, looking at Wolf Blitzer and Anderson Cooper."
Stay tuned.
Wednesday update from the convention floor:
Hopkins-Parham reports "much confusion, anxiety when CA passed during national roll call" then, ultimately, cast its votes — 273 for Obama, 166 for Clinton. "Excitement began building when NJ, my home state, gave all 127 votes to Obama. Illinois passed, and New York, with Hillary and their Gov, called for the suspension of the rules and for a unanimous vote for Sen Obama! Exhilarating experience! Still marveling that it's live and not Memorex for me!"
Thursday update from the convention floor:
"Fortunately, CA is again in the high-rent district on the floor; to the right of the stage 15 rows directly behind the CO sign . . . I have an orange cap with an American flag on top and seated on the end of the aisle with a navy blue shirt loaded with campaign buttons . . . Fired up and ready to go!"