College of Education Introduces Reading Institute
Center Assists High School Teachers in Preparing Students for Higher Education
February 17, 2009
By Debra Cano Ramos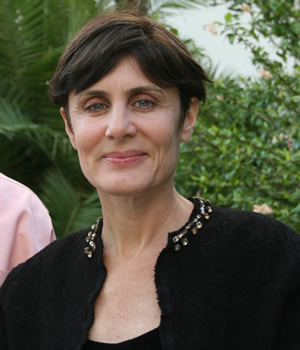 Maria Grant, assistant professor of secondary education and director of Cal State Fullerton's Reading Institute for Academic Preparation. Photo by Mimi Ko Cruz
High school teacher Ashley Sutter wanted to improve her students' reading and literacy skills — and turned to Cal State Fullerton for help.
Sutter, a reading teacher at Loara High School in Anaheim, is among 25 local educators who are participating in the College of Education's Reading Institute for Academic Preparation.
The institute is offered to Orange County educators to help them improve reading instruction to better prepare their students for the academic rigors of higher education.
Sutter, a Cal State Fullerton alum who earned a bachelor's degree in child and adolescent studies in 2004 and completed the multiple subject credential program in 2005, has gained valuable information through the program.
"I've learned new and engaging ways to get my students interested and excited about reading and writing," said Sutter, who is currently enrolled in the university's master's in education program with a concentration in secondary education. "I have seen great improvements in my students with strategies that were simple to implement. My students are eager to learn."
Last year, the College of Education received a $21,250 CSU Chancellor's Office grant to launch the reading institute and an additional $21,600 to continue the center in 2009-10. It is sponsored in support of its Early Assessment Program, which is the CSU's primary vehicle to increase high school students' proficiency in English and math. The program will serve up to 24 educators this year.
"We are thrilled to be part of a systemwide collaborative to improve the preparation of high school students before they enter college," said Maria Grant, assistant professor of secondary education and institute director. Early Assessment Program "data shows that many of our incoming freshman are in need of augmented instruction when it comes to academic literacy. We want to support high school teachers as they prepare their students for work related to reading and writing at the university level.
"Through the institute, we want to bridge the gap between what high school teachers are teaching and what college professors are expecting of incoming freshman."
The Reading Institute for Academic Preparation provides professional development for teachers across all academic content areas, Grant said. Currently, high school teachers from districts in Anaheim, Orange, Huntington Beach, Placentia and Yorba Linda are participating in the program. This year's effort will include Saddleback College teachers as well, she said.
The institute provides participants with 80 hours of professional development instruction, along with related activities. Additionally, teachers receive a $750 stipend and a personal library of books that focus on academic reading and writing instruction. Participants are guided as they implement case study research in their own classrooms and use assessments to monitor student improvement in reading and writing.
Based on the classroom data collected, teachers develop instructional modules using a template created as part of another Cal State project, the Expository Reading and Writing Course, Grant explained.
"The ultimate goal is to help secondary students become better prepared for taking on the academic reading and writing that is necessary for success at the university," Grant said. "Through the institute, we support teachers as they implement literacy integration plans in their content areas. Additionally, we are able to be a part of a collaborative effort to foster a college-going environment on high school campuses throughout Orange County."
Related Story:
Reading and Writing Course Spells Success for College-Bound Seniors